Strawberry Shortcake with Coconut Whipped Cream (Vegan)
This post may contain affiliate links. Please read my disclosure policy.
I'm pretty sure that as long as I live, I will always get a little bit giddy when strawberry season rolls back around each spring.
I. Love. Strawberries.
Especially after a long winter, there's something about those vivid, sweet, juicy, and yummy berries that just sing of summertime. So accordingly, over the past two years, I have totally become "that single girl" who buys the enormous carton of Driscoll's berries at Costco…like once a week. And basically eat them all by myself. Maybe occasionally popping them in a dish to share with friends. But let's be real, mostly all by myself.
So whenever the craving hits or someone requests strawberry shortcake, I always have my berries and am ready to go! Seriously, it is one of my favorite quick and easy impromptu desserts to make for friends in the summer. But since I have so many friends who are no longer friends with dairy, I have taken to also keeping stashes of coconut cream (or coconut milk) in the fridge so that I can be ready to whip up this dairy-free version of the dessert that my vegan and non-vegan friends alike all seem to love.
OH, and it's also made with my favorite 3-ingredient coconut biscuits, which I have sweetened up with a bit of honey (or you can substitute maple syrup or agave to make it vegan). So the whole dessert can come together easily in less than 30 minutes.
Now seriously, what's not to love about that?
For those who have never made coconut whipped cream before, it really couldn't be easier. You can check out my step-by-step tutorial here. But basically, you just drain out the coconut water from a can of coconut milk that has been refrigerated for 24 hours. Then scoop out the thick coconut cream, and whisk it with some powdered sugar and vanilla until it thickens up like whipped cream.
Easy peasy. And tasty. And 100% vegan.
As for the strawberries, well, I've been a Driscoll's girl my entire life. But beyond that, Driscoll's has been the strawberry in everyone's shortcake for over 100 years. That's a century of some delicious berries and shortcakes.
I love them because they are consistently good and flavorful, never watery or bland. And as a food stylist and someone who likes good looking berries to eat (and photograph), I have to point out that they always seem to be the prettiest berries in the store too, which I love.
Anyway, these vegan strawberry shortcakes are super easy to make. Just whip up the sweetened biscuits for shortcake. Spoon on some coconut whipped cream. And then top the shortcakes with lots of fresh and juicy strawberries.
Perfection.
So if you're looking for a good recipes that everyone can enjoy for National Strawberry Shortcake Day on June 14th — or really, any day — you've come to the right place. I hope you enjoy this recipe. And also be sure to check out the sweepstakes happening at Driscoll's right now where you can enter to win a KitchenAid mixer and free berries for a year! :)
I am sharing the recipe for this Vegan Strawberry Shortcake with Coconut Whipped Cream over on Driscoll's website. Hop over to check it out! :)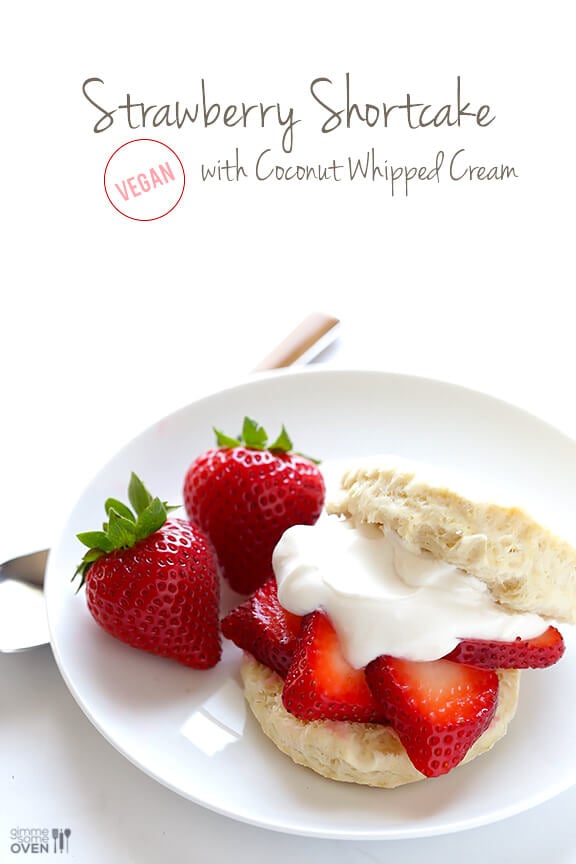 Disclaimer: This is a sponsored post from Driscoll's. All opinions are 100% my own as always. But I adore strawberries and already always buy Driscoll's, so I was really excited to be a part of this strawberry shortcake campaign. Thanks for supporting the brands that make this site possible. :)