Stuffed Mushrooms With Blue Cheese & Sun-Dried Tomato Pesto
A few years ago, I was at a birthday party for my boss, thrown by one of his good friends who also happens to be an outstanding cook.  But while I had every intention of saving my appetite for his world-famous Kansas City barbeque, pretty sure I completely blew it on the first appetizer — these incredible little stuffed mushrooms.
As the trays were passed around the patio, one by one you heard everyone murmer, "Oh my goodness — what is in these mushrooms?!?"  Surprisingly, John told us there were only two main ingredients — blue cheese and sun-dried tomato pesto.  (Although in addition to those tasty sun-dried tomatoes, this pesto was also made with walnuts and fresh sage.  Yum!)  John also smoked his stuffed mushrooms, which gave them an extra-amazing finish.
Alas, I don't have a smoker, but made mine in the oven this week and they were still insanely delicious.  Also decided to top mine with a pinch of Panko to give them a slight breaded crunch.  So good, so easy, and so fast (especially if you have the red pesto made ahead of time!).  And as his party proved, they're definitely a crowd-pleaser.  Thanks, John!!!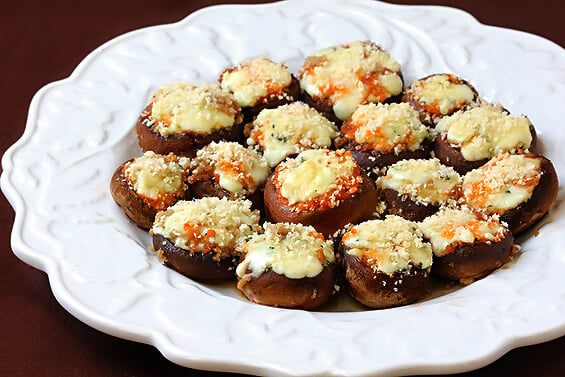 Stuffed Mushrooms with Blue Cheese & Sun-dried Tomato Pesto
You will love this Stuffed Mushrooms With Blue Cheese & Sun-Dried Tomato Pesto recipe. It's delicious, and ready to go in about 20 minutes. Perfect for game-day!
Ingredients:
!Stuffed Mushroom Ingredients:
!
1 lb. cremini or button mushrooms
1/4 cup sun-dried tomato pesto (see ingredients/recipe below)
1/2 cup crumbled blue cheese
1/4 cup Panko breadcrumbs
!
!Sun-Dried Tomato Pesto Ingredients:
!
1 (24 ounce) jar of sun-dried tomatoes in oil
6 cloves garlic, peeled (or about 3 tsp. minced)
1 cup walnuts
1/3 cup fresh sage
8 ounces Parmesan cheese, grated
1 cup olive oil
salt and pepper to taste
Directions:
To Make The Stuffed Mushrooms:
Preheat oven to 350 degrees, or preheat a smoker.
Carefully remove and discard the stems of the mushrooms, then clean with a damp cloth. Fill mushroom cavity with sundried pesto (approx. 1/2 tsp.). Top with blue cheese crumbles, and a pinch of Panko. Bake or smoke for about 15 minutes, until the cheese starts to melt and filling is warm. Serve immediately.
To Make The Sun-Dried Tomato Pesto:
Place tomatoes, garlic, walnuts, sage, and Parmesan in a food processor, and pulse until blended. Slowly stream in the olive oil, then season to taste with salt and pepper. Use pesto immediately, or refrigerate for up to one week, or freeze.
All images and text ©
If you make this recipe, be sure to snap a photo and hashtag it #gimmesomeoven. I'd love to see what you cook!
Ali's Tip:
These are also great with gorgonzola cheese!