Stuffed Pizza Bites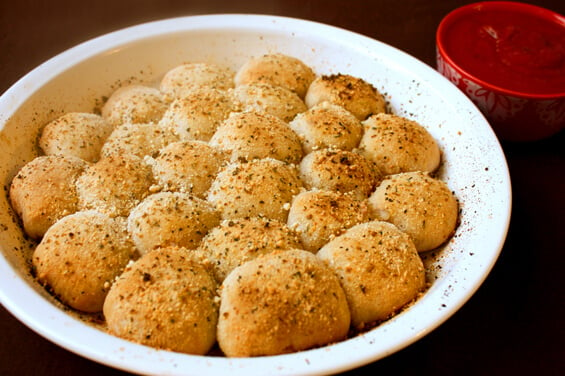 Back home!  I've had an exhilarating last two days traveling with one of the ensembles I lead at work to St. Louis to sing at "How Sweet The Sound" – a national gospel choir contest put on by Verizon.  And holy cow!!  It was incredible!!!!  Not only did my choir absolutely rock the (uber-challenging!) Latin-Gospel song we'd had selected for us, and bring the crowd of 12,000 there to their feet (yeah!)…but pretty sure they completely stunned the judges.  :D  Ha!  I definitely don't think they were expecting a white choir from the 'burbs to show up with such "soul", but from their comments (directed at yours truly, who had to stay up there afterwards alone and receive feedback American-Idol style)…they loved it. Hooray!  Such an incredible experience!!!
Anyway, haven't yet had the chance to spend time in the kitchen since I've been home, but I'm excited to share this recipe I made a few weeks ago.  I saw and loved this "stuffed pizza bites" idea while back and had been waiting and waiting to give it a try.  So finally whipped it up as an appetizer for a little party we had to celebrate a recent trip some friends took to Hawaii.
And it was fantastic!  Ended up filling half of the bites with "Hawaiian" toppings (Canadian bacon + pineapple), and the other half with pepperoni and cheese (since one of the guys is not a big fan of Hawaiian)…and they were delicious!  Absolutely loved how this recipe transitioned pizza into an easy appetizer and finger-food.  Everyone seemed to enjoy pulling off each piece and dipping it in the marinara, and watching the cheese ooze after each warm bite.  I imagine little kiddos would also have a ball making this recipe.  So however you might use it — appetizer, dinner, or even dessert (I want to try apples, cinnamon and sugar soon!) — I definitely recommend giving this method a try!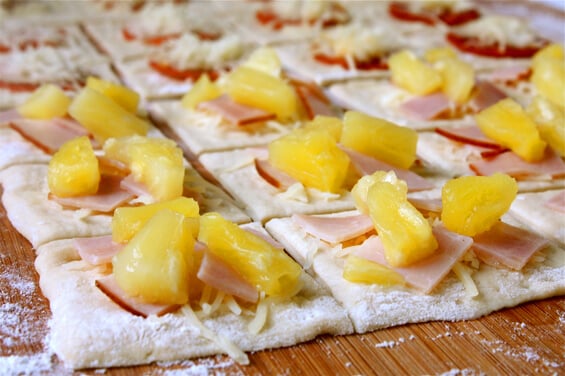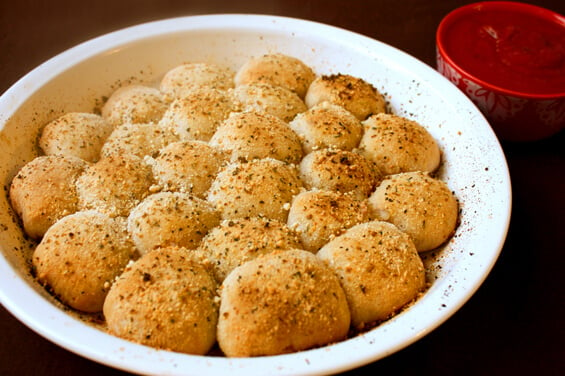 Stuffed Pizza Bites
These delicious little guys will steal the spotlight at your next party! Also a great kitchen project for kiddos. Detailed instructions and photos included.
Ingredients:
1 roll refrigerated pizza dough (or make your own)
marinara/pizza sauce
2 Tbsp. grated Parmesan cheese
1 Tbsp. olive oil or melted butter
1/2 tsp. garlic powder
1 tsp. dried Italian seasoning
mozzarella or Italian blend cheese
pizza toppings of your choice (ham and pineapple, pepperoni, sausage, chopped green peppers or onions, etc.)
Directions:
Preheat oven to temperature specified on pizza dough package. Usually it's 400 degrees. (This is also a good option if you make your own dough.)
Unroll your pizza dough onto a lightly-floured surface. Pat or roll the dough so it's at least 12″ by 8″. Use a pizza cutter to slice the dough into 24 squares.
Place cheese and desired toppings on each square. I found that it worked best if you layer the cheese on first, as this makes a softer bottom layer for the dough to fold around. Make sure to use just enough toppings so that the dough can fold easily around them.
When all of your dough squares have cheese and toppings on them, carefully lift up each square and wrap the dough around the toppings. Pinch to make sure each ball is sealed shut and then place seam-side-down in a lightly sprayed pie pan (or similar sized dish).
Brush the tops of the dough balls with olive oil (or melted butter) and then sprinkle with the garlic and Italian seasoning. Top with Parmesan cheese.
Place pan in the oven and cook for about 15-20 minutes or the dough is slightly golden. Doughs vary, so keep an eye on them and begin checking them after 10 minutes.
Serve warm with warmed marinara sauce on the side for dipping.
If you end up deciding to go with pepperoni, I'd actually recommend cutting them either in halves or fourths.  When I tried to roll these up, I found that the pepperonis were on the verge of being too stiff for the dough to stretch around them (and not break!).
If you make this recipe, be sure to snap a photo and hashtag it #gimmesomeoven. I'd love to see what you cook!