Sweet Potato, Sausage & Kale Soup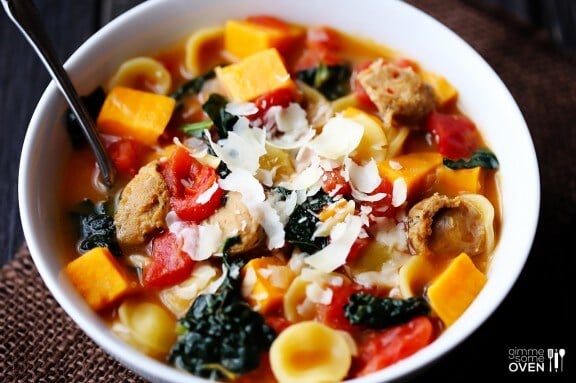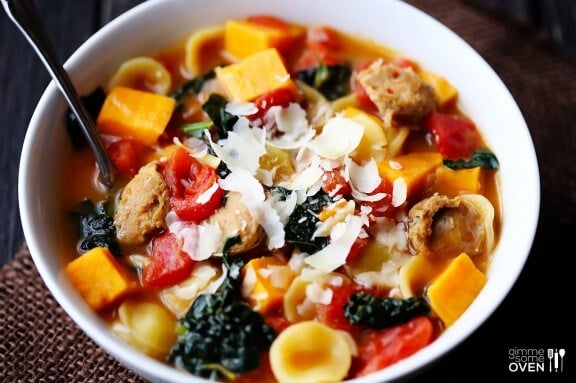 Ok, so it looks like I chose to post a soup recipe on the one crazy 74-degree day in the middle of January.
But even though I am writing this in a tank top, my flip flops, with an iced coffee in my hand, that doesn't change the fact that I have been craving soups nonstop lately.  As in, I have zero self-discipline to wait until I finish my leftovers from one before I whip up a new batch.  So I may or may not have used up pretty much all of the tupperware I own, which is now falling out of gracing the interior of my freezer.  Because did I mention that I always make double batches of soups?

I may need a soup intervention.
But hey!  At least the result is a few more slurpy soup recipes to add to the blog!  Today's recipe was one I actually made (and Instagram-ed) a few weeks ago after a conversation with my friend Christy.  She happens to be a bit of a creative soup genius, and admitted to me that she and her husband have been pretty much living on soups all winter.  (Which he confirmed with a smile.)  But she told me that one of her recent favorites was a sweet potato, sausage and kale soup.
So of course, immediately after she said that, I immediately wanted a bowl of my own.  So I went home and whipped up a batch with some spicy chicken sausage to make it a tad healthier.  And lo and behold, it was a total delight.  Comforting, full of great flavor, and a breeze to make.  Great for a chilly winter day…or a 74-degree winter day.  You pick.  :)
What has been one of your favorite soups this winter?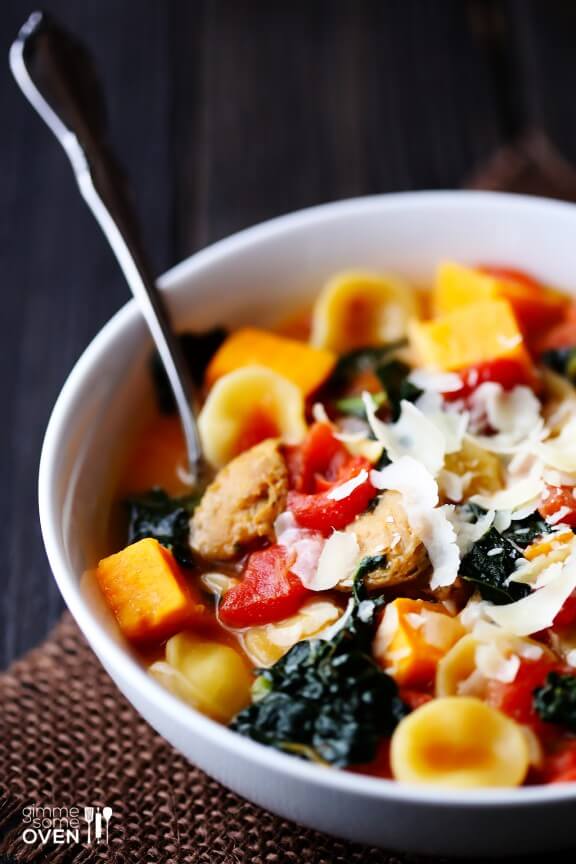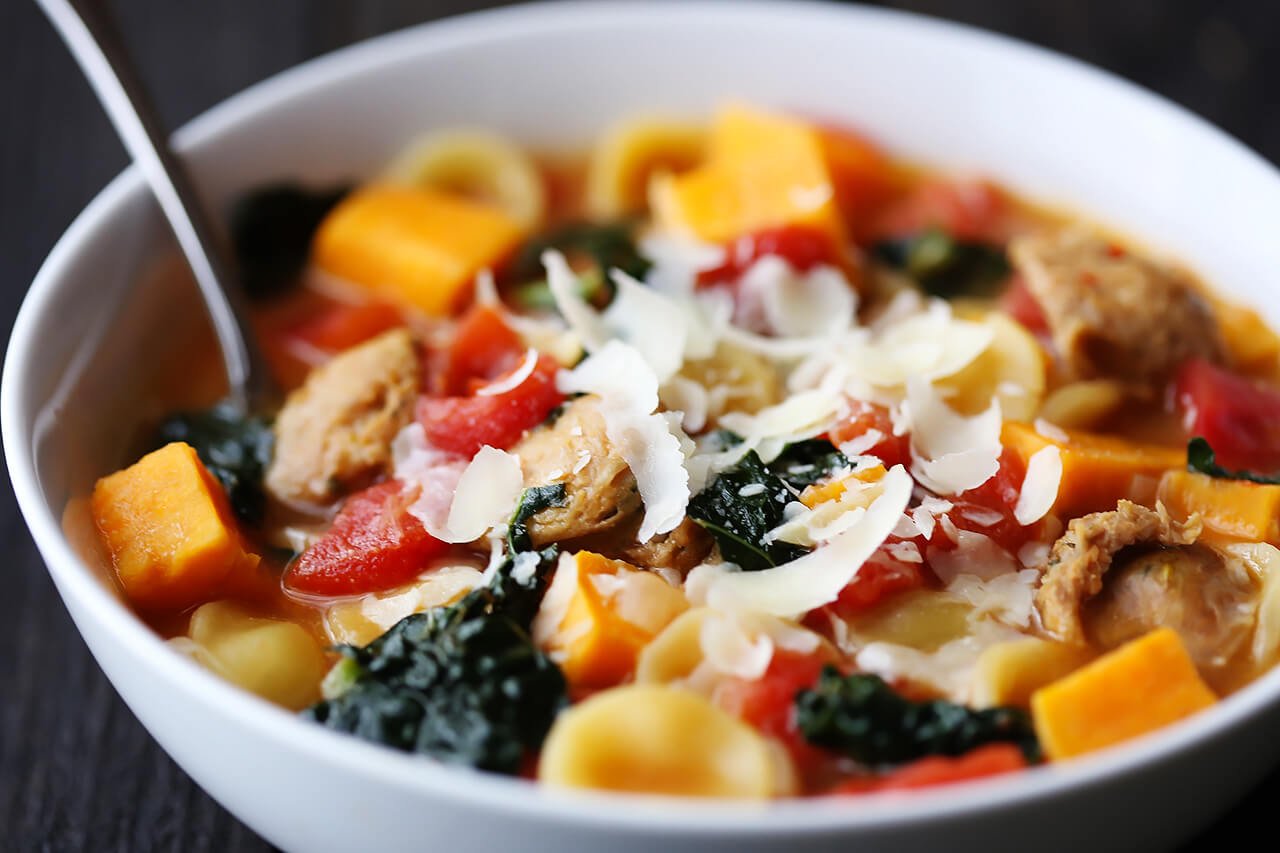 Sweet Potato, Sausage & Kale Soup
A delicious sweet and savory soup that everyone will love!
Ingredients:
2 Tbsp. olive oil
1 pound spicy Italian chicken or turkey sausage, crumbled
1 large white onion, diced
4 garlic cloves, minced
8 cups chicken broth
8 cups peeled and diced sweet potato (about 2 pounds)
1 (28 oz.) can diced tomatoes
1 cup dried pasta (I used orecchiette)
3 cups roughly-chopped kale
salt and freshly-cracked black pepper
freshly-grated Parmesan cheese, for garnish
Directions:
Heat oil in a large stockpot over medium-high heat until shimmering. Add onion and sausage and cook for 5-7 minutes until the onion is translucent and the sausage begins to slightly brown, stirring occasionally. Add garlic and cook for an additional 1-2 minutes until fragrant. Add chicken broth, sweet potatoes, and tomatoes and stir to combine. Bring to a boil, then reduce heat to medium-low, cover, and let simmer for 5 minutes.
Add the pasta, stir to combine, and let cook for an additional 10-15 minutes or until the pasta is al dente. Stir in the kale, and season the soup with black pepper and additional salt if needed. Serve warm garnished with lots of freshly-grated Parmesan cheese.
All images and text ©
If you make this recipe, be sure to snap a photo and hashtag it #gimmesomeoven. I'd love to see what you cook!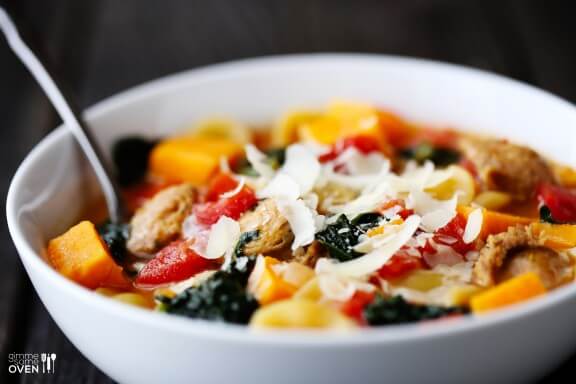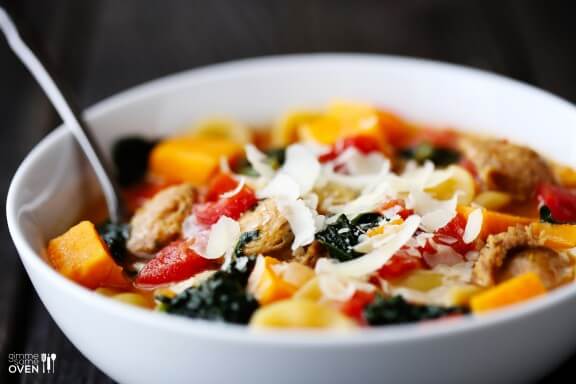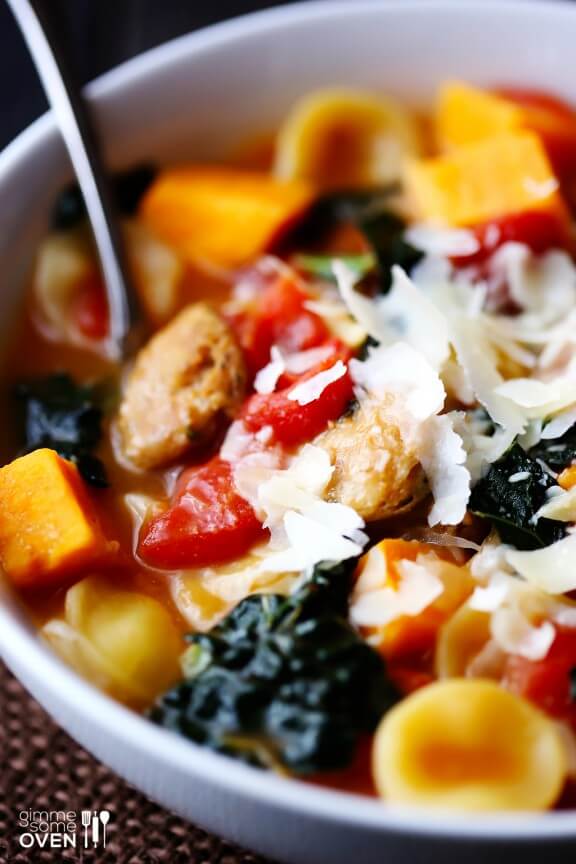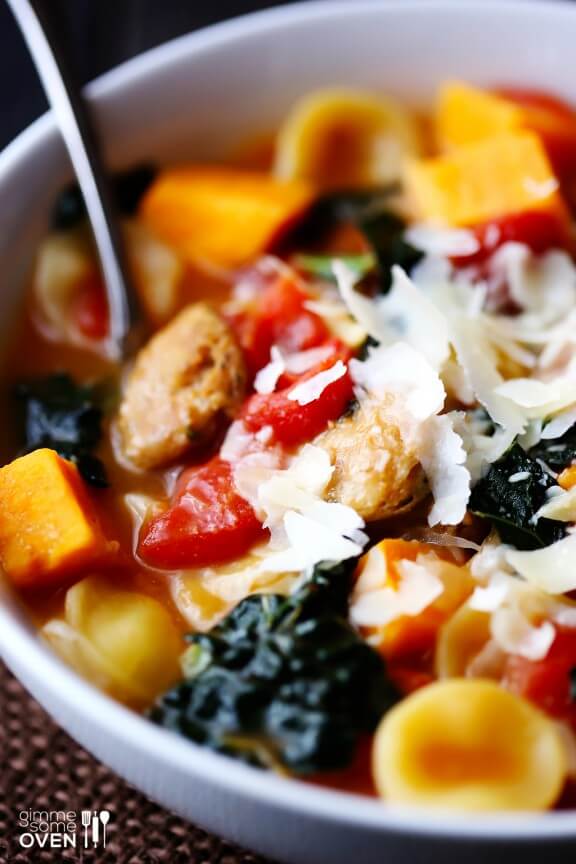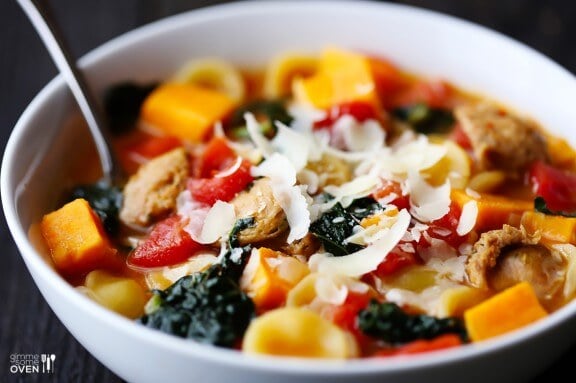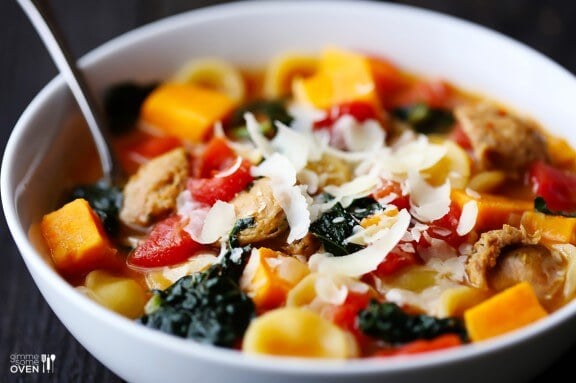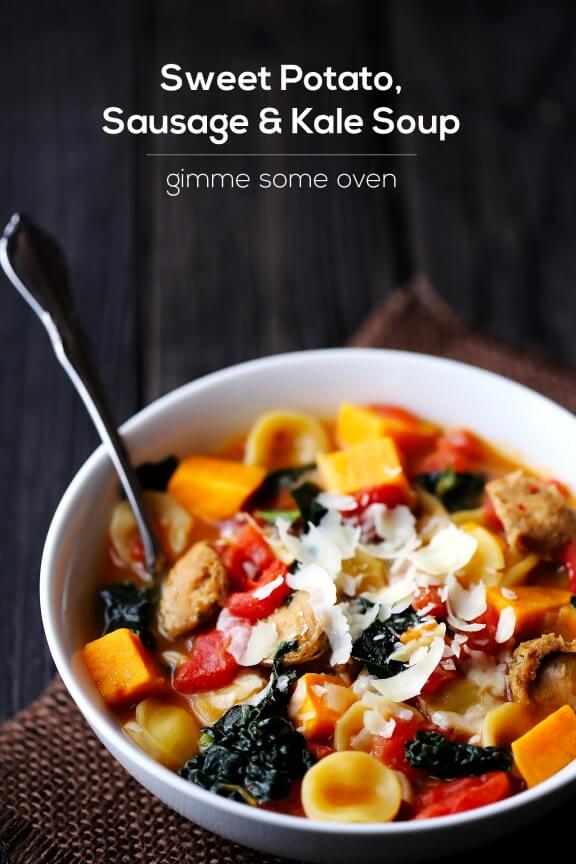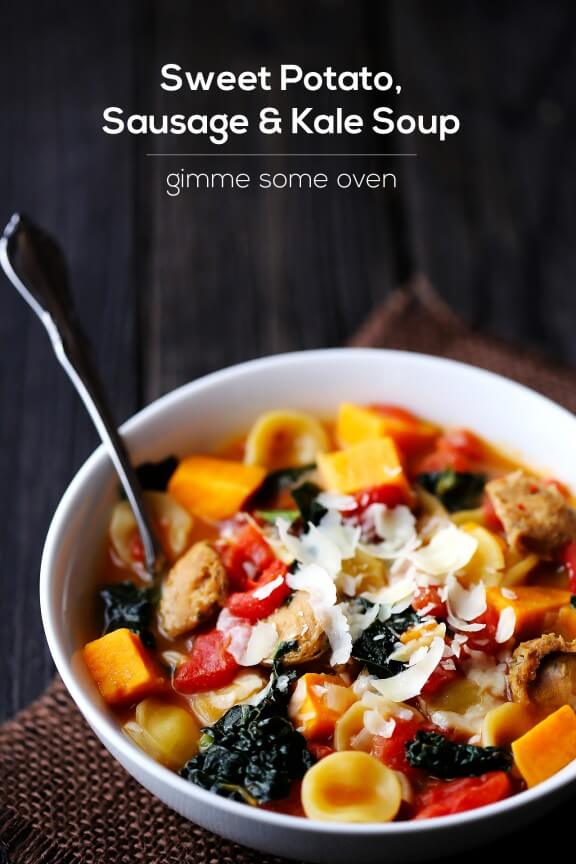 This post contains affiliate links.