"the cook" gift set giveaway
This post may contain affiliate links. Please read my disclosure policy.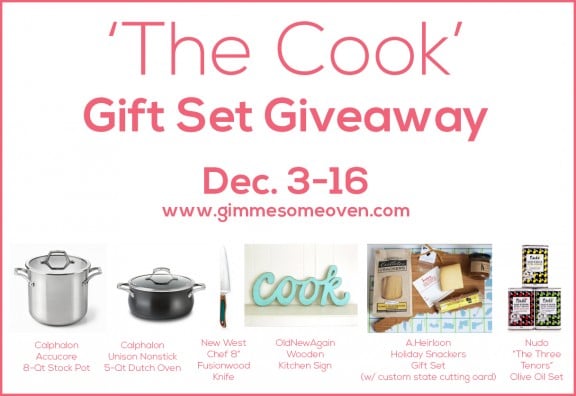 December has arrived! And with it — holiday giveaway season on the Gimme Some blogs!
That's right! All 5 Gimme Some blogs (Film, Life, Oven, Reads, Style) are going to be hosting some rockin' giveaways each Monday this month. So be sure to visit all of the other blogs today to enter, and check back each week for more great holiday gift ideas and giveaways.
Here at OVEN, we will be focusing on one different kind of foodie each week. Today, we begin with "The Cook", and our amazing sponsors are going to be giving away over $850 in prizes to 5 lucky winners!
We are featuring everything from gourmet cookware, to a state-of-the-art chef knife, to a little homemade kitchen decor, to a choose-your-own-state cutting board holiday gift set, to some of my favorite olive oils. You definitely don't want to miss this one. So read below to learn more about these great products, and enter for a chance to win!
How To Enter "The Cook" Gift Set Giveaway:
(Follow the Rafflecopter instructions to enter.)
Items Included In "The Cook" Gift Set Giveaway:

Calphalon AccuCore 8-Qt Stockpot & Calphalon Unison Nonstick 5-Qt Dutch Oven ($400 value)
I am completely excited about a new program that Calphalon is now offering called Your Set, where you get the option to mix and match your favorite cookware to create a custom set! Whether you like to cook with nonstick or stainless steel, this program gives you the option to customize your perfect set. You simply choose the base set that is right for you, and then add the additional pieces you would like from Calphalon's AccuCore and Unison lines.
You will love both of these options. AccuCore is a beautiful new stainless steel cookware line with five layers, including a copper core for controlled, even heating. And then Unison is a fantastic nonstick cookware line that releases food easily and seal in juices and flavor. Both lines are dishwasher safe, and made with the high-quality Calphalon care that I so respect and enjoy as a cook!
So I am thrilled that one reader from Gimme Some Oven will be winning two of my favorites — a Calphalon AccuCore 8-Qt Stockpot and a Calphalon Unison Nonstick 5-Qt Dutch Oven. You will adore both! Be sure to read more about the Your Set option here on the website, watch some of their VYou videos (recently with Chef Michael Symon!), and then connect with Calphalon on Facebook, Twitter, YouTube, Pinterest and Instagram.

New West Knifeworks Chef Fusionwood 2.0 8-inch Chef Knife ($269 value)
This gorgeous New West Knifeworks Fusionwood 2.0 8-inch chef knife is going to be going home with one very lucky reader. It was "deliberately designed for folks who find a traditional 8 inch chef cumbersome or intimidating. The graceful blade shape, tapered tang and super thin blade grind makes this nimble knife come alive in your hand." And in addition to being made with the high quality and beautiful design that has made New West a favorite with chefs and home cooks (and food bloggers!), I love that New West is known for making the greenest knives you can buy, since they are made in the USA in their factory that is completely run on hydro power generated on-site. Pretty sweet!
Be sure to also check out your chance to win a 4-piece knife set on New West Knifeworks' Facebook Holiday Giveaway. And then also be sure to connect with them on their website, Facebook and Twitter! And also enter the Calphalon giveaway this week from my friend Julie at Table For Two!
A.Heirloom Holiday Snackers Gift Set ($100 value)
Calling all foodies who would love to show a little state pride! One reader is going to be winning a Holiday Snackers Gift Set of their own from A.Heirloom – the brilliant homemade company behind these state-shaped cutting boards! It doesn't matter whether you live in the Colorado or Hawaii – there is literally a state-shaped cutting board for all 50 states! And A.Heirloom will inlay 1 limited edition brass heart or house in the location of your favorite town. So cool! And even better, the 3/4-inch butcher block is made from 100% rapidly renewable beautiful bamboo, so you can feel good about chopping your favorite veggies on this "green" board.
The winner will also receive some of the extra goodies that come in the holiday gift set (which is a perfect idea for a foodie gift this holiday season). The set includes: 1/4 lb. of clothbound cabot cheddar, 1 bag of Whitney's Castetlon crackers, 1 (8 oz )jar Of Sweet Deliverance NYC's Apple Chili Raisin Chutney, 1 (2 oz) Saucisson Sec from Madison Wisconsin's Underground Meats, and 1 letterpress giftcard. So be sure to check out A.Heirloom on their website, Facebook, Twitter and Pinterest.
OldNewAgain Wooden Kitchen COOK Sign ($58 value)
I keep seeing this adorable "COOK" wooden original-sized kitchen sign pop up on Etsy from OldNewAgain, and absolutely adore it every time. So I am stoked that now one lucky reader will soon have an adorable sign of their own! And you even get to choose which color you would like!! I love this vintage-looking light turquoise, but they have 26 (!!) super-cute colors that you can choose from to perfectly match your home. And there is a hanger on the back, so you can hang it, set it, prop it…whatever sounds good. But mostly, I know that you will just love it!
So be sure to check out OldNewAgain's Etsy shop, where they also sell many other similar wooden word signs and letters, as well as wall vases, wall hooks, wedding decor, wood jewelry, and more. Also connect with them on Facebook and Twitter.

Nudo "The Three Tenors" Olive Oil Set ($29 value)
I have long been a fan of Nudo and their amazing olive oils "straight from the grove". From giving people like you and me the option to adopt an olive tree, to offering a beautiful array of gourmet olive oils, condiments, antipasti and pasta on their website, Nudo's love for simple and natural foods has always earned my respect and praise. And their olive oil is my absolute favorite, so I am excited that one winner will soon be receiving one of their top gift sets — "The Three Tenors".
As Nudo says, "this trio of Nudo olive oils takes you on a miniature tour of Italy. From our fiery southern chilli-infused oil to the seaside breeze of our stone ground lemon oil, to the mountains and the calm of Nudo's prized extra virgin olive oil. It's a whole trip to Italy, minus the carbon emissions." You will love it! So be sure to check out the many gift options this holiday season on Nudo's website, and connect with them on Facebook, Twitter and Pinterest.
Be sure to also enter these other Gimme Some giveaways this week:
In Case You Missed It:
To enter the giveaway, follow the instructions in the Rafflcopter widget above just below the pagebreak.
Disclaimer: All giveaways have been provided by each of the brands listed. I was in no way compensated to host these giveaways, and all opinions are my own as always.