The Five Meals Of The Day In Barcelona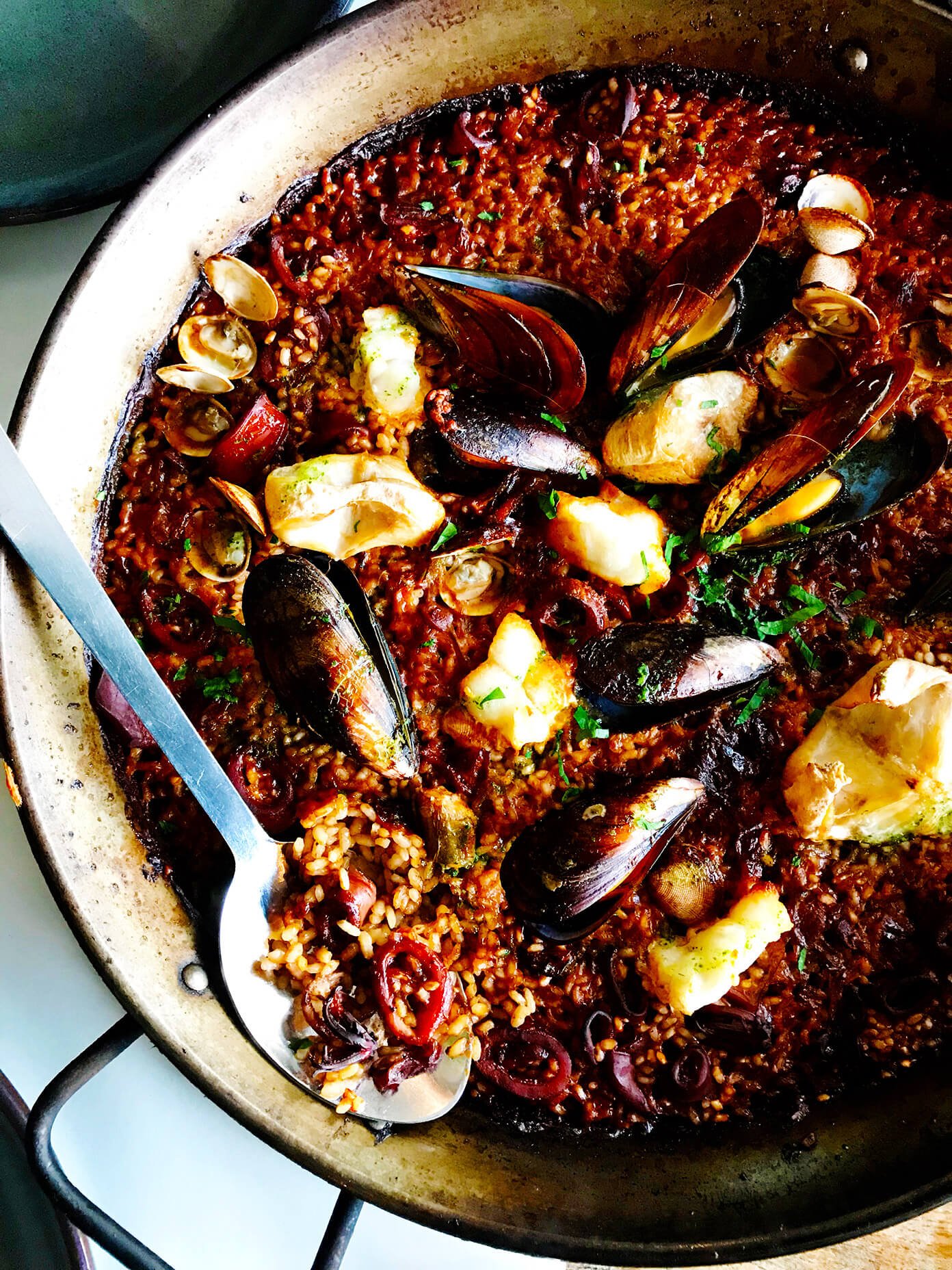 Just when you thought the food in Barcelona couldn't be any more delicious, this city has one more surprise for all of their visitors — you get to eat FIVE meals a day here. 1-2-3-4-5! Freaking brilliant, if you ask me. And of course, all totally delicious.
That said, the meals (and especially, meal times) are considerably different from the meals we used to eat back in the U.S. So here's what you need to know about the five meals of the day in Barcelona:
Desayuno (breakfast) – This mainly consists of coffee or tea at home, accompanied by a small pastry, piece of bread or some other light fare. Most coffee shops won't open before around 9:00am), though you can sometimes find chain stores that can help you get caffeinated earlier if there's nothing available where you're staying.
Almuerzo (mid-morning snack) – Around 10:30am, many locals will take a break from work for a light meal, usually a bocadillo (baguette sandwich) and perhaps another coffee, or fruit juice.
La Comida (lunch) – La comida, literally translated as "food," is the centerpiece of the day's nutrition in Spain. It usually begins at 1:30pm, though most places are open by 1:00pm, and can last for at least an hour or on into the afternoon. This is the main meal of the day, where people traditional eat tapas with a glass of wine or a caña (small beer). Tip: Keep an eye out for Mediodía Menus (a.k.a. Menu del Día), fixed-prices lunch menus offered at various restaurants around the city. Each typically includes a starter, main course, drink and the choice of dessert or coffee. It's a great way to eat well and affordably (€10-€14 per person).
Merienda (afternoon snack) – In case the first three meals of the day haven't done the trick, there's a serendipitous pause in the afternoon — just about the time when the afternoon doldrums take over offices around the world — for a merienda. Meriendas can consist of sweet pastries, the Spanish staple churros & chocolate, cheese or meat plates, sandwiches, or whatever will get people through the remainder of the day.
La Cena (dinner) – And finally…dinnertime. It's widely known that people in Spain like to eat late, and Barcelona is no exception. Around here, some restaurants catering to tourists can open around 6 or 7, but most really tend to get going around 9:00pm. Again, tapas and drinks are most popular. Although by contrast to Madrid, where the tapas culture encourages people to restaurant-hop, grabbing a small bite at each, it's much more customary in Barcelona to plant yourself at a single restaurant and just order lots of tapas there. If you are planning in advance, it definitely helps to make reservations for your dinner place of choice here in Barcelona. So grab a merienda to get you through the early evening, have dinner around 9, and then you'll see the local eateries come alive as the night goes on.
Five meals — and all of them delightful. What a place Barcelona is.
---
For More Barcelona Travel Recommendations…
Check out our Gimme Some Barcelona Travel Guide, which includes a constantly-updated list of our best recommendations on where to stay, what to do, and where to eat in Barcelona. Plus, we've also shared a bunch of our best Barcelona-specific travel tips, so that you can navigate the city like a local.
Also, feel free to download our Gimme Some Barcelona Google Map, which includes all of the recommendations listed in our travel guide.