The Friday Five
This post may contain affiliate links. Please read my disclosure policy.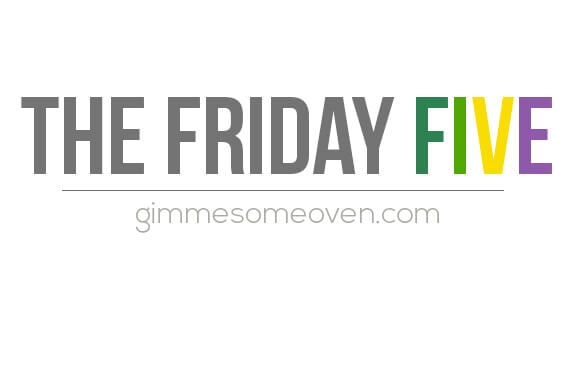 Happy second day of SPRING, friends!
I have to admit that it doesn't quite feel like a Friday to me. My days are all mixed up after spending three days hanging out mid-week with my college friend, Meg, who came to visit for a few days. Then my friends and I stayed up way past our bedtimes on Wednesday night to catch The Augustines, who were in town playing an 11pm show. (Confession: I've totally become that person who's like, "doesn't a 7pm show sound so much more reasonable?!")  And then yesterday, the sun was shining, it was a glorious 71 degrees outside, and well — frankly — I had no interest in staying indoors to work most of the day. But c'est la vie. I've been trying to keep a more normal M-F 8-5 work schedule the past few months, but sometimes the freedom of self-employment is plain awesome.
I have to admit, though, the highlight of my week since our last Friday Five was this past Saturday night. After talking about it for months, I finally pulled together the social event of my nerdy dreams — an Enneagram Night!!! Are you all familiar with the Enneagram?! If so, there's a good chance that you're overly enthusiastic about it like me. But if not, scroll below for some resources I recommend, and also be sure to check out my Life page because I'm going to be posting a little more about it soon.
Basically, the Enneagram is THE personality test of personality tests. Sure, I've taken others (i.e. Myers/Briggs, StrengthsFinder, etc.) that have always been interesting to me. But the Enneagram is the first personality test I've ever taken that really gets me. Like, it's uncanny and almost a little spooky how well it gets me. And countless friends have had the same experience. So we decided it would be fun to have a night of uninterrupted, intentional conversation about the Enneagram. And it was awesome. We went through all of the 9 types and had representatives of each share a little bit about it, and what they need from all of their friends to feel loved and healthy and appreciated and all of that good stuff. Oh, and before that, we had a big dinner where people brought salads or cocktails that somehow represented their numbers. (I made these 3-ingredient salad and cocktails to share.)
Anyway, it was one of those nights that just reminded me how much I adore my friends. And how lucky I am that they jump at the chance to geek out at something that's so interesting and vulnerable and awesome. And just generally how fascinating this thing is that we call life. Feeling grateful.
So thanks for reading along, and I wish you a relaxing and beautiful spring weekend ahead!
5 resources to check out if you're interested in geeking out learning about the Enneagram
5 reasons to pick up a head of cauliflower this weekend
5 books I've read that I cannot WAIT to see come to the screen this year
5 easy ways to arrange flowers this spring
5 songs you should totally download from "Nashville" (even if you don't like country music)