Twix Trifles
This is a sponsored review from BlogHer and Kraft.
One of the great "injustices" of my childhood was having to stand in line at the grocery store, with Twix bars and their gorgeous gold wrappers just inches away, calling my name.  But despite my puppy-dog eyes, my pleas, my attempts at rationalizing the situation (because everyone in our family knows that Twix are her favorite candy bars too!)….my mom always held to her strict no-candy-in-the-checkout-line policy. Oh, the defeat!!
But now, the joys of being the adult with the credit card are mine.  (Mwahaha…)  So on occasion, I take great delight in spontaneously tossing one into my cart.  And now, I take oh-so-great delight in introducing my first Twix recipe on the blog!  It also happens to be the first of four original recipes I have been asked to develop for the Real Women of Philadelphia — a rockin' contest hosted by Paula Dean celebrating amazing PHILADELPHIA brand cream cheese and cooking creme recipes.  I've followed the contest the past two seasons, so am super excited to be a part this year along with these other bloggers!
The RWOP contest is closed for this year but the finalists have been chosen and the winners will be announced at The Cookoff & Live Event in Savanna, Georgia on June 30th (visit the site for all the details.)
So of course, while brainstorming in (of all places) the checkout line one day, the little gold wrapper called my name again and I had the idea for these delicious Twix trifles.  They are super-simple — just a layer of Twix, followed by a delicious salted caramel mousse, followed by some chocolate fudge sauce, and topped with whipped cream.  Basically, heaven in a trifle bowl.  :)
So read on below for the recipe, visit the RWOP site to check out the finalists' recipes, and see what great ideas you can find.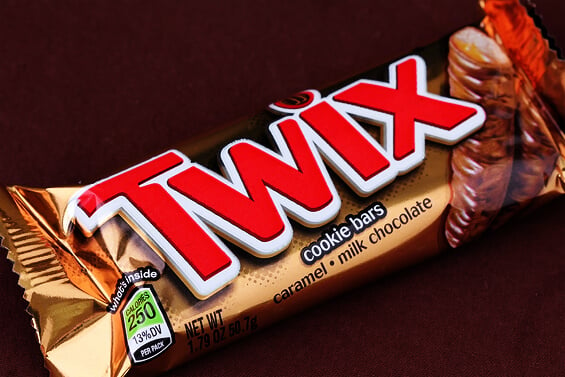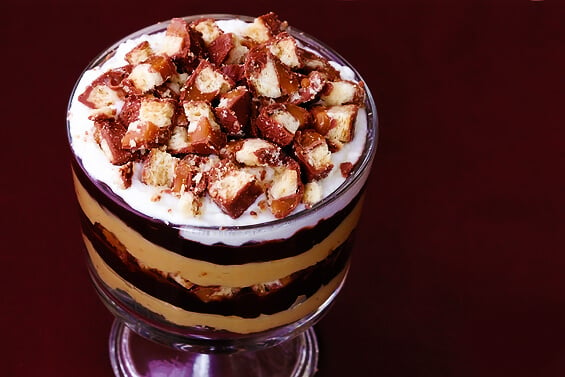 Twix Trifles
A simple, delicious Twix Trifles recipe with layers of chocolate candy bar salted caramel mousse, hot fudge and whipped cream. YUM!
Ingredients:
!Trifle Ingredients:
!
Twix bars (I used 3 packages), chopped into 1/4″ pieces
chocolate fudge sauce (homemade or storebought)
whipped cream (homemade or storebought)
salted caramel mousse (recipe below)
!
!Salted Caramel Mousse Ingredients:
!
1/3 cup sugar
3 Tbsp. water
1/3 cup heavy cream
1 tsp. vanilla extract
1/4 tsp. sea salt (or more, to taste)
4 oz. PHILADELPHIA Cream Cheese
1 cup powdered sugar
Directions:
To Make Trifle:
In a trifle bowl or small glass, add a layer of the chopped Twix bars. Then use a pastry bag (or a Ziplock bag with the corner tip cut out) to pipe in a layer of caramel mouse. Then do the same with a layer of chocolate fudge sauce. Then repeat! Finish of with a layer of whipped cream, and top with the remaining Twix bars. Serve immediately or refrigerate up to 8 hours.
To Make Salted Caramel Mousse:
Briefly stir together granulated sugar and water in a small saucepan, then bring to a boil over medium-high heat. Continue cooking, without stirring, until mixture turns dark amber in color, about 6 to 7 minutes. (Keep an eye on it, though, because it goes from clear to amber very quickly!)
Remove from heat and slowly add in cream (just start with a tablespoon or two), stirring with a wooden spoon until completely smooth. (Be careful, as the mixture will definitely bubble up and possibly splatter a bit as you add in the cream.) Stir in vanilla and salt. Set aside until it reaches room temperature, or refrigerate to speed up the process.
In the bowl of a stand mixer, beat PHILADELPHIA Cream Cheese on medium-high speed for 1 minute until very smooth. Add in the room-temperature caramel and powdered sugar, and beat on medium-low speed until combined. If the mousse is too thick, add in a tablespoon or two of heavy cream. Then increase speed to medium-high and beat for another 2 minutes until light and fluffy. Set aside.
All images and text ©
If you make this recipe, be sure to snap a photo and hashtag it #gimmesomeoven. I'd love to see what you cook!
Ali's Tip:
These would also be delicious with a layer of ice cream!