Verde Shrimp Enchiladas With Jalapeno Cream Sauce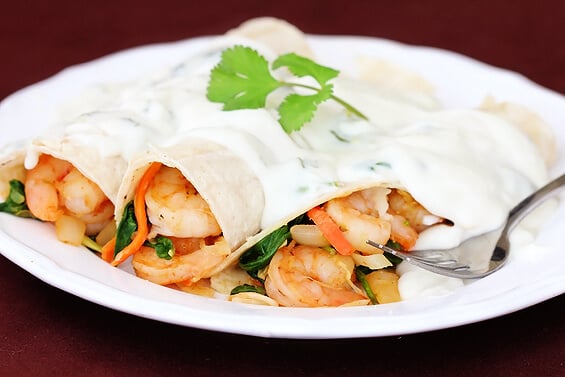 A few weeks ago, I decided to be adventurous and try one of the new items on the menu at Cactus Grill (one of my favorite Mexican restaurants in Kansas City) — verde shrimp enchiladas.  Now I'm always a fan of Mexican shrimp dishes, but I was especially intrigued when I read that these enchiladas were also filled with cabbage, carrots, and fresh spinach.  And of course…the jalapeno cream sauce may have been a little enticing too.  :)
In short, they absolutely rocked.  Holy cow.  I was actually in a business meeting when I tried them, and kept trying to focus on the discussion at hand.  But my mind was completely distracted by how insanely delicious these were, and how I couldn't wait to go home and try to recreate them myself!
Finally, this weekend I was able to make it happen.  The actual enchiladas came together easily (especially thanks to some cole slaw – a nice shortcut), but the hands-down winner of the day was the jalapeno cream sauce.  Ri-di-cu-lous. It was so delicious — definitely a new favorite.  So excited to make these again soon!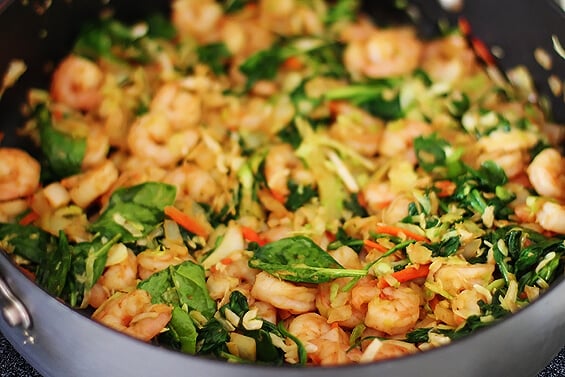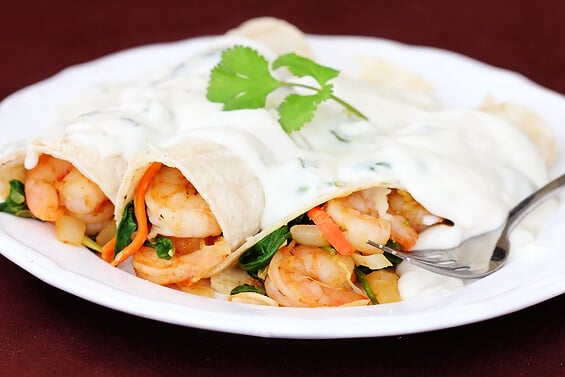 Verde Shrimp Enchiladas with Jalapeño Cream Sauce
Delicious shrimp enchiladas with an irresistible white sauce. You will love this Verde Shrimp Enchiladas With Jalapeno Cream Sauce recipe!
Ingredients:
!Enchilada Ingredients:
1 lb. peeled, devined shrimp
2 cloves garlic, peeled and minced
half a white onion, peeled and finely chopped
3 cups cole slaw
3 cups fresh baby spinach
1 tsp. chipotle powder
1/4 tsp. oregano
dash of cayenne pepper
12 (6-inch) corn tortillas (**see tip below for warming instructions and/or substitutions)
2-3 cups Monterrey Jack cheese (or other favorite cheese)
!
!Jalapeno Cream Sauce Ingredients:
2 Tbsp. butter
2 Tbsp. flour
1 1/2 cups chicken broth
1 jalapeno, seeded and minced
3/4 cup sour cream
1/2 tsp. salt
1/2 tsp. garlic powder
1/4 tsp. pepper
1/2 cup chopped fresh cilantro
Directions:
To Make The Enchiladas:
Preheat the oven to 375? F. Grease a 9 x 13-inch baking dish.
In a large sauté pan, melt 1 tablespoon of the butter over medium-high heat. Add the shrimp to the pan in an even layer and let cook without moving, about 1 minute. While cooking, sprinkle 1/2 tsp. of chipotle powder on top of the shrimp. Then flip the shrimp over and continue to cook until just pink and opaque, 30-60 seconds longer. Remove to a plate with a slotted spoon and set aside. When the shrimp is cool enough to handle, roughly chop into bite sized pieces, if desired. Set aside.
Melt the remaining butter in the pan. Add the garlic and onion, and cook until just tender, about 5 minutes. Add the cole slaw and spinach, as well as the other 1/2 tsp. of chipotle powder, plus the oregano, salt, pepper, and cayenne to the pan. Stir well, and cook for another 1-2 minutes, until the spinach just begins to wilt. Add the shrimp back in, stir to combine, then remove pan from heat and set aside.
Steam the tortillas using a tortilla warmer, or place between two damp paper towels and microwave for 10 seconds. Set tortillas aside and keep warm. Also prepare the jalapeno cream sauce, as detailed below.
To assemble the enchiladas, place a steamed tortilla on a flat surface. And (working quickly, so that the tortilla doesn't dry out), fill the middle of the tortilla with about 1/3 cup of the shrimp/cabbage filling. Then sprinkle some cheese on top, and carefully roll the tortilla and place it seam side down in the baking dish. Repeat with the remaining tortillas. Drizzle the top with about half of the jalapeno cream sauce, then cover the dish with foil and bake for about 20 minutes, or until tortillas are heated through.
Remove from the oven, then serve individual enchiladas drizzled with the remainder of the jalapeno cream sauce. You can also garnish with additional cilantro, cheese, and/or sour cream.
To Make Jalapeno Cream Sauce:
Melt the butter in a skillet over medium high heat. Add the flour, whisking until golden and bubbly, about 2-3 minutes. Slowly whisk the broth into the flour mixture. Stir in the sour cream, whisking if necessary to remove any lumps. Then add the minced jalapeno, and simmer until sauce is thickened. Remove from heat and stir in the fresh cilantro. Season with salt and pepper if needed.
All images and text ©
If you make this recipe, be sure to snap a photo and hashtag it #gimmesomeoven. I'd love to see what you cook!
Ali's Tip:
Corn tortillas can be tricky to work with when making enchiladas.  So if you'd rather skip the steaming fuss, feel free to use flour or whole-wheat tortillas!