My Visit To San Antonio To Attend Culinaria
This post may contain affiliate links. Please read my disclosure policy.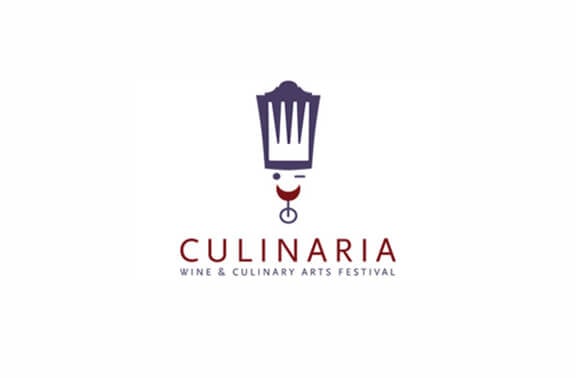 Some of you may remember that I caught the blogging travel bug last year and spent a good chunk of 2013 hopping from culinary adventure to adventure. This year, I have decided to spend much more of my time back home in Kansas City. But I was looking through photo albums the other day and was reminded again of what an amazing season it was. I still can't believe I got to meet such wonderful people, visit so many inspiring places, and — of course — eat so much spectacular food.
One of those trips that I had yet to share with you about on here was my time at Culinaria, an awesome food and wine festival that I was invited to attend in San Antonio. I had thought this trip might be fun to share in the chilly winter, in case any of you are looking for a fab trip idea for this spring. Tickets just went on sale for Culinaria 2014, which will be held this May. And let me assure you, it is an epic food and wine festival to attend. Everything's bigger and better in Texas, right? And this festival is no exception. From the incredible chefs and their culinary masterpieces, to the hand-crafted cocktails, to the events, to the scenic boardwalk, to the fine wines, to the CIA…San Antonio shows that they know how to throw a mega party with this festival. And we, at least, had a mega good time.
So for anyone who might be interested, here are a few photos (ok, I lie — I went photo-crazy on this trip and took about 100) of my time at Culinaria. If any of you have any questions or decide to go, definitely let me know. I think you will love it!
I had the privilege of experiencing all things Culinaria with a group of talented press and bloggers. And we were thrilled to be set up to stay at the Hotel Havana, a boutique hotel located along the North stretch of the famous River Walk.
The hotel was originally built in 1914 for a local grocer as a residence hotel for his local buyers. Its architecture is heavily Spanish-influenced, and also pays tribute to diverse cultural influences of its Cuban namesake.
And let me tell you — it is a stylist's dream come true!
The hotel was actually reopened in 2010 after being restored, and the designers did a fantastic job. It's quirky, bold, colorful, vintage, and oh-so-posh.
As you can see, they went all out with the funky red influences in the open meeting rooms and historic stairwells…
…but the rooms were perfectly airy and light and amazing.
It was hard to get a good picture with my camera, but this room is actually the little enclosed sunroom / sitting room that was attached to the bedroom. And for a girl who loves nothing better than soaking up some sunlight, this room was pretty much my little version of San Antonio heaven.
It came complete with a vintage fridge stocked with all sorts of good treats. Read: GOOD. We're not talking a bag of peanuts and a Snickers bar here. Oh no. Some foodies must work with Hotel Havana, because there were all sorts of gourmet and funky goodies galore sprinkled throughout the room.
Not to mention the complementary local macarons and chocolate dessert waiting on the bed when we arrived. Oh, they know the way to my heart… :)
The bedroom itself was minimalist but fun.
They also included a red robe!!! Oh la la!
Ok, ok, moving on. After my little macaron appetizer, I wandered downstairs to meet the team at Ocho, a beautiful patio restaurant and lounge that is part of the hotel.
There, we were treated to the first of our official Culinaria fare — amazing gourmet small bites galore. I dove in. Oh — and then learned that there was still an entire 11-course dinner to come. Yes, eleven.
Half of the group at this point went to attend a food truck competition. (You can read about it on my friend Andi's post.)
But then I went with the other half to Bin 555.
As you can see, the red-tinted room theme continued here. :)
The windows were covered in menus, which made food photography kind of impossible….
…but it sure made for a fun night! Chef Jason Dady went all out, sharing his passion for Asian fusion cuisine with a long line of creative, daring, and brilliant dishes, each paired with local wines. The crowd was more than enthusiastic to give them all a try. So much fun!
The next morning, we all woke up and made our way to a place I've wanted to visit for years — the San Antonio campus of the CIA.
Sorry, we're not talking about the intelligence bureau here. This is the Culinary Institute of America, no less! It is easily regarded as one the top, if not the top, culinary schools in the nation. And the San Antonio location is its newest branch, specializing especially in the local cuisine of the Southwest.
We began by grabbing breakfast and coffee at their campus bakery/cafe.
Then took a walking tour around campus, which is set amongst 19th century buildings which used to be home to the historic Pearl Brewery. I though they did such a great and creative job of weaving in old brewery elements into the restored architecture and design of the school.
(Can you tell what that light fixture is made from?!? Let's just say you could fry up a bunch of eggs in that baby…)
Once we stepped inside, a hush went throughout the group. It's like stepping into the Ivy League of culinary schools. So inspiring and impressive, especially when we got to pass by classes of students hard at work.
They all seemed to genuinely be enjoying themselves though, despite the fact that they were racing around creating their masterpieces at 100 mph!
In addition to offering professional culinary degree programs, all of the CIA campuses offer some really cool Food Enthusiast courses for — yes — anyone who is "enthusiastic" about food. They range from boot camps, to cooking and wine courses, to demos and tastings, and more.
I was super thrilled to learn that we were going to spend the morning doing a hands-on mini boot camp cooking class with one of their top instructors, Chef Brian West.
We all donned our aprons and toques (chefs' hats) and divided up into groups and got busy cooking up a Mexican-cuisine storm. The theme for the day was "Regional Cuisines of Mexico", including:
Salsa verde cocida
Salsa roja de molcajete
Ceviche acapulqueno
Agua fresca de limon con chia
Tacos de pescado estilo baja
Salsa verde asada
Guacamole
Cebollas encurtidas
Frijoles refritos
Arroz a la poblano
Molletes
Tinga poblana
Rajas poblanas
Sopes estilo D.F.
My group was in charge of the final three dishes: (in English) the shredded pork, roasted poblano chile strips, and Mexico City-style masa boats.
Go team!
Here were our masa boats…
And…ta da…here is the tinga!
I must have missed snapping a closeup of the chili strips, but they're right there on the bottom-left.
After hours of cooking, our group was thrilled when it was finally time to set out the buffet.
It was a downright feast!
We each piled our plates high with all of the delicious dishes we had been cooking and smelling all morning, and then had a blast finally taste-testing everything. This Mexican-food lover was one happy camper. :)
After lunch, we stopped by one of the CIA's other restaurants — NAO: New World Flavors — for a ceviche demo with chef-instructor Elizabeth Johnson.
Holy smokes, she knows how to make some good ceviche, and the science behind it all. So impressive.
Our final cooking class of the day was from food historian Chef Melissa Guerra. Our class immediately fell in love with her — she's reminded me so much of a modern-day Julia Child! She was so down to earth and with a fabulously quick and dry sense of humor, and she also gave us a great lesson on the history and context behind Mexican ingredients. (Cliffs notes version: you can always trace local Mexican cuisine back to its food storage roots — they cooked with local ingredients that they could store, like dried chiles.)
Afterwards, we went to this uber hipster awesome restaurant called Arcade, also located on the old Pearl Brewery grounds.
There, we were treated to some signature grapefruit cocktails before dinner.
And then we walked back to get the full NAO experience for dinner.
Just a little peek at the menu…
When in Texas… :)
Yes, I went for the steak, which was spectacular.
Also amazing? Those shrimp!!! The plate immediately disappeared at our table, and we were all eyeing who got the last one. Crazy good.
And of course, dessert was a masterpiece.
Just when we thought we couldn't possibly eat another bite, we decided to take one more exciting stop — a sneak peak of the next day's famous Saturday brunch being prepared by Chef Johnny Hernandez.
Apparently Chef only opens up this restaurant for special events and his famous "second Saturday" brunches, when he goes all out preparing an elegant Mexican feast to share with the long list of people hoping to experience his cooking.
He gave us a little tequila tasting…
And let us check out the famous grill that he custom built out back to make his super-famous barbacoa. I had never seen anything like it!
And thankfully, we were invited back to be a part of the Saturday brunch and taste everything for ourselves! I was picturing a simple spread…
…but of course, nothing at Culinaria (or in Texas) seems to be simple. Once again, we were treated to a stunning array of every delicious Mexican dish you can imagine. I had to keep pinching myself that this was real!
We had everything from delicious fresh ceviche…
…to chips and salsas galore (you know I was down for that!)…
…and of course, there was the famous barbacoa, which was melt-in-your-mouth magic.
That is a very happy meal right there. :)
Mexican pastries for dessert.
And Mexican coffee.
And of course, more tequila. ;)
The restaurant itself had all sorts of fun decorative touches as well, including this happy little statue…
…and even a coy pond!
Here's my friend Andi looking lovely in the grand entrance.
We also had a chance to take a tour of the Pearl Brewery, including the stable.
We also had a chance to tour the Alamo while we were there.
As someone who knows embarrassingly little about Texas history and the Alamo (outside of Miss Congeniality), I found this pretty fascinating.
We also got to take a boat ride down the historic River Walk…
…which was lovely and a "must" for a San Antonio first-timer. :)
It all looks a little different today than it did back then. But it was pretty cool to see how the city had restored it so thoughtfully.
There's also a thriving farmers market happening in the Pearl Brewery campus each weekend.
 It was a definite local hot spot. Oh, and did I mention hot? Yeah, plan for sleeveless shirts every day this time of year in Texas. It was smokin'!
I always want to take 100 more photos at farmers markets.
So lovely. 
Ok, this ranks up there as one of my least favorite photos of me. BUT, I did want you to meet my two friends who I spent most of the trip with — Andie and Pamela. Beautiful, beautiful women inside and out, these two.
Later we ended up going back to Arcade for some cocktail tastings.
We learned the art of using wine in cocktails (apparently is the new hot trend)…
…and also watched a demo on hand-carving ice balls for cocktails. The goal is that the ice ball be touching exactly three side of the glass. I will not be trying this one at home. :)
But I sure enjoyed drinking theirs. ;)
Then that evening, we joined a few thousand other foodies for one of the main events of Culinaria — The Grand Tasting.
Chefs and local restaurants bring their best food, best wine, and best spirits together for a "night of elegance" that was a blast. If you go to Culinaria, you must pick up a ticket to this event. And then put on your "stretchy" dress (this is not the night for a tight little mini dress!), some comfortable shoes, and then get ready to spend the evening walking around and sampling incredible food to your heart's content.
Here's Pamela and her 12th course. ;)
And the band.
And me with my 17th course. ;)
And a peek at some of the sampling stations in action…
All of the chefs we met during Culinaria were also there cooking live.
So. Much. Amazing. Food.
And such a fun night.
Believe it or not, this is only a glimpse of what you can experience at Culinaria. There are countless other events, from "Cashmere and Cocktails" to the "5K Wine & Beer Run", from "Burgers, BBQ and Beer" to "Rambling Rose", and on and on. You can read all about it on Culinaria's website, as well as their Twitter and Facebook pages.
I initially signed up hoping to experience all sorts of Mexican and Tex-Mex food, which exceeded my expectations over and over. But the festival is so much more beyond that. Both the cuisine and the vibe are creative, smart, approachable, and just really really fun. So if you have the chance to go, you totally should. (And then you should tell me all about it.)  :D
Thanks for following along with the 2.1 million photos. Have a great weekend, everyone!
Disclaimer: I was invited to join a press team for Culinaria 2013. My trip was sponsored, but I was not paid and all opinions are 100% my own as always. Thanks for supporting posts and experiences like this that stretch beyond what I create in my little kitchen. :)