West African Peanut Soup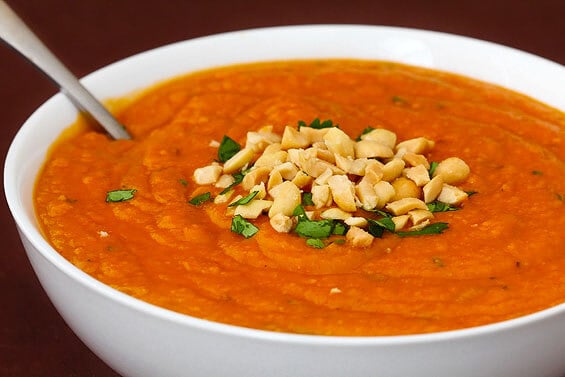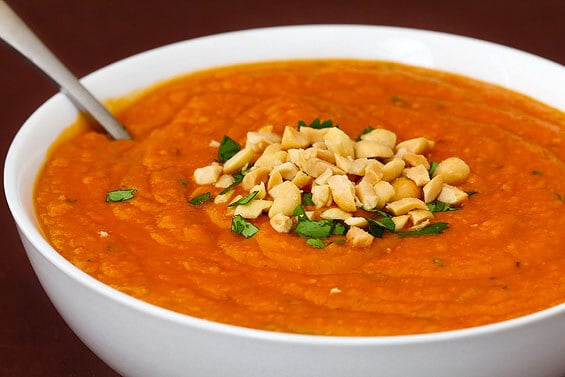 Last night my friend, David, hosted his first-annual "Tastes of the World" party.  Basically, it was a dream event for foodies!  A week beforehand, all of the guests drew a continent and a course (appetizer, main dish, dessert, etc.) from a hat, and then researched a corresponding recipe to make and share with everyone.
As you may have guessed, my continent was Africa.  And my course was actually "appetizer", but after a quick search yielded few appetizer recipes online, I ended up going instead with African peanut soup.  I ironically had it a few years ago in a loft party just blocks from this one, and love any excuse to cook with peanut butter, so this seemed perfect.
This was a new recipe for me, but thankfully it turned out to be fantastic!  Loved the subtle peanut flavors, blended in with the vegetables and wonderful array of spices.  Everyone seemed to love it — even my friend who is anti-cilantro!  :)
So for anyone looking for a new and different hearty soup to try, I definitely recommend this one.  Also for any of you who are looking for a fun party theme idea, this was a blast!  I can honestly say I've never tried so many new and often unheard-of dishes all in one night.  The best part was hearing the stories and how-to from each brave cook — so fun.
Cheers to great food from all 7 continents!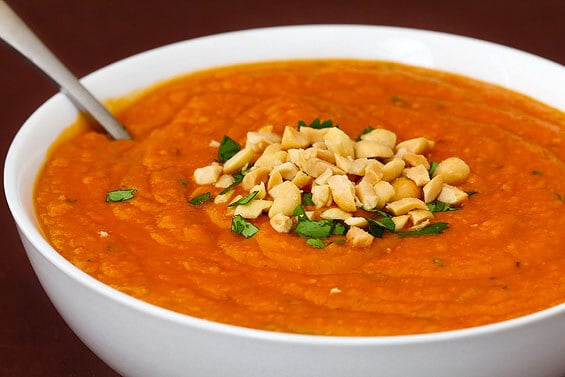 West African Peanut Soup
A delicious African peanut soup recipe that everyone will love! Detailed recipe and photos included.
Ingredients:
2 Tbsp. vegetable oil
1 large onion, chopped
1 Tbsp. minced garlic
1 Tbsp. fresh minced ginger root (or 1 tsp. ground ginger)
2 tsp. cumin
1/2 tsp. ground cinnamon
1/4 tsp. ground cloves
1/4 tsp. cayenne pepper
1 (15-ounce) can crushed tomatoes (or 2 cups fresh diced tomatoes)
2 large sweet potatoes, peeled and cut into 1/2″ cubes
3/4 cup roasted peanuts
6 cups chicken stock (or vegetable stock)
½ cup peanut butter
½ bunch cilantro, leaves chopped
salt and freshly-ground black pepper, to taste
Directions:
Heat the oil in a large Dutch oven over medium heat. Sauté the onion until lightly browned, about 8 minutes. Stir in the garlic, ginger, cumin, cinnamon, cloves, and cayenne. Sauté together 2 to 3 minutes to release their fragrance. Stir in the tomatoes and sweet potatoes, and continue to cook, stirring occasionally about 5 minutes to meld the flavors.

Add the stock and peanuts, bring to a boil, reduce heat, and simmer 30 minutes. Remove the soup from the heat. Using an immersion blender, puree the soup until smooth. (You could also do this in a blender or food processor — just be careful to blend in small batches and don't burn yourself!) Return the soup to the saucepan. Whisk in the peanut butter and chopped cilantro, season with salt and pepper and heat through.

Serve and garnish with additional chopped cilantro, crushed peanuts, and/or tomatoes if you'd like.

If you make this recipe, be sure to snap a photo and hashtag it #gimmesomeoven. I'd love to see what you cook!
Ali's Tip:
Some recipes also suggested drizzling in 1/4 tsp. sesame oil at the end.  I may try that next time — imagine it would add a nice touch!