White Bean & Ham Soup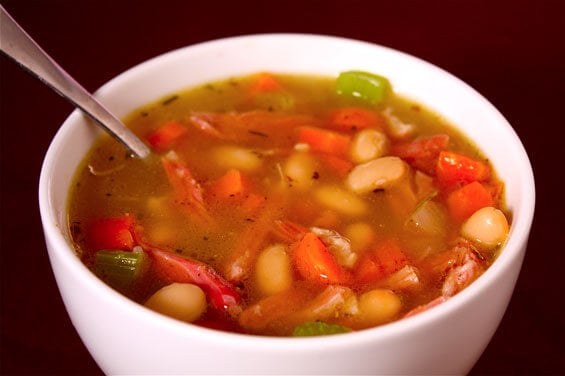 After a few glorious weeks of sunny and surprisingly warm fall weather, the temperature in Kansas City finally dropped today, making it feel much more like the chilly November we know!  While I seem to be becoming less and less a fan of cold weather (am anti-being-cold!), I absolutely love all of the little traditions that come with cozy-ing up for winter.  Today, for example, pulled out some of my favorite warm blankets (and then snuggled up with them to read), lit a favorite caramel-vanilla candle, made some hot cider, bought some candy canes (for soon-to-be-posted peppermint mochas!), and pulled out some favorite sweaters for me and my puppy, Henry, to wear (see the cuteness below).  :)
And of course….had to make some warm soup.  So for day six of Cheap Eats week, we get to celebrate one of my favorites — white bean and ham soup.  Absolutely delicious, simple, and very affordable.  And I'm happy to say the star of the soup is my all-time favorite broth ever — ham broth!!!  YUM.  If you've never made it before, run to the store and buy yourself a ham shank (or hock) and give it a try.  I promise you won't regret it.  :)  Seriously the most flavorful, delicious broth ever!!
So if you're looking for a yummy soup that's easy on the budget to cook up this fall, would highly recommend this classic.  I'm already looking forward to the leftovers…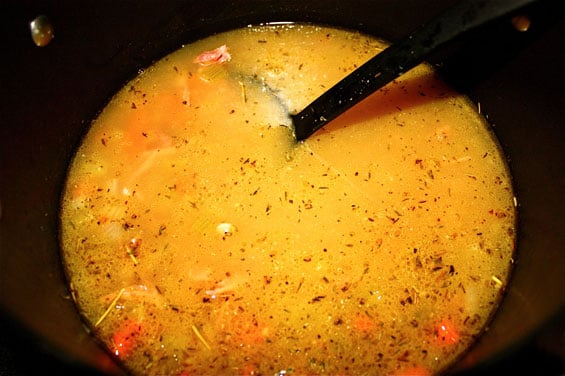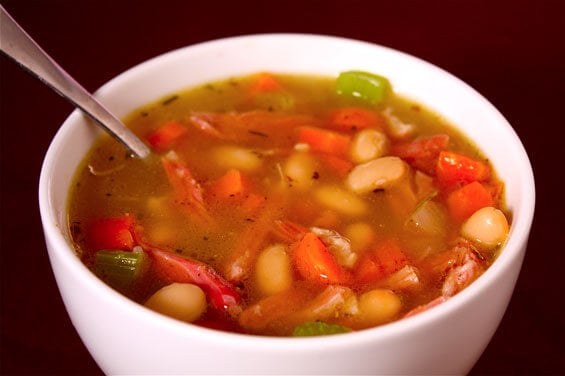 White Bean & Ham Soup
You will love this White Bean & Ham Soup Recipe down to the very last savory spoonful!
Ingredients:
1 lb of dried white beans, or 3-4 (15 oz.) cans, drained – cannelini or Great Northern
1 quart (4 cups) chicken broth, preferably low-sodium
1 quart (4 cups) water
2-3 lbs of ham shanks (preferred to ham hocks because the shanks have more meat), each shank cut into 2 or 3 sections
1 cup of diced onions
1 cup chopped celery
1 cup chopped carrots
3 cloves garlic, diced
Tabasco sauce (optional)
Salt 'n' freshly ground black pepper
Herbes de Provence (or Italian Seasonings)
Directions:
Soak the beans in at least 2 quarts of cold water for about 2 hrs. Drain the water.
Put the ham shank pieces in a large pot and cover with the chicken broth and water. Bring to a simmer and simmer for about an hour. Add the chopped vegetables and beans. Cook for another hour, until the vegetables are soft and the ham meat easily pulls away from the bone.
Remove the ham and bones, shred the meat and then add it back to the soup. Add several drops of Tabasco to taste (optional), as well as salt and freshly-ground black pepper (I love a lot!) to taste. Add a pinch of herbs (either Herbes de Provence or Italian Seasonings). Stir, and then serve.
Ali's Tip:
This soup also cooks well in a crock-pot!  Just throw in the ingredients (with the pre-soaked or canned beans) and let it sit for 6-8 hours on low.  Then just follow the final steps as listed above (shredding the ham, adding seasonings, etc.).  I promise your house will smell unbelievably delicious while it cooks!!
If you make this recipe, be sure to snap a photo and hashtag it #gimmesomeoven. I'd love to see what you cook!