White Chocolate Mocha Cupcakes
Who loves white chocolate mochas???
(I do!  I do!)
Now that winter seems to have officially arrived in Kansas City, I absolutely love ordering white chocolate mochas to warm up on chilly days.  There's something about that smooth white chocolate that is always so wonderfully comforting.
So when I had a cupcake craving this week, it's no surprise what inspiration came to mind!  A few hours later, I had a batch of simple mocha cupcakes topped with a (well, not quite as simple) white chocolate whipped cream frosting.  Needless to say, they completely hit the spot.  So delicious, and I loved the lightness of the whipped cream "frosting" instead of a heavier cream cheese or butter cream.  Definitely apropos for a drink-inspired-cupcake.  :)
Cheers to favorite winter drinks and cupcakes!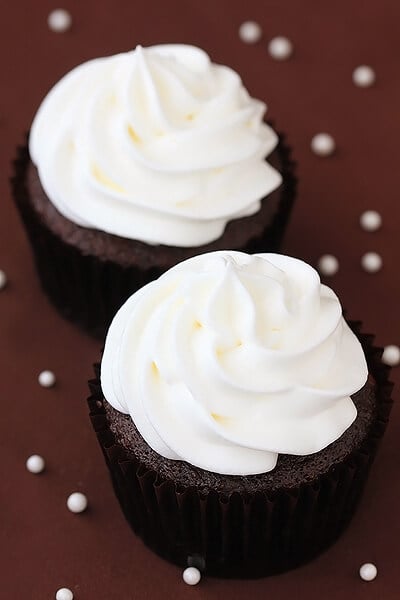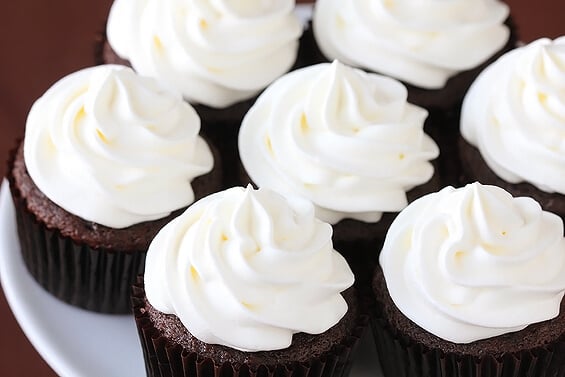 White Chocolate Mocha Cupcakes
A delicious white mocha cupcakes recipe, topped with white chocolate whipped cream frosting. Detailed photos and recipe included!
Ingredients:
Mocha Cupcake Ingredients:
1 3/4 cups all-purpose flour
2 cups sugar
3/4 cups cocoa powder
2 teaspoons baking soda
1 teaspoon baking powder
1 teaspoon kosher salt
1 cup buttermilk, shaken
1/2 cup vegetable oil
2 eggs, at room temperature
1 tsp. pure vanilla extract
1 cup freshly brewed hot coffee
1 ½ teaspoons instant espresso granules
Frosting Ingredients:
6 oz. white chocolate, finely chopped
1 1/2 cups cold heavy cream
Directions:
To Make The Mocha Cupcakes:
Preheat the oven to 350 degrees F. Line 24 muffin tins with paper liners or spray with nonstick cooking spray.
In a large bowl, whisk together the flour, sugar, cocoa, baking soda, baking powder, and salt until combined.
In an electric mixer fitted with the paddle attachment, combine the buttermilk, oil, eggs, and vanilla. With the mixer on low speed, slowly add the dry ingredients to the wet until combined. Add the 1 ½ teaspoons of espresso granules to the cup of hot coffee and stir to combine. With mixer still on low, add in the coffee/espresso mixture and stir just to combine, scraping the bottom of the bowl with a rubber spatula. The batter will be really runny, but don't worry!
Using a large scoop (about 3 tablespoons), distribute the batter into the prepared muffin tins. Bake for 18-22 minutes, or until a toothpick comes out clean. Cool in the pans for 15 minutes, then remove them onto a cooling rack and cool completely. Top with the white chocolate whipped cream frosting, and either serve immediately or refrigerate for up to 48 hours.
To Make The White Chocolate Whipped Cream Frosting:
Place the chopped white chocolate in a heatproof bowl and set the bowl over a pan of simmering water. Melt, stirring occasionally. Meanwhile, bring 1/2 cup of the cream to a boil in a small saucepan. When the chocolate is fully melted, move the bowl to a work surface and pour in the hot cream. Let stand for 1 minute. Stir gently until the cream is incorporated and the mixture is smooth. Let the chocolate/cream mixture stand until it is completely cool. The mixture must be at room temperature before it is added to the whipped cream.
In the bowl of a stand mixer fitted with the whisk attachment, beat the remaining 1 cup of heavy cream only until it holds the softest peaks. With the mixer on high speed, add the white chocolate all at once and continue to beat just until the mixture holds firm peaks. Transfer the cream to a bowl, press a piece of plastic wrap gently against the surface and refrigerate for at least 2 hours. Once cooled, frost cupcakes as desired.
Ali's Tip:
If you are going to be serving these in the evening, I'd recommend using decaf coffee and espresso powder!
If you make this recipe, be sure to snap a photo and hashtag it #gimmesomeoven. I'd love to see what you cook!