White Chicken Enchilada Casserole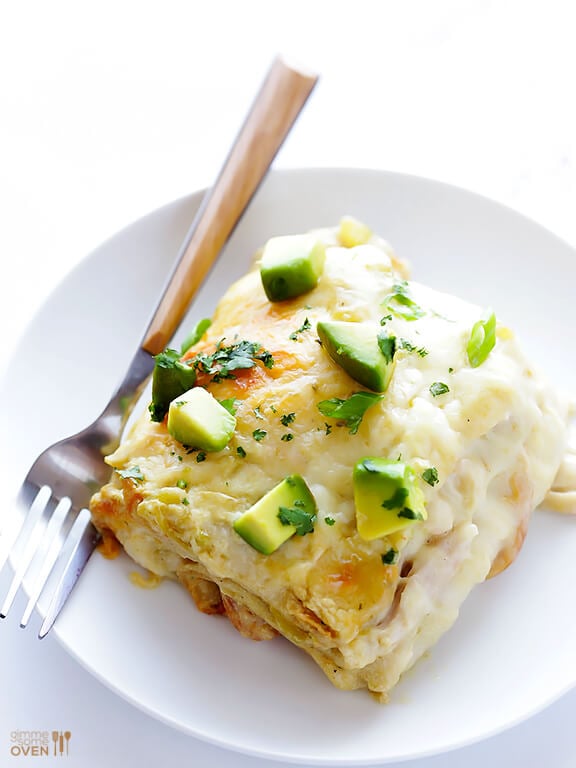 I'm home!!!  I'm home, I'm home, I'm home!  And after a fun few weeks traipsing around Europe, a 9.5 hour plane ride with a 1-year-old kicking the back of my seat and crying half of the ride, and a nearly lost luggage fiasco, boy did it feel good to walk in the door to my loft last night.  And I had three things on my must-happen-immediately list:
1. a big ol' glass of ice water
2. a full night to catch up on some zzzz's in my own bed
3. and MEXICAN FOOD
Oh man.  I rarely go 3 days without eating Mexican food, so 3 weeks without my chips and salsa felt like an eternity!  We did pass by a few "Mexican" restaurants in Germany and Austria and even considered stopping in one evening.  But one peek at their menus full of BBQ wings and New York steaks and shrimp scampi (true story) suggested we might be better waiting until we got home.  So we did.  And now I fully intend to make up for lost time…beginning with this white chicken enchilada casserole recipe!
It's kind of a riff on my (red) Chicken Enchilada Casserole recipe, which has become a bit of a hit on the blog.  But as you can tell, this is the "white", creamy, green-chile-y, total comfort-food-y version.  Although this version is even slightly healthier than traditional white enchiladas, and easy to make by "stacking" the enchiladas into a casserole instead of rolling them all up.  Interested?  I think you will be… :)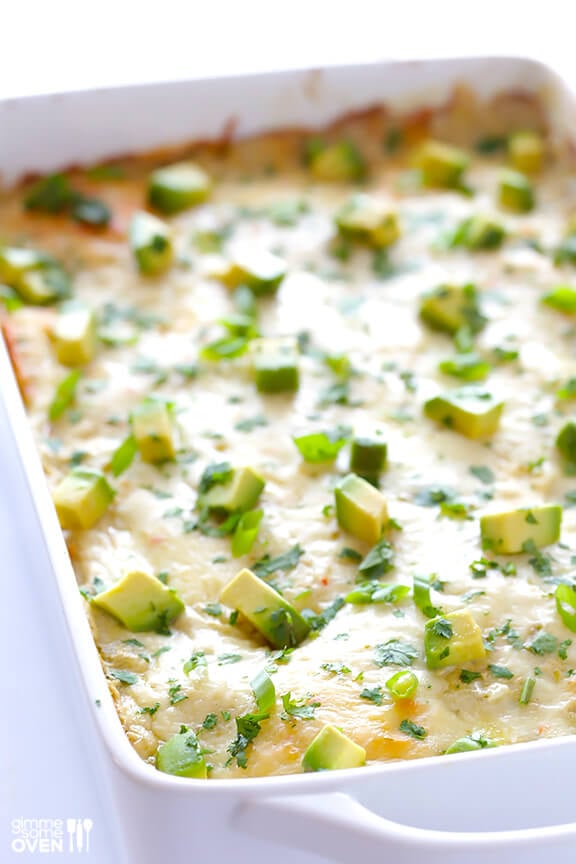 I've actually been eating white chicken enchiladas as long as I can remember.  Mom used to make them with the cream of chicken soup shortcut when we were kids.  Then for years I made them with sour cream.  But recently I've switched to using plain Greek yogurt in the cream sauce, which provides some extra protein and I can't even taste the difference!  (If you don't have Greek yogurt, though, you can totally use traditional sour cream.)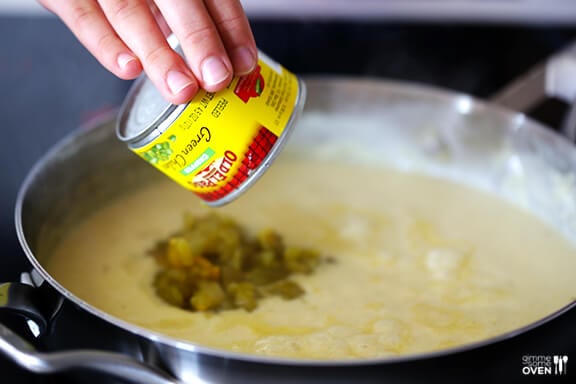 But in addition to the yogurt, the key to the sauce is to add an entire can of flavorful Old El Paso chopped green chiles (always a staple in my pantry for Mexi dishes), lots of chicken stock, and cumin.  It's a simple sauce, but surprisingly full of flavor just beyond the typical creamy base.
Then once you're sauce is ready, it's time to start assembling your enchilada casserole!  This is basically your typical white enchilada recipe, but instead of rolling them all up, you just stack the ingredients layer by layer.
We begin with some halved soft flour tortillas.  Then top those with a layer of the sauce.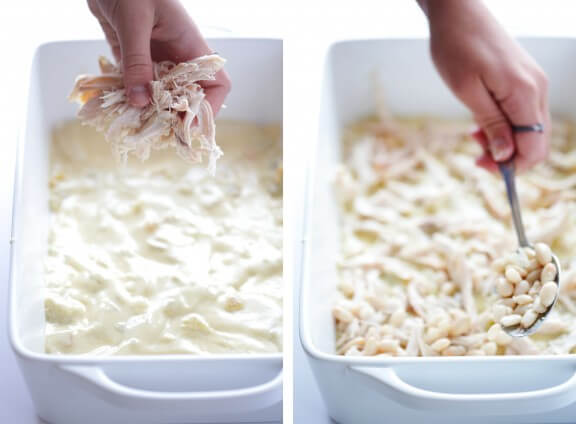 Then add a layer of cooked shredded chicken (I used rotisserie as a shortcut).  Follow that with a layer of white beans, which work great as an extra filler and protein source.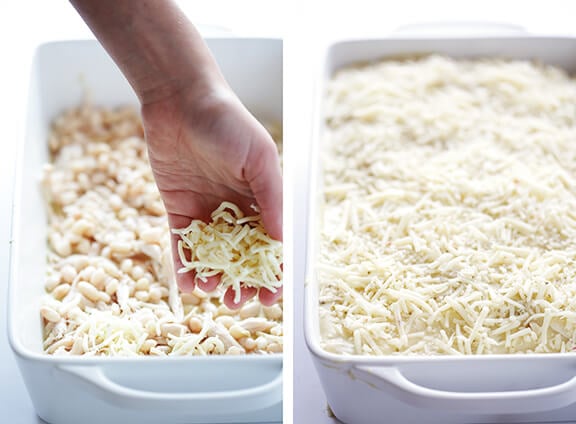 Then add a layer of shredded cheese.  If you like milder food, I recommend using Monterrey Jack cheese.  But I love making mine with Pepper Jack, or even the Habanero Jack cheese for some extra heat.
Then repeat all of those layers, followed by a final round of just tortillas, sauce and cheese.  Bake it all up until it is cooked.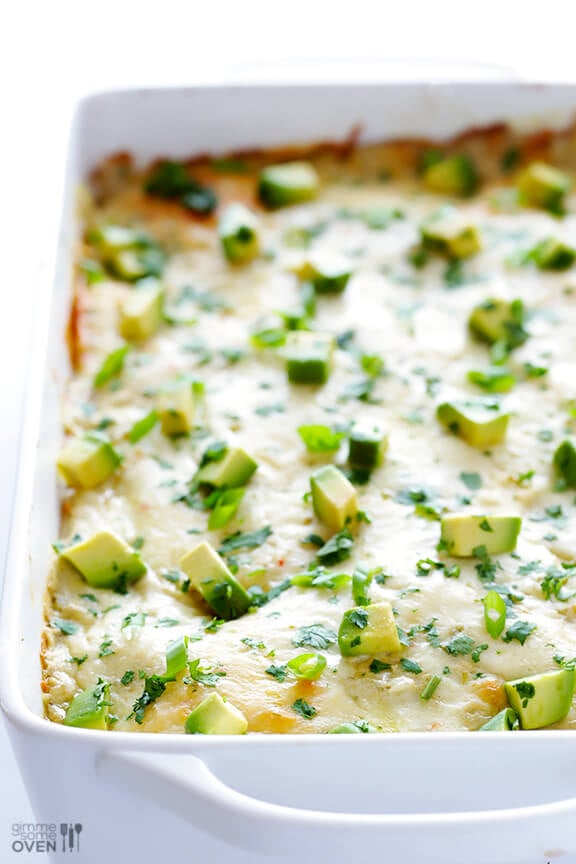 Then top the final casserole with some fresh avocado and cilantro as a garnish.  And then serve it up!!!
Seriously, whether you eat Mexican food all the time (like me) or just occasionally, I'm positive this will satisfy any craving.  I served it to three different groups of friends, and then all gave it raving reviews before I left for Europe.  And now after looking at it, I'm realizing that there's basically no choice — I must make it again for my Mexican foodathon this week.  It's too good and too easy not to enjoy again.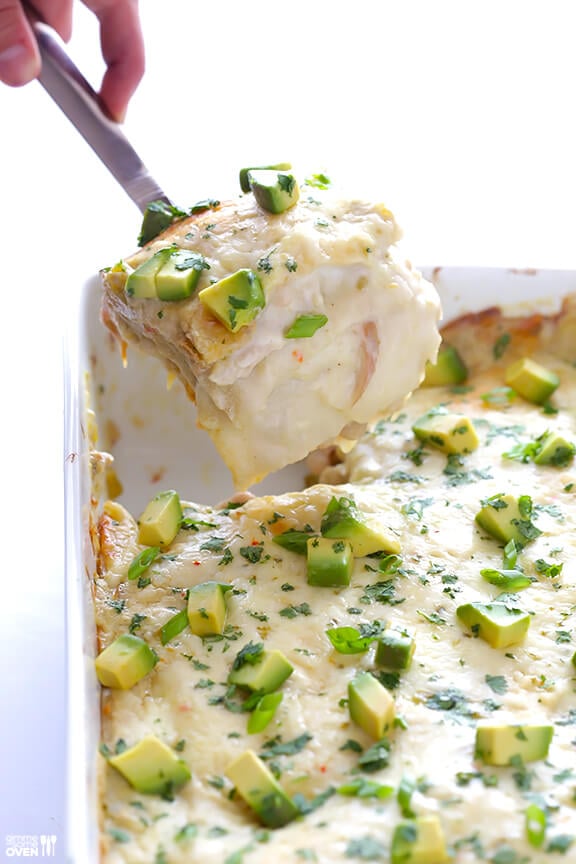 Three cheers for good Mexican food!  :)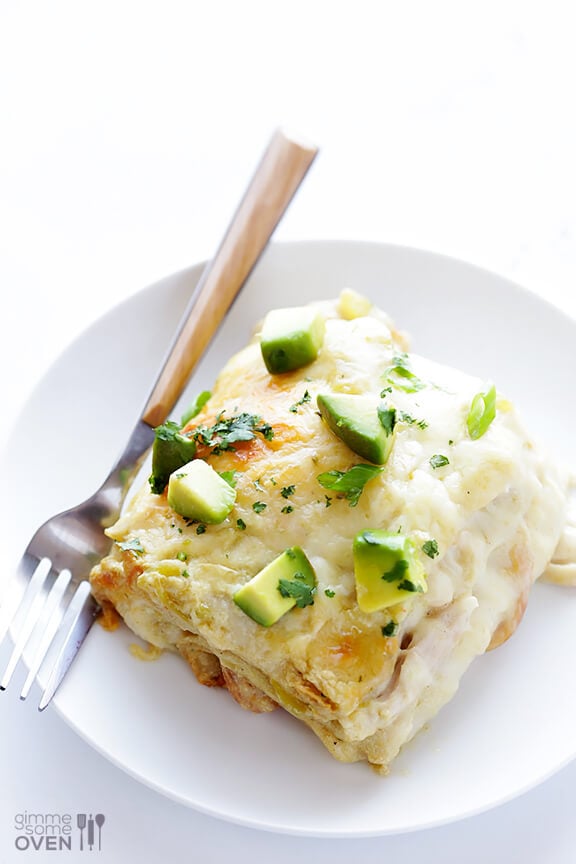 White Chicken Enchilada Casserole
This White Chicken Enchilada Casserole (a.k.a. "Stacked White Enchiladas") are made with a lighter, creamy sauce that everyone will love!
Ingredients:
3 tablespoons butter
3 tablespoons all-purpose flour
2 cups chicken stock
1 (4 ounce) can Old El Paso chopped green chiles
½ teaspoon ground cumin
1 cup plain Greek yogurt or sour cream
24 Old El Paso soft flour tortillas, halved
2 cups shredded cooked chicken
2 (14-ounce) cans White Northern beans, rinsed and drained
3 cups shredded Pepper Jack cheese
1 avocado, peeled, pitted and diced
¼ cup chopped fresh cilantro leaves
Directions:
Preheat oven to 375 degrees. Grease a 9×13-inch baking pan with cooking spray, and set aside.
Heat butter in a large saute pan over medium-high heat. Add flour, and whisk to combine. Cook for 1 minute until lightly browned, stirring frequently. Add half of the chicken stock, and whisk until combined. Then add the remaining chicken stock, green chiles, and cumin, and whisk until combined.
Let the mixture continue heating until it reaches a simmer and thickens slightly, about 2-3 minutes. Stir in Greek yogurt (or sour cream) and whisk until combined. Remove from heat and set aside.
To assemble the enchiladas, place 8 tortilla halves in the prepared baking pan so that they cover the bottom of the pan. Spread about 1/3 of the cream sauce evenly on top of the tortillas. Sprinkle half of the chicken on evenly on top of the sauce, followed by half of the beans, and 1 cup shredded cheese. Repeat with a second layer of tortillas, cream sauce, chicken, beans and cheese. Then add a final layer of just tortillas, cream sauce and cheese.
Cover the casserole with aluminum foil. Bake for 20 minutes. Then remove the aluminum foil and bake for an additional 15 minutes, uncovered, until the cheese is melted and begins to brown around the edges and the casserole is cooked through.
Remove pan, and sprinkle with avocado and fresh cilantro. Serve warm.
All images and text ©
If you make this recipe, be sure to snap a photo and hashtag it #gimmesomeoven. I'd love to see what you cook!
Disclaimer: This is a sponsored post in partnership with Old El Paso.  I am partnering with them and a group of other bloggers this year to develop some fresh Mexican recipes, which I love.  But all opinions are 100% my own as always.  Thanks for supporting the brands which help make this site possible.
Here are 3 more non-traditional chicken enchilada recipes you might like too: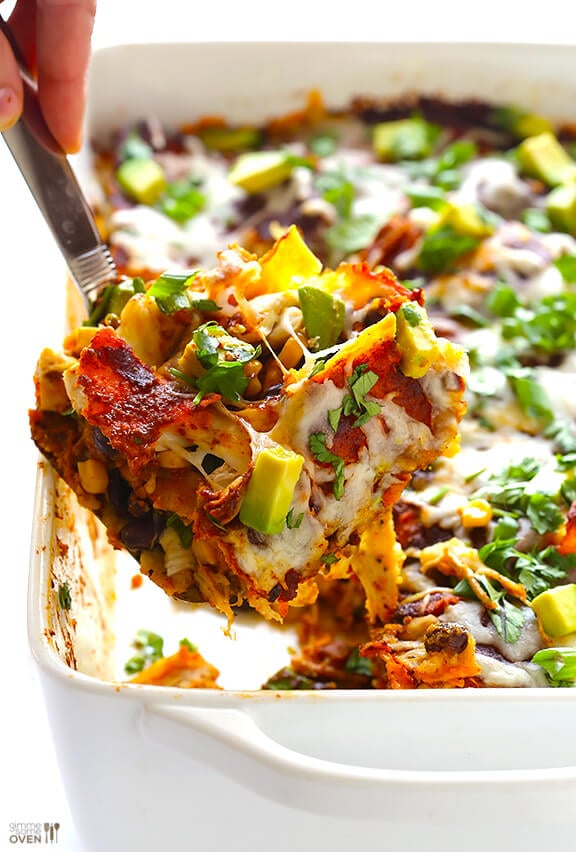 Red Chicken Enchilada Casserole (Stacked Chicken Enchiladas)