Kitchen Remodel: Part 3 (The REVEAL!)
This post may contain affiliate links. Please read my disclosure policy.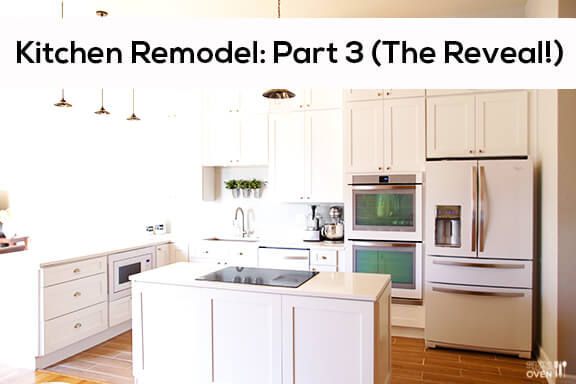 For years, I have been known to tune into the last few minutes of home makeover shows just to catch "the reveal". You know, that moment when these amazing people (usually with amazing stories) get to pull off the blindfold and see their new house unveiled for the first time? And you get to see that wonderful mixture of disbelief, wonder, thankfulness, and pure joy written all over their faces?
Well, each morning I wake up and walk into my new kitchen, I feel like it's a new reveal day all over again. I still cannot believe that this is actually my new kitchen, and that I actually get to be the lucky one to live here, and cook meals here, and entertain here, and call this place my home. It all feels like the most incredible gift — which it absolutely is — and daily I find myself totally tearing up with gratitude. (Ok, and jumping up and down and having miniature dance parties to celebrate.)  ;)
It has definitely been a road to get to the end of this remodel, and I have learned plenty of lessons along the way which I want to share with you. (Especially those of you brave souls who might be remodeling a kitchen in your future.)  So this week I am going to feature a different part of the kitchen remodel each day — appliances, cabinets, lighting/flooring, sink/faucet, furniture, and countertops — and tell a little bit about the story behind each and why they're so darn cool.
But for today, I'm going to share a bunch of photos I took of the kitchen as a whole. I swear that the photos don't even do it justice — the scope and beauty of this place is just incredible. But here is my best "shot" (ha, get it?) of capturing it on film.
Thanks so much for all of your encouragement along the way, and I hope you enjoy it as much as I do! :)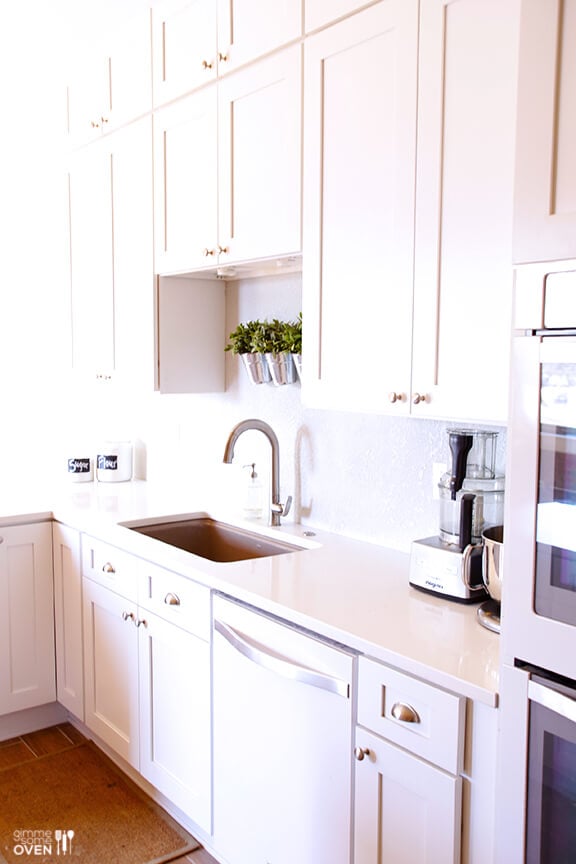 As you can see, I decided to go white-on-white-on-white. We have White Ice appliances from Whirlpool, white cabinets from Cabinet Giant, marbled white quartz countertops from DalTile, and I love them all.
I admit I was a little skeptical at first if this might end up being too much white, and if the different shades of white would match well or compete. But it turns out that everything looks amazing together! The kitchen looks so modern and clean, and I adore how bright it is each day, especially when the sun is out. It literally glows! :)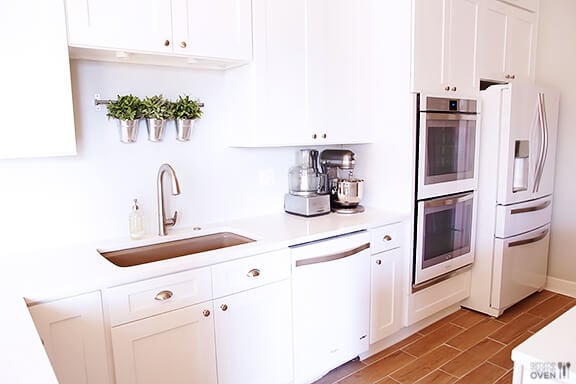 My camera even had trouble just focusing on all of that white — so (wonderfully) bright! :)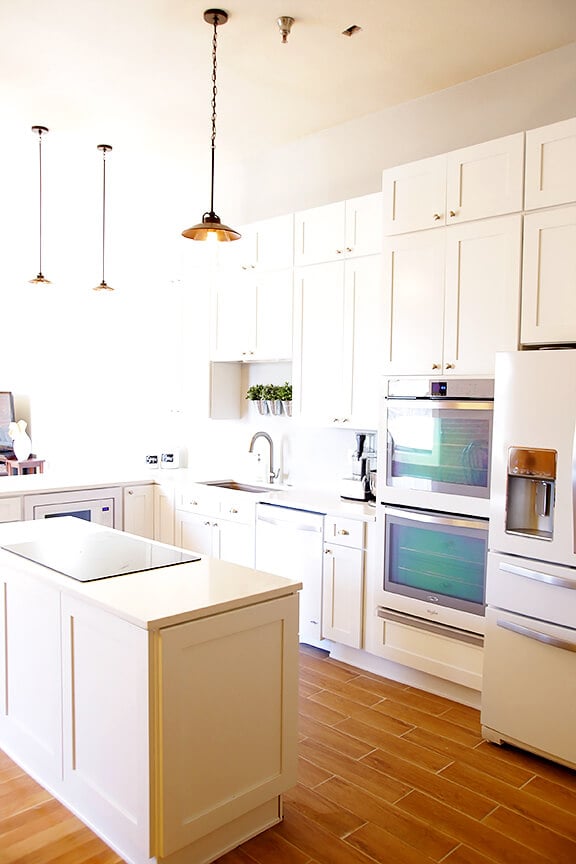 For the first time in my adult life, I also have one of the best kitchen gifts of all — space. So much space. (Especially countertops!)
Up to this point, I have always lived and cooked in really small kitchens, usually with really minimal counter space, which was totally fine and taught me the art of stacking dishes and really maximizing what space you have. But to now have feet upon feet of counter space is glorious.
Ha, I almost feel like it's similar to graduating from a twin size bed to a queen, though. I still find myself trying to do 10 tasks all in the same teeny tiny part of the counter, and then that lightbulb moment goes off that, "oh! I can actually spread out now!!"
So cool.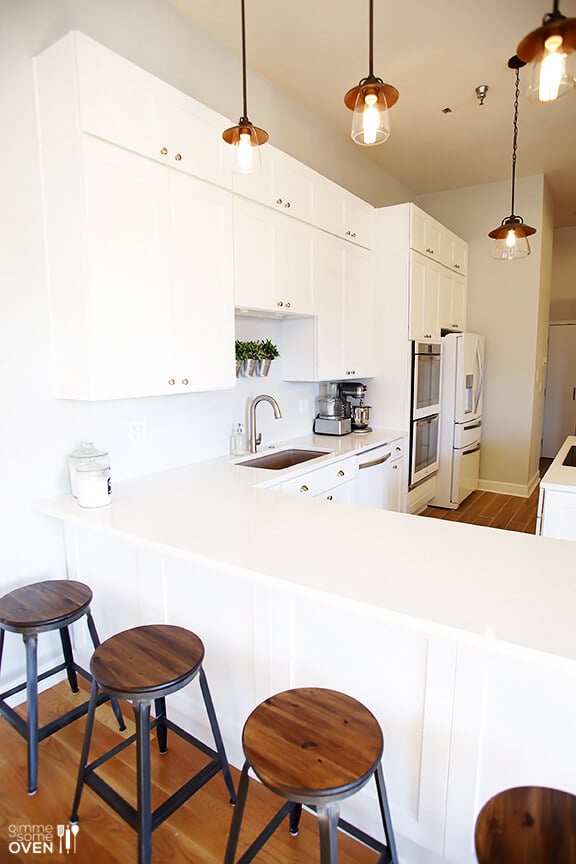 Without a doubt, the first thing everyone comments on when they walk in are the epic white cabinets from Cabinet Giant. It may be hard to gauge the scope (especially the height) of these cabinets, but trust me — they are tall, and they are beautiful.
More details to come in my post about the cabinetry, but I cannot recommend this company enough! The cabinets (especially this White Ice line that I'm partial to) are absolutely stunning in person. They are painted a gorgeous white, they are really heavy and sturdy, and I love that they are so spacious! It has been so fun to move in and find homes for all of the kitchen items that I formerly had stored in closets, and on bookcases, and even under my bed. Now it all fits, and looks great in the process!
(*Edited after posting: A few people have asked about my plans for a backsplash. And — call me crazy — but I'm not a backsplash person! My last two kitchens have not had a backsplash, and I somehow fell in love with the simplicity of just the plain wall to contrast with the cabinets and countertops. My contractor tried to talk me into adding one, but I'm planning to keep it simple as-is.*)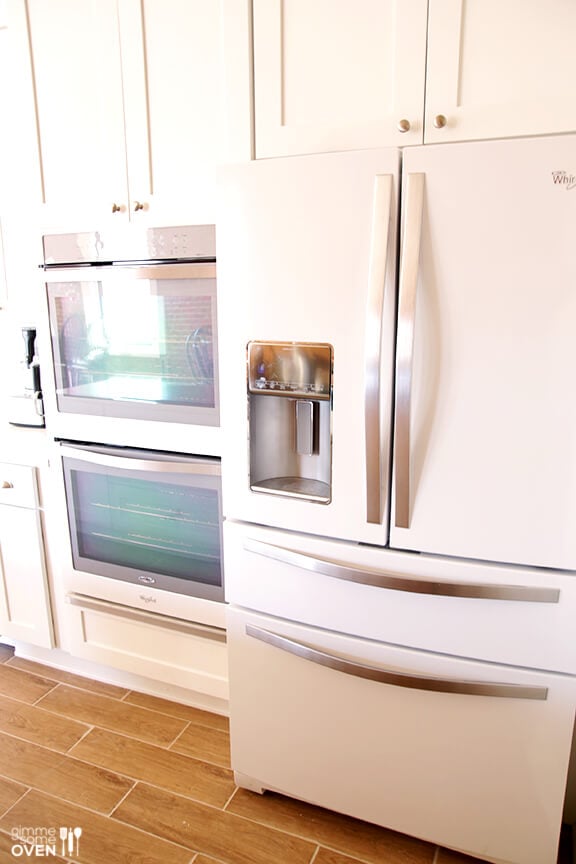 The other thing that has drawn instant ooohs and ahhhs from friends is the White Ice appliance line from Whirlpool — the inspiration for all of the white everything in the kitchen. These gorgeous appliances have been total showstoppers. I mean, this fridge alone makes me giddy. (Just wait for the photos of what's inside!!)  But the amazing double ovens, cooktop, dishwasher…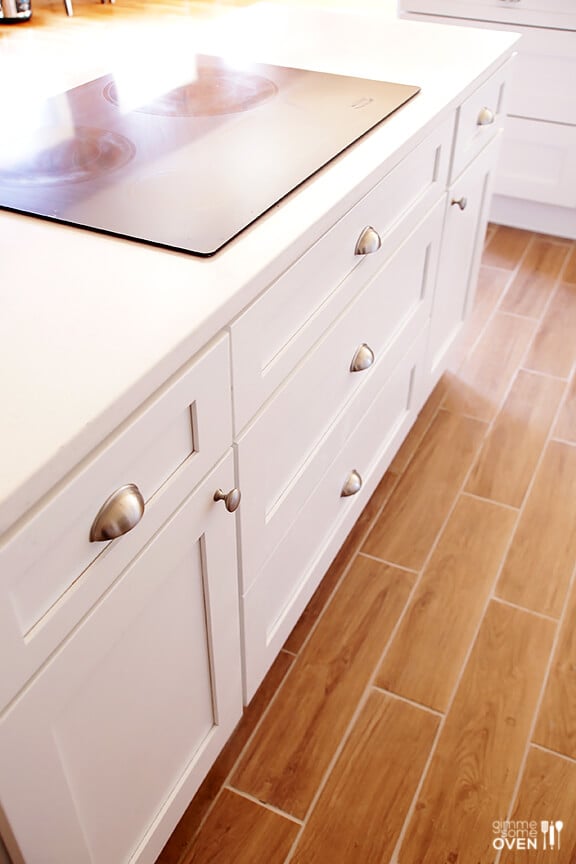 …and microwave are all equally amazing. I have never had a home with such nice appliances, and I now literally get excited every chance that I get to use them (even just to warm up a cup of tea in the microwave!). Tune in tomorrow to hear all about them.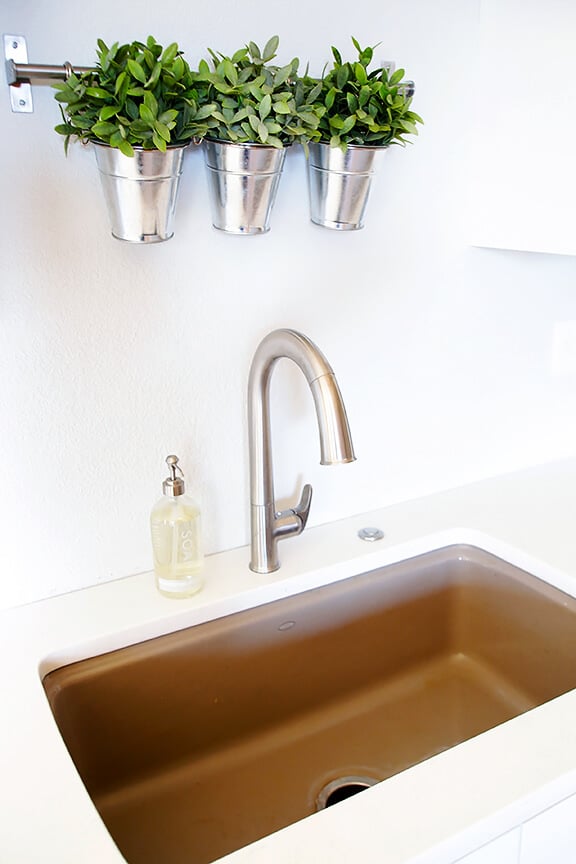 Also super exciting? This gorgeous cast-iron sink and touch-free faucet from Kohler.
It's a little hard to tell from this photo, but the color of the sink is actually a really light gray-ish taupe, and looks so beautiful and classy with the kitchen design. And it's huge!
But I'm pretty sure that this faucet is the feature that all of my family and friends have liked best so far, because it's touch-free. You literally just wave your hand under the top arch, and it turns on and off in a snap. But!!!  It will only turn on and off if you're within a few inches of the sensor, so no worries about your water supply stopping while you're doing dishes under it.
I have to be honest — when the kind folks at Kohler recommended this, I thought it would just be kind of a nice perk. But I am now completely sold on how brilliant and helpful this touch-free technology really is. Bravo, Kohler!!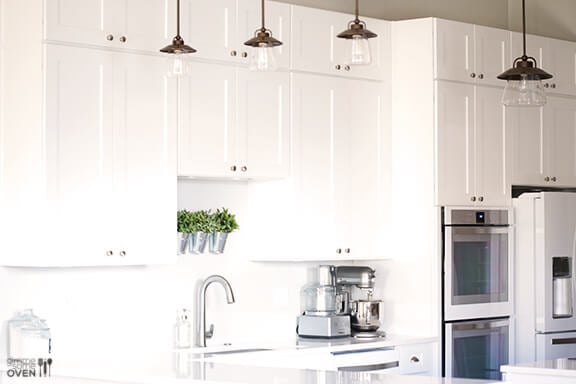 One of my other absolute favorite parts of the kitchen is the lighting and flooring that I found at Lowe's.
As I mentioned in some of the other kitchen remodel posts, I absolutely fell in love with the Allen+Roth brand of lighting at Lowe's, and could not wait to have these fixtures installed in the kitchen and above the dining table. They looked awesome in the displays at Lowe's. But holy smokes, they look amazing now that they are actually installed in the kitchen. I love each of them!
The double fixtures in the dining room are especially cool (scroll two photos down to see).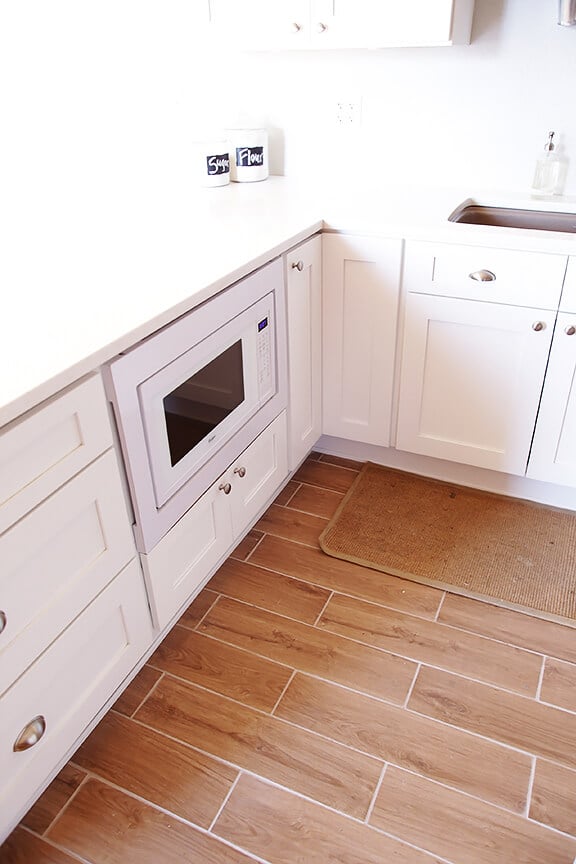 We also were faced with a bit of a dilemma with flooring when starting the kitchen remodel. I had wanted to extend the wood flooring from the rest of the loft into the kitchen, but due to a few complications, we ended up needing to go with tile.
But now, I'm thrilled that we did because this wood-grain tile that I found at Lowe's is awesome!!! (And so much more durable than wood – glad about that now.)  The color is really light in person, and the design is just beautiful. It looks so sharp against the cabinets.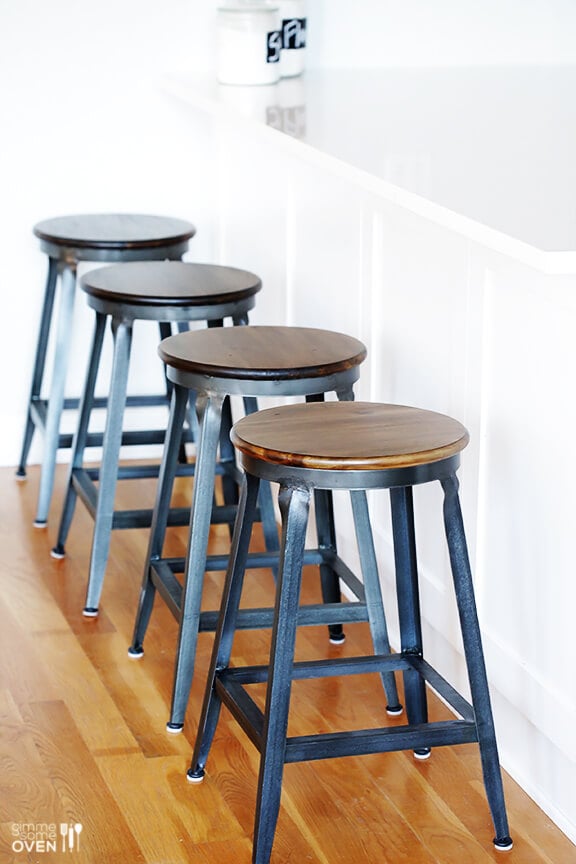 One of my hopes for the kitchen (and my new loft in general) was that seating options would abound. I love to entertain, but my last loft was teeny tiny and everyone was always standing around or practically sitting on top of each other during parties. So I was thrilled that we were able to add some extra seating into the kitchen too.
After lots of shopping around, I was stoked to find these cute industrial metal and wood stools last week at Nebraska Furniture Mart. They were actually less expensive than other similar stools that I found on the market that I didn't like as well, and then I even got them on sale. Score!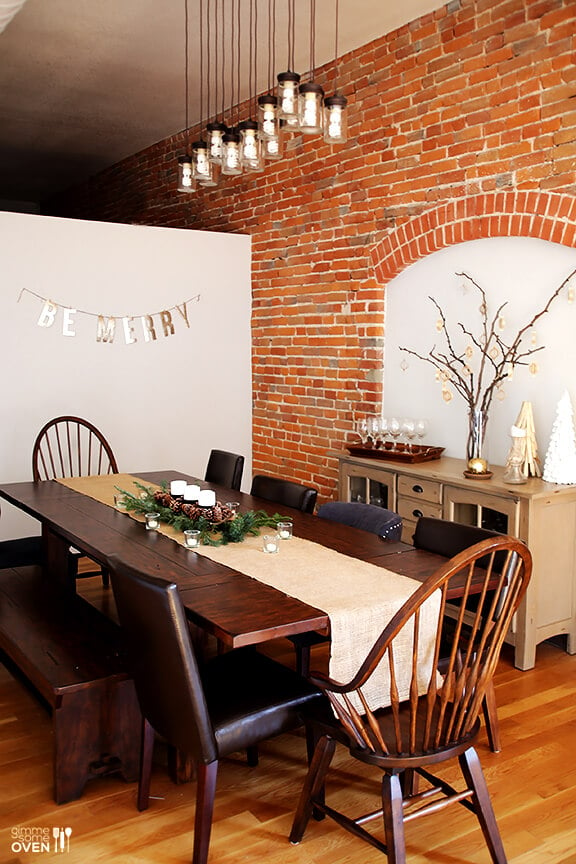 And finally, the one late surprise in this kitchen remodel was getting to partner with Nebraska Furniture Mart and Broyhill to bring the dining table of my dreams into this kitchen. Oh my goodness, it is incredible. And yesterday for my book club, we were able to comfortable seat 14 (fourteen!!!) people around it for a big meal. It is definitely this entertainer's dream come true. The table, chairs, and benches that it came with are all absolutely beautiful, and super solid and well-made.
(And if you've ever wondered where I "work" at home, besides the kitchen, it's now that chair at the head of the table. I like to pretend it's my own little boardroom table.)  ;)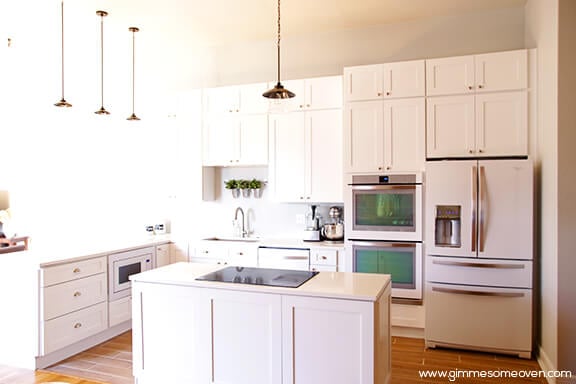 All in all, I am just over the moon about this new space. My biggest thanks go to all of the incredible sponsors who have helped make it possible, including:
Whirlpool
Website, Facebook, Twitter, YouTube & Pinterest
Cabinet Giant
Website, Facebook, Twitter,YouTube & Pinterest
Lowe's
Website, Facebook, Twitter, YouTube & Pinterest
Kohler
Website, Facebook, Twitter, YouTube & Pinterest
Nebraska Furniture Mart
Website, Facebook, Twitter, YouTube & Pinterest
Also, big thanks to DalTile for their amazing help in finding the perfect white quartz countertops (more about those to come!), to my cabinet installer Nathan for all of his quick and hard work, to my general contractor Dana for installing and fixing a million different things. And then of course, to all of you for your gracious support and encouragement with the project. More details to follow this week, so stay tuned! :)
Other items featured in the kitchen and dining area include:
6-Quart Stand Mixer (Silver) – KitchenAid
14-Cup Food Processor – Magimix
Chalkboard Jars – Pier 1
Hanging Succulents (I chose artificial, or they have real!), Metal Pails, Metal Rod – Ikea
Buffet – Home Goods
Burlap Table Runner – Hobby Lobby
Pine Cone Centerpiece and Votives – Target
Wooden Serving Tray – Target
Glittery Light Wood Christmas Tree – Target
White Christmas Tree – World Market
Candles – Garage Sale
Be Merry Banner and Book Ornament Tree – DIY projects by Yours Truly :)
Disclaimer: Products for this kitchen remodel are being SO generously sponsored by Whirlpool, Cabinet Giant, Lowe's, Kohler and Nebraska Furniture Mart. All opinions will be my own as always, but I am thrilled to be working with them and grateful to share about it with you.