Whole Wheat Peanut Butter Chocolate Chip Pancakes
This post is sponsored by Almond Breeze.
Lately I have been re-learning the art of sleeping in on the weekends.
Like, really sleeping in.
The not-setting-your-alarm-clock, waking-up-whenever-I-wake-up, then-rolling-back-over-for-another-10-minutes, snuggling-with-my-pup, and then leisurely-rolling-out-of-bed kind of sleeping in.
Call me crazy, but for years, the little "achiever" in me has rarely allowed this to happen.  It's not that I work all weekend; it's that I always have too many things I want to do in a weekend!  There are coffee dates to be had, there are farmers markets to explore, there are mornings at church to soak up, there are long brunches to be enjoyed, there are afternoons at the dog park to see all of our furry friends, there are concerts and book clubs and wine tastings and girls nights to close out the evenings — all good things!  And on the weekends, I tend to get overly excited and want to do them all.
But I've realized lately that I also really really love sleeping in.  Make that, I really really love how I feel on the weekends when I've had a full night of sleep (or even an hour or two extra!) and get to start my day feeling rested and refreshed and re-energized and all of the other good "re"s.  It's kind of the best.  So while I'm single actually have the opportunity to set my schedule and sleep in (a rare luxury I know that most of my peers with kiddos don't have), hey, I'm going to tap into my inner lazy 15-year-old and make the most of it.  ;)
So this weekend, I did just that.  My pup and I rolled out of bed around 9am-ish, made a steaming pot of coffee, did a little morning Barre3, and then decided to make a whole-wheat take on one of my favorite breakfast indulgences: peanut butter chocolate chip pancakes.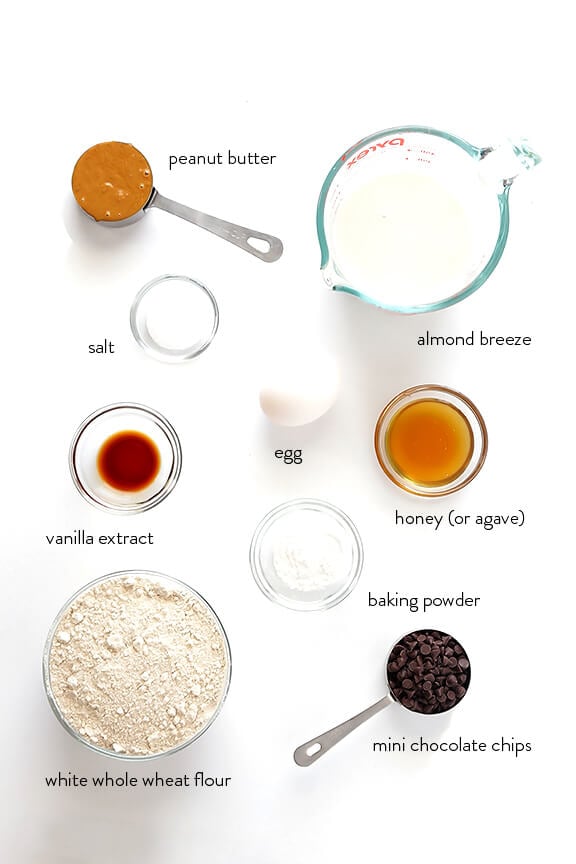 I mean, let's be real.  It's kind of impossible to go wrong with anything peanut butter + chocolate.  But these pancakes have a few other surprisingly healthier bonuses thrown in.  First off, they're dairy-free and made with Almond Breeze original almond milk.  (And if you're egg-free, you can substitute in a flax or chia egg.)  They're naturally sweetened with added honey instead of sugar.  They're made with white whole wheat flour, instead of all-purpose.  And they're made with lots of natural peanut butter, for an extra dose of protein.  (And, um, extra PB flavor!)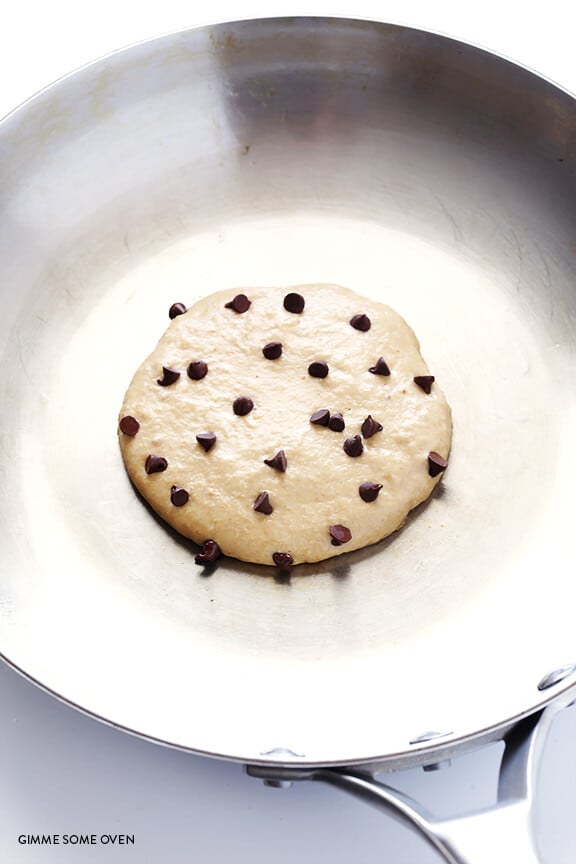 Simply whip up the batter, pour it in a hot skillet, and then sprinkle the top with a teaspoon or so of mini chocolate chips.  Cook the pancakes on both sides…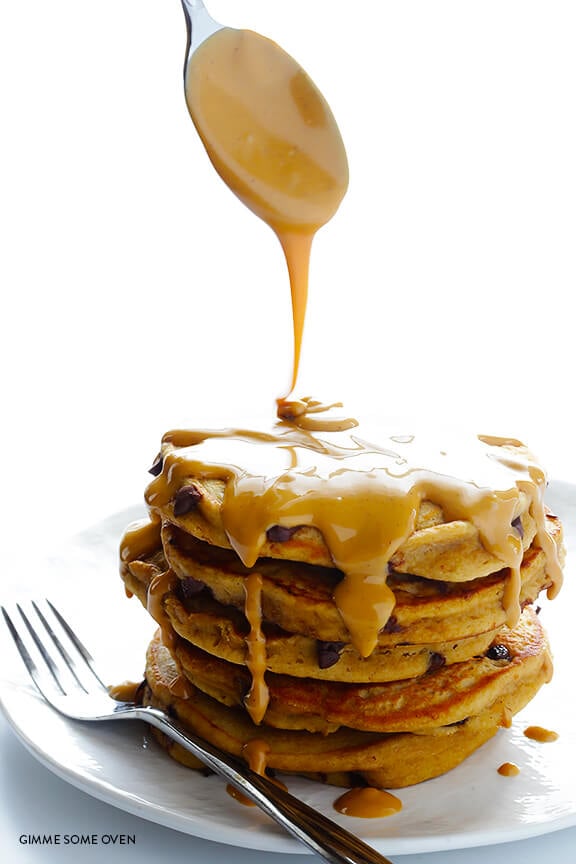 …and then if you're feeling extra-indulgent, you can pop some extra peanut butter in the microwave (or melt it in a saucepan on the stove) and drizzle it on top.  Sprinkled, of course, with a few extra chocolate chips.  ;)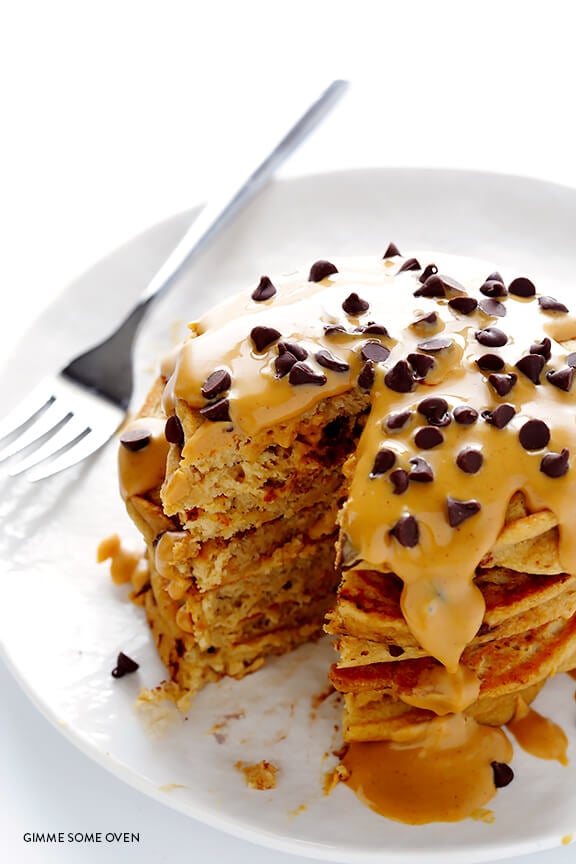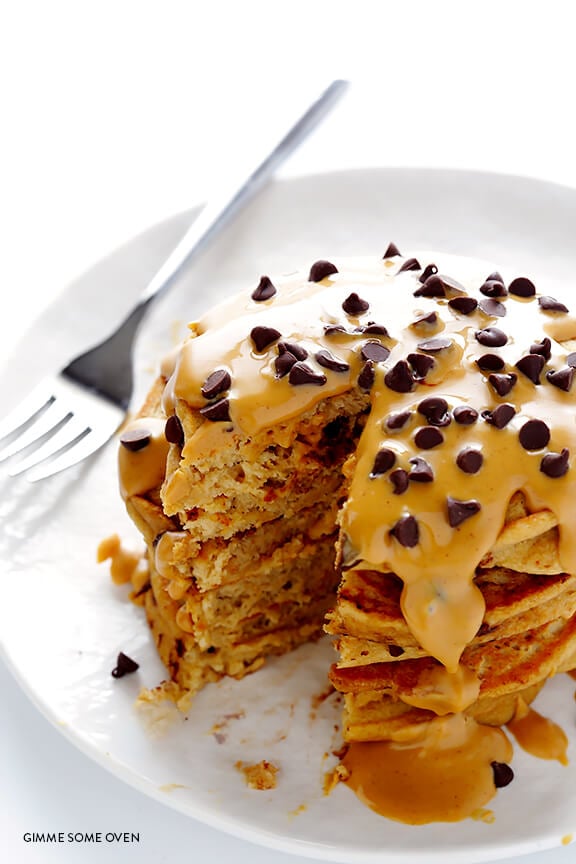 After a solid 9 hours of sleep, you'd better believe I was awake to enjoy every last bite.  ;)
Perfect for the weekend, perfect for a weekday, or really perfect for any ol' time.  Enjoy!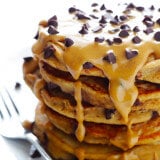 Whole Wheat Peanut Butter Chocolate Chip Pancakes
This whole wheat peanut butter chocolate chip pancakes recipe is decadent, rich, and made healthier with a few simple tweaks!
Ingredients:
1.5 cups white whole wheat flour
2 teaspoons baking powder
1 teaspoon salt
1 egg
1 2/3 cups Almond Breeze original almond milk
1/4 cup creamy peanut butter (I used natural peanut butter)
1 tablespoon honey or agave
1 teaspoon vanilla extract
1/4 cup mini semisweet chocolate chips
(optional toppings: extra melted peanut butter, extra chocolate chips, and/or maple syrup)
Directions:
In a large mixing bowl, whisk together flour, baking powder and salt until combined.  Set aside.
In a separate mixing bowl, whisk together egg, Almond Breeze, peanut butter, honey, and vanilla extract until combined.  Pour the peanut butter mixture into the flour mixture, and whisk until just combined.  (Be careful not to over-mix the batter.)
Heat a large saute pan over medium-low heat.  When hot, lightly spray the pan with cooking spray.  Scoop 1/4 cup of pancake batter into the pan for each pancake, then sprinkle 1 teaspoon of chocolate chips on top.  Cook until the pancakes start to bubble and the edges begin to set, 1 1/2 minutes.  Flip the pancakes over and cook the second side until golden, 1 1/2 minutes.  Transfer cooked pancakes to a separate plate.  Repeat with the remaining batter.
Serve warm, drizzled with extra peanut butter and chocolate chips (and/or maple syrup) if desired.
All images and text ©
If you make this recipe, be sure to snap a photo and hashtag it #gimmesomeoven. I'd love to see what you cook!
This is a sponsored post in collaboration with Almond Breeze.  I am partnering with them to bring you some tasty new recipes this season, and all opinions are my own as always.  Thanks for supporting the brands that help make this site possible!  :)