Whole Wheat Pizza Dough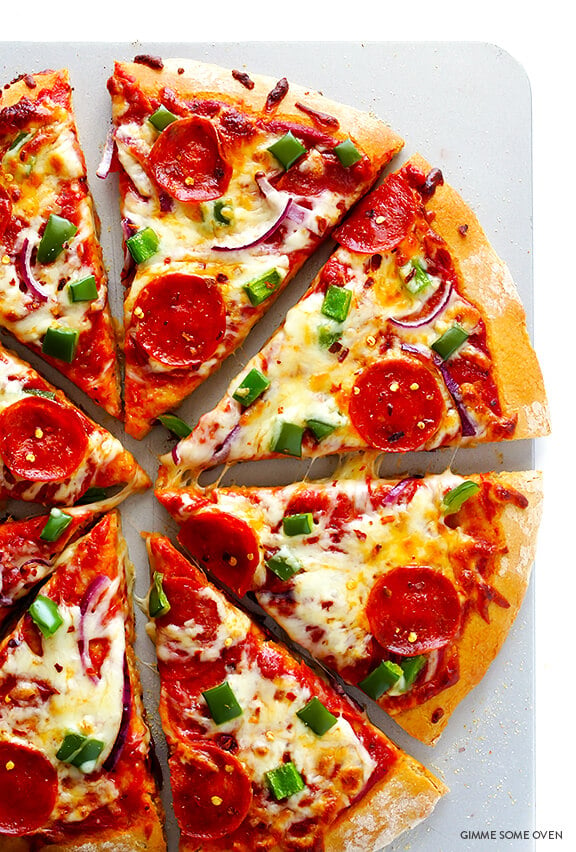 So lately, I've been craving pizza.  All day.  Every day.
Apparently this is what happens when a trendy new little Neapolitan pizzeria moves in next door to your loft downtown.  And any time you go outside to walk your dog…you smell pizza.  Any time you walk to the coffee shop down the street, you pass by people enjoying a lunch out on the patio and…you smell pizza.  Any time you open your window to let in those gloriously warm spring breezes…you smell pizza.
I mean, no complaints.  I'm beyond thrilled that these guys have moved in next door, and my neighbors and I have already made this place our designated new hangout for pizza and beers every chance we get.  But after our month eating out in Austin, I'm still trying to reign things in with my food budget back home in Kansas City.  So I have been trying to channel my pizza cravings back into my own kitchen at least half of the time to save a few bucks.  And, in the meantime, use those cravings to perfect some of my favorite homemade pizza recipes.  Especially pizza dough recipes.
Now for years and years, I have used Jenna's recipe for homemade pizza dough made with all-purpose flour, which tastes amazing.  But I've been on a mission to cut out most refined flours from my diet this year, and have been experimenting with some whole wheat alternatives again.  And after round after round of pizza-indulging — err, taste-testing — I think I have finally settled on my favorite recipe for honey whole wheat pizza dough.
It's easy to make.  It's made without refined flours.  It's naturally sweetened with a spoonful of honey.
And oh man, I can't stop craving it.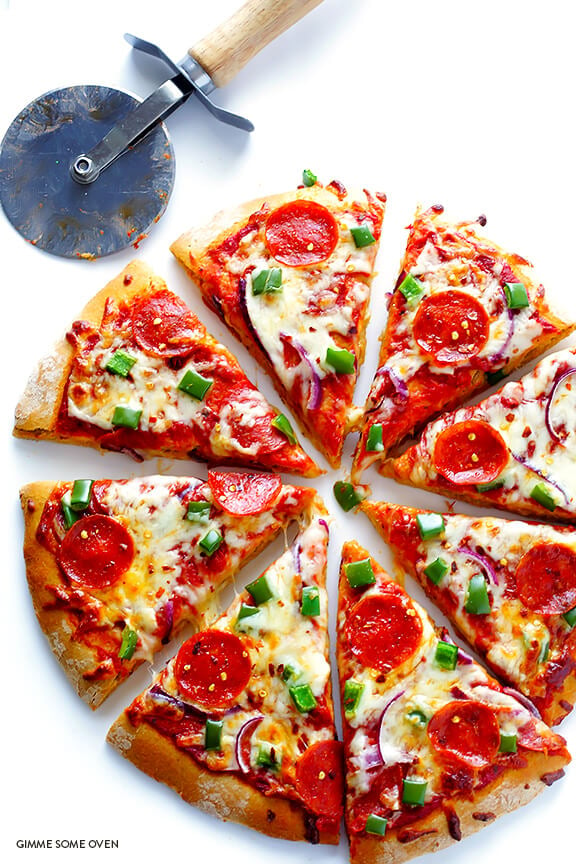 I'll be the first to confess that I'm often a reluctant adopter of all things "whole wheat".
Like many people, I grew up with all sorts of refined flours in my diet.  Rice, pastas, breads, pizza doughs, you name it — all-purpose flour is freaking delicious, and it set the bar in my mind for how everything should taste.  But that said, I know it's not the best for me, so I have been exploring heathier whole-wheat or grain-free alternatives for the years for some of my favorites.  I love me some quinoa in place of white rice.  DeLallo rocked my world with their (genuinely) tasty organic whole-what pasta.  I'm obsessed with sprouted grain breads.  But when it came to pizza, I had a hard time making whole-wheat alternatives at home that actually tasted good.
So I went on a mission to figure it out.
I'm happy to finally say…mission accomplished.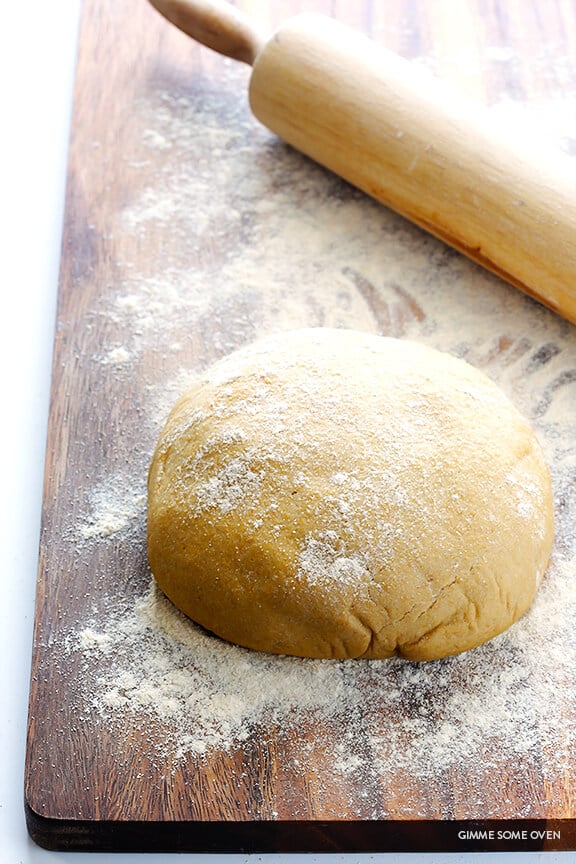 I seriously can't stop making this whole wheat pizza dough.  After tinkering around with various recipes over the years, I have finally landed upon this mix of ingredients.  And the result is a dough that's easy to make (especially if you let a mixer do the kneading), full of ingredients I can feel good about (including my favorite white whole wheat flour and a bit of honey), and it actually tastes good.
Like seriously.  I'm now to the point where I crave that taste of wheat more than the refined blandness that is all-purpose flour.  (Who would've guessed?!)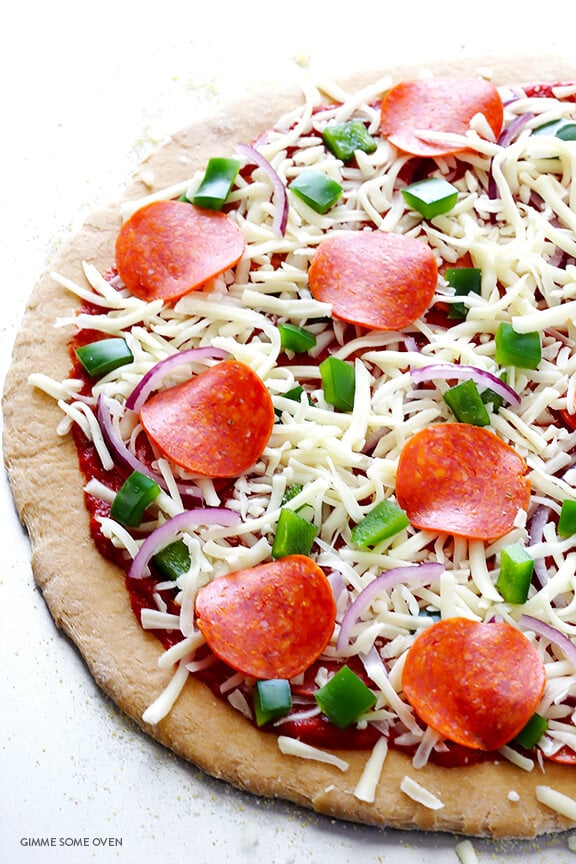 To make it, just simply mix up a batch with your mixer (or knead it by hand).  Let it rise for awhile, then roll it out and toss on your favorite toppings (pepperoni for life!).  Then bake it up to crispy perfection.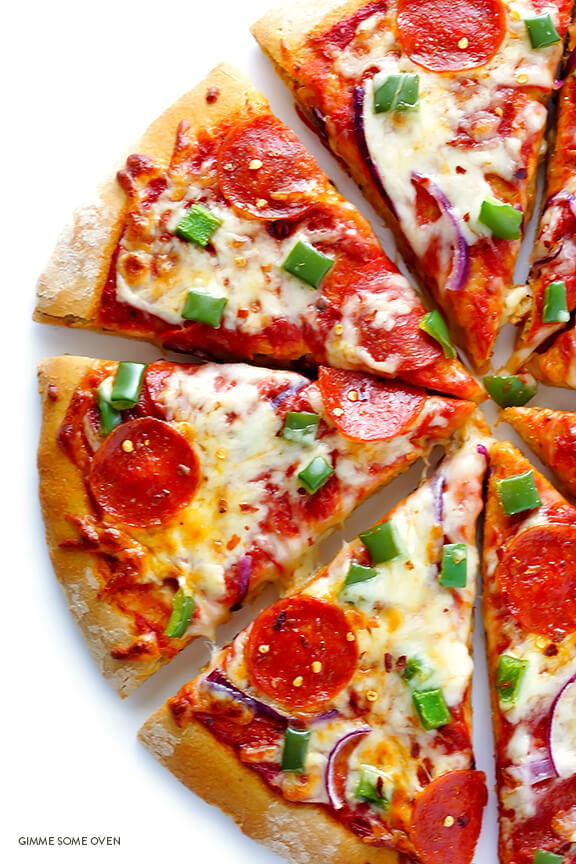 I went with a thicker crust version for this pizza, which was golden and chewy and delicious as ever.  But if you're more into thin crust, simply divide the recipe in half and then roll it out nice and thin and you'll have two crusts to load with toppings — bonus!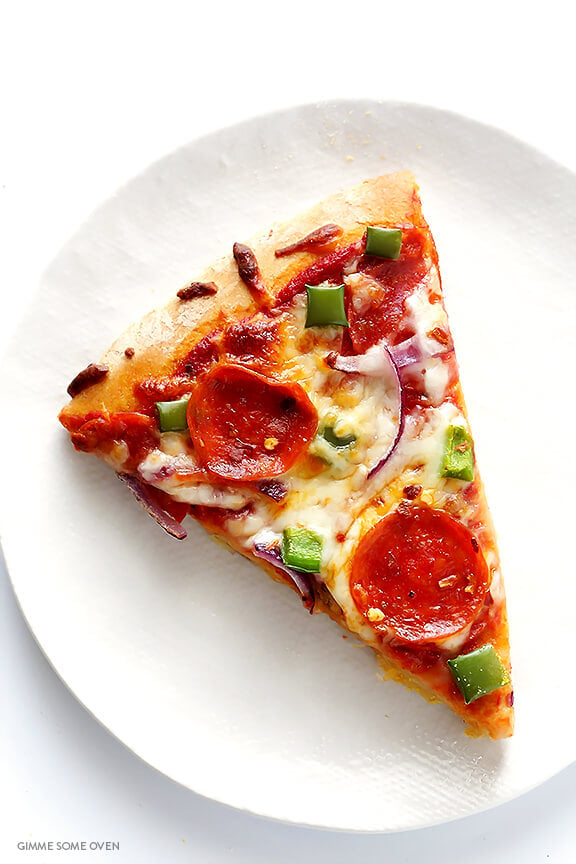 You can even roll out and freeze the dough for later, if you'd like.
Which makes it perfect for those nights when you're craving a Digiorno, but would love to enjoy a frozen pizza without refined flours (whole wheat for the win!).  Perfect for those nights you're craving some pizza but don't want to venture out (pop on some Netflix and have a movie night!).  And perfect for those nights when you're wanting to save a few bucks (because pizza dough is way cheaper to make homemade!).
You know, perfect.  :)
Go make some!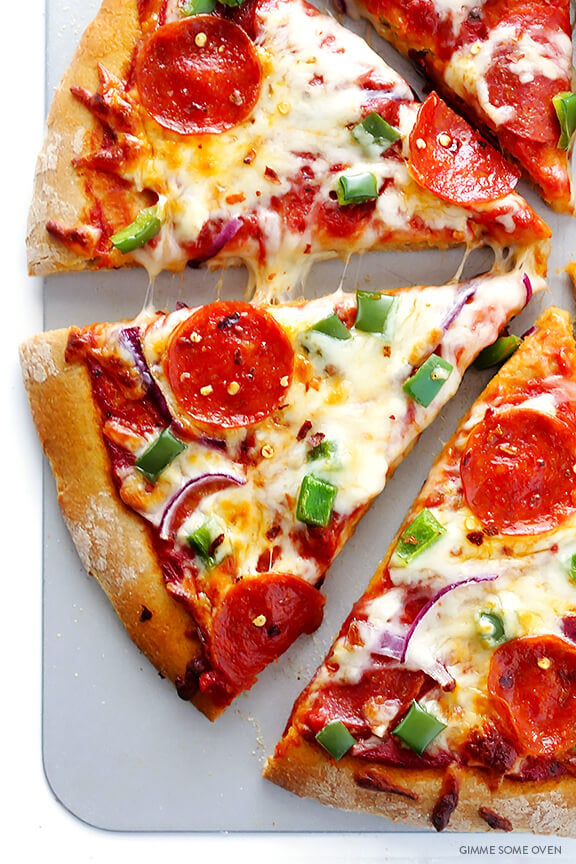 Whole Wheat Pizza Dough
This whole wheat pizza dough recipe is easy to make, it's naturally sweetened with a bit of honey, and it is mega-delicious.
Ingredients:
1 cup warm* water
2 1/4 teaspoons (1 packet) active dry yeast
2 1/3 cups white whole wheat flour
2 tablespoons honey
1 tablespoon extra-virgin olive oil
1 1/2 teaspoons salt
3 tablespoons cornmeal
Directions:
Add warm water to the bowl of a stand mixer with the dough attachment, and sprinkle the yeast on top of the water.  Give the yeast a quick stir to mix it in with the water.  Then let it sit for 5-10 minute until the yeast is foamy.
Turn the mixer onto low speed, and add gradually flour, honey, olive oil and salt.  Increase speed to medium-low, and continue mixing the dough for 5 minutes.
Remove dough from the mixing bowl, and use your hands to shape it into a ball.  Grease the mixing bowl (or a separate bowl) with olive oil or cooking spray, then place the dough ball back in the bowl and cover it with a damp towel.  Place in a warm location (I set mine by the window) and let it rise for 30-45 minutes until the dough has nearly doubled in size.
Preheat oven to 450 degrees F.  Turn the dough onto a floured surface, and roll the dough into a 12- to 14-inch round for a thick-crusted pizza.  (Or cut the dough in half, and roll it into two 12-inch rounds for two thin crust pizzas.)  Sprinkle a baking sheet or pizza stone evenly with the cornmeal, then place the dough on the baking sheet.
Top the dough with your desired sauce and toppings.  (And for extra-golden crust, brush the crust with an extra few teaspoons of olive oil or butter.)
For thick crust, bake for 16-18 minutes, or until the crust is golden brown and the toppings are melted and cooked.  For the (two) thin crusts, bake for 14-16 minutes, or until the crust is golden brown and the toppings are melted and cooked.
Slice and serve pizza warm.
*Water temperature should be between 105-115 degrees F.  I recommend using a cooking thermometer to measure the temp.  (But as a reference, it should feel lukewarm to the touch.)
*For the pizza above, I also added about 20 pepperonis, 1 small green pepper (cored and diced), 1/4 of a red onion (thinly sliced), 2 cups of shredded mozzarella cheese, and a few pinches of crushed red peppers (after baking).  Delish.
Loosely adapted from Let's Move.
All images and text ©
If you make this recipe, be sure to snap a photo and hashtag it #gimmesomeoven. I'd love to see what you cook!