Zucchini Parmesan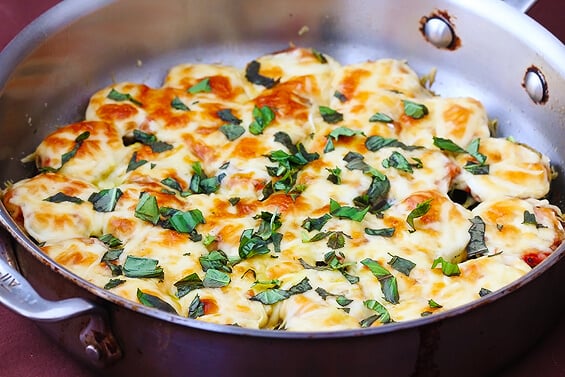 This is definitely the recipe I have most looked forward to trying during "Zucchini Week".  For any of you who don't know, I am definitely not a natural eggplant-lover.  Even when it's smothered in marinara and cheese in "eggplant parmesan", I still have to remind myself I'm an adult, and persuade myself to give it a go each time that dish is served.
However…
When I saw that Adrianna from "A Cozy Kitchen" had posted a "zucchini parmesan" recipe recently, I got pretty excited.  Clearly, I love my zuc.  So the idea of it being substituted for the dreaded purple fruit in this yummy Italian dish sounded tooooootally up my alley.  So tonight I gave it a go.  Took a shortcut and used my favorite marinara sauce from Trader Joe's (although I love this homeade recipe), sliced up a block of Mozzarella cheese, and then grated the heck out of a block of Parmesan….and voila!  My first attempt at "Zucchini Parmesan" was a whopping success!
As expected, I absolutely loved the substitution of zucchini for the eggplant.  It was the perfect texture, and the flavor blended perfectly with the marinara and cheese.  I also must say it was pretty cute — loved all of those little zucchini bites!  I would say, however, that fresh Parmesan is key for this recipe.  So if you can, find a block of cheese to grate, rather than buying a tub of the pre-grated stuff.
Definitely a fun, delicious, and crowd-pleasing recipe that I am bookmarking to make again soon!  (And hooray for another chance to…um…avoid eggplant!)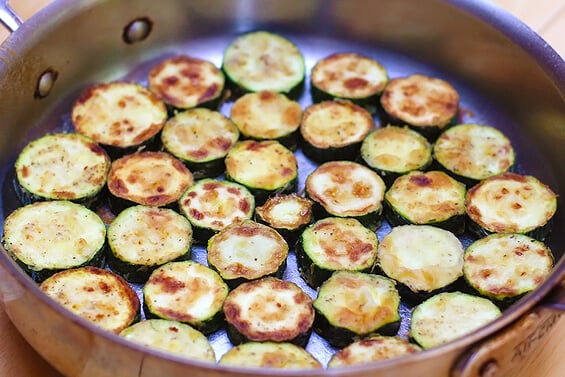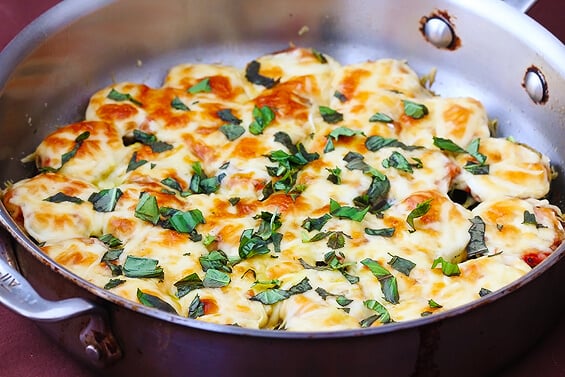 Zucchini Parmesan
You will fall in love with this delicious Zucchini Parmesan recipe! It's quick and easy to prepare, healthy and incredibly delicious.
Ingredients:
2-3 zucchini, ends trimmed, sliced into 1/3″ discs
coarse salt and freshly-cracked black pepper
1 cup all-purpose flour
vegetable or canola oil
2/3 cup of your favorite tomato sauce
1/2 teaspoon crushed red pepper flakes (optional)
1 large ball or block fresh mozzarella (about 4 1/2 ounces), torn into small pieces
small handful of basil leaves, roughly torn
2/3 cup freshly-grated Parmesan (about 3 ounces)
Directions:
Sprinkle slices of zucchini with a small pinch of coarse salt and freshly-cracked black pepper on each side.
Preheat the oven to 350°F.
In a large bowl, lightly dredge the zucchini slices in the flour, tapping them on the side of the bowl to shake off excess flour. Heat 1/4 cup oil in a large skillet over high heat. When a pinch of flour sizzles on contact, add the zucchini slices in a single layer, turn the heat to medium-high and cook for about one and a half minutes on each side or until dark golden brown. Transfer the zucchini to paper towels to drain. Repeat in batches until all of your zucchini it is cooked, adding more oil as necessary.
In a 13 x 9-inch baking dish (or oven-proof skillet), arrange as many slices of zucchini as can fit snugly in a single layer. Top each slice with a small spoonful of tomato sauce, a few crushed red pepper flakes (if desired), and mozzarella.
Bake for 20 to 25 minutes or until the cheese has melted and begun to turn a golden color. Add parmesan and bake for an additional 5 minutes. Remove from oven, and garnish with torn basil. Serve immediately.
If you make this recipe, be sure to snap a photo and hashtag it #gimmesomeoven. I'd love to see what you cook!
Ali's Tip:
Feel free to add a pepperoni (or some mini-pepperonis) to these!  Just layer them on top of the zucchini, underneath the marinara.  And continue with the directions for cooking.  They will taste like little pepperoni pizzas!
Source: Adapted from A Cozy Kitchen.