Zuppa Toscana (a la Olive Garden)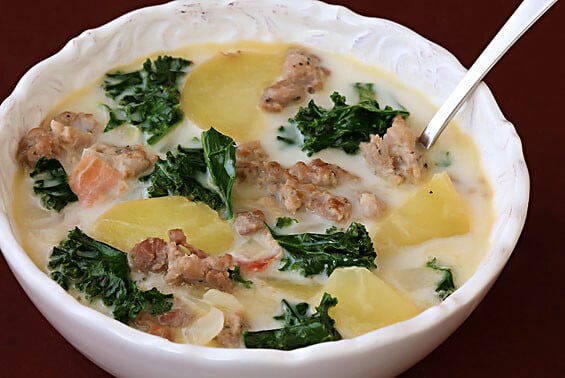 Somehow, in all my 27 long years of life, I was never introduced to Olive Garden's famous "Zuppa Toscana"…..until recently.  One of my good friends lives right by the OG, and suggested we pop over for their unlimited soup/salad lunch on our day off.  And then she insisted — as I was about to order the minestrone — that I try the "Zuppa Toscana" instead.  I actually really like a good minestrone, but decided to take her word for it.  And sure enough…
It was a match made in heaven.  :)
Oh my word.  Loved the spicy Italian sausage, the potatoes, and the delicious kale.  But I have to say that the broth was actually my favorite part.  I'm a sucker for a well-seasoned broth…and this one was.  :)  It's creamy, but light and perfectly compliments all of the other ingredients.
So of course I had to come home and try it for myself.  I decided to lighten it up a tad and go with half and half instead of cream, and totally could not tell the difference.  (May even try whole milk next time.)  I also upped the amount of kale, just to get a few extra greens in there.  But besides that, I'm pleased to say that at least in my opinion, this tastes pretty much identical to the original!  Absolutely delicious!  And the amazing thing is that the Italian sausage pretty much takes care of all the seasoning for the broth.  Easy, and sooooo delicious.
So if you're a fan of the famous "Zuppa Toscana", or have yet to have ever tried it, I strongly recommend that you try this recipe at home.  I will certainly be making it again.  Very.  Soon.  :)
Zuppa Tuscana (a la Olive Garden) Recipe
(Inspired by The Olive Garden)
Ingredients:
1 pound hot (spicy) Italian sausage
1 Tbsp. olive oil
3 garlic cloves, peeled and minced
1 medium onion – peeled, chopped
1-2 lbs. Yukon Gold potatoes, washed and sliced 1/4″ thick
4 cups chicken broth
2 cups water
6 pieces bacon, cooked and chopped
2 cups chopped kale or Swiss chard
1 cup heavy whipping cream (or half and half, or whole milk)
salt and freshly-ground black pepper
Method:
In a skillet over medium-high heat, brown sausage, breaking into small pieces as it cooks.  Remove from heat, drain the extra grease, set aside.
In a large pot, heat 1 Tbsp. olive oil over medium-high heat until shimmering.  Add garlic and onions, and cook 3 minutes.  Then add potatoes, chicken broth, water, sausage and bacon, and simmer over medium heat for about 10 minutes.  Add kale, and continue to simmer for another 10 minutes (or until the potatoes have softened.)
Add cream (or half and half) to soup, then season with salt and pepper to taste.  Serve warm.
Ali's Tip:
I imagine this recipe would also work well in a crock pot.  Just brown the sausage and bacon beforehand, and add the kale in once you get home (it will seriously wilt if you let it cook all day).