Cake Batter Rice Crispy Treats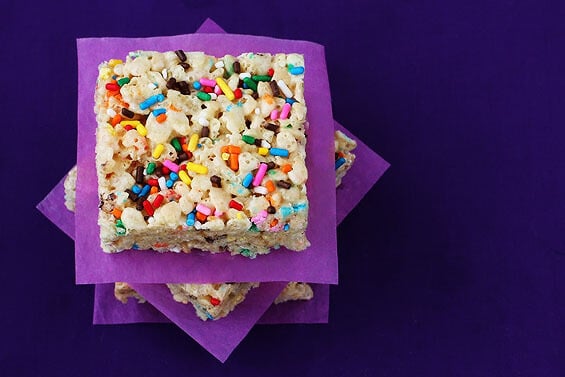 Just when I thought I had tried every rice crispy treat recipe under the sun….this recipe shows up on StumbleUpon.
I may or may not have immediately ran to the store to by a cake mix to make it.
And…had a little too much fun playing with those gorgeous, colorful sprinkles.
And…enjoyed every single, glorious, hint-of-cake-batter-flavored bite.
And…shared the rest with friends so that I didn't eat too many bites.
And…now I share it with all of you.
And…you should make some.
:)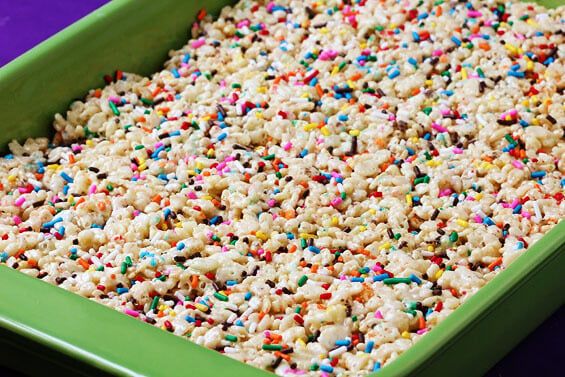 Cake Batter Rice Crispy Treats
You will love this bright and colorful cake batter rice crispy treats recipe! Great for special occasions!
Ingredients:
4 Tbsp. butter
1 (10 oz.) bag of mini-marshmallows
1/2 cup yellow cake mix (the dry cake mix, not prepared into a batter!)
5 cups crispy rice cereal
1 (1.75 oz.) container of sprinkles
Directions:
Melt butter in a large saucepan over low heat and add marshmallows. Stir until they begin to melt, then remove from heat. Whisk in the (dry) cake mix, then stir in cereal so it is completely coated with marshmallow mixture. Sprinkle in half of the sprinkles and briefly stir. (Don't stir too much or the sprinkles will bleed out their color.) Press the mixture into a baking dish (any size will do) and top with remaining sprinkles. Let sit for about 30 minutes before cutting. I find spraying a knife with nonstick spray helps to cut them cleanly.

*Disclaimer: You consume dry cake mix at your own risk.*
Leave a Comment:
Comments
Trackbacks/Pingbacks