Blueberry Cake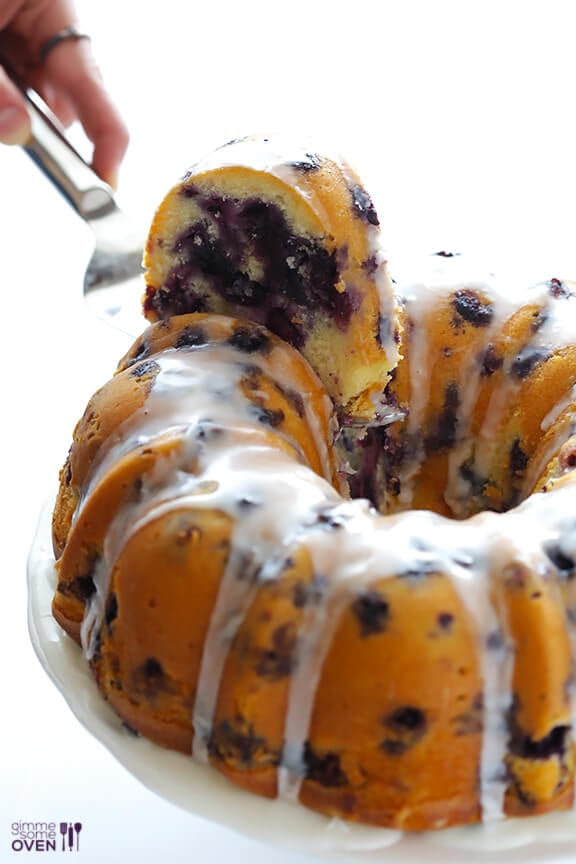 Hey friends!  Ali, here.  I'm really excited to introduce you to one of the coolest 15-year-olds I know, who collaborated with me as the baker/writer/photographer behind today's post.  Her name is Maya, and we have gone to church together for years.  But I only recently found out that — in addition to being a delightful, smart, kind, and super-talented teenager — she is also a major foodie and talented cook who dreams of being a chef.  So I had her come over a few weeks ago, and we spent the day cooking and baking and learning about photography and food blogging and chatting about life.  And along the way, we also happened to bake this seriously stellar blueberry cake.  So here to tell you about it today, please welcome guest-blogger…Maya!
Hey all, I'm Maya! I had the amazing opportunity to shadow Ali for a day and cook with her. I love to cook. It all started back in preschool when the teachers asked the famous question, "What do you want to be when you grow up?". While all the boys had their hearts set on being professional athletes and the girls were playing veterinarian and teacher, I proudly announced I would like to be a "cooker." My love for mixing flavors and sharing good food with people was kindled at a young age. I would be found perched up on a stool with an oversized apron and a paper chef hat, mixing up salads or flipping grilled cheese. As the years went on my cook book collection grew and so did my knowledge of cooking.
So here I am, 15 years old, ready to learn more about the great world of flavors and recipes. Ali taught me all about the food blog and along the way I learned some other helpful tips (like how to properly melt butter and grease a bundt pan).  And we made a delicious Blueberry Bundt Cake together. (Oh yes, a buuundt cake, you know the cake with a hole in it for all who enjoy the movie My Big Fat Greek Wedding!) But I assure you, even thought it's missing it's middle it is still as tasty as a regular cake!
We dumped a bunch of fresh blueberries in this batter and with all those sweet berries in there it makes the perfect summer cake.  We promise!
Now blueberries are one of my favorite berries, but I like picking them even better. There is a nice berry patch right outside of Kansas City that my family and I love to go to in the summertime. It's hot and hard work to find the best berries, but it's always fun to be together with my family…AND we come back with bags and bags of fresh blueberries to turn into pies, muffins and cakes!
So if you are looking for something fun to do with your family or friends this summer, I suggest finding a local berry patch, picking some yummy berries and coming back home to use those juicy blueberries to make this great blueberry cake!
Here's how Ali and I made it:
The first step is to make the batter. This is your good ol' basic pound cake batter, with vanilla and our secret ingredient, almond extract (which goes great with the blueberries).  Mix your batter until it's nice and smooth, then gently fold two whole pints of fresh blueberries in.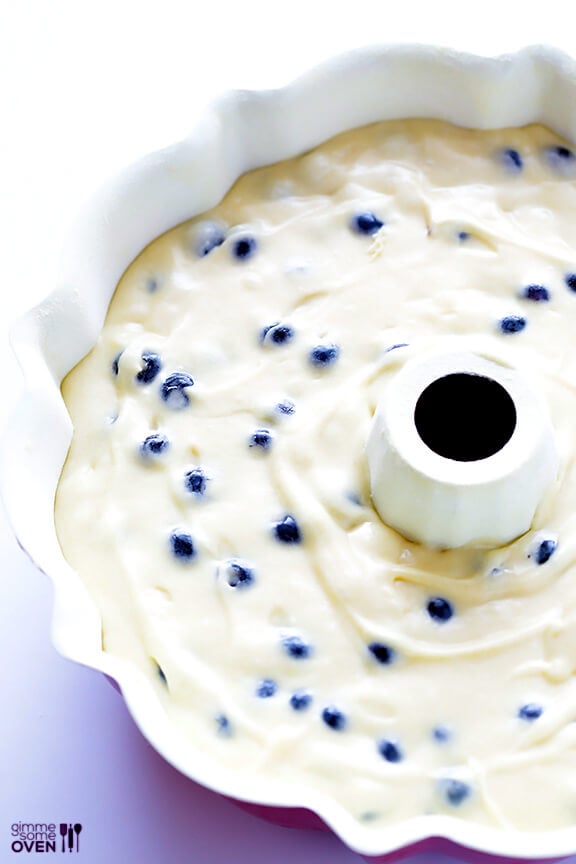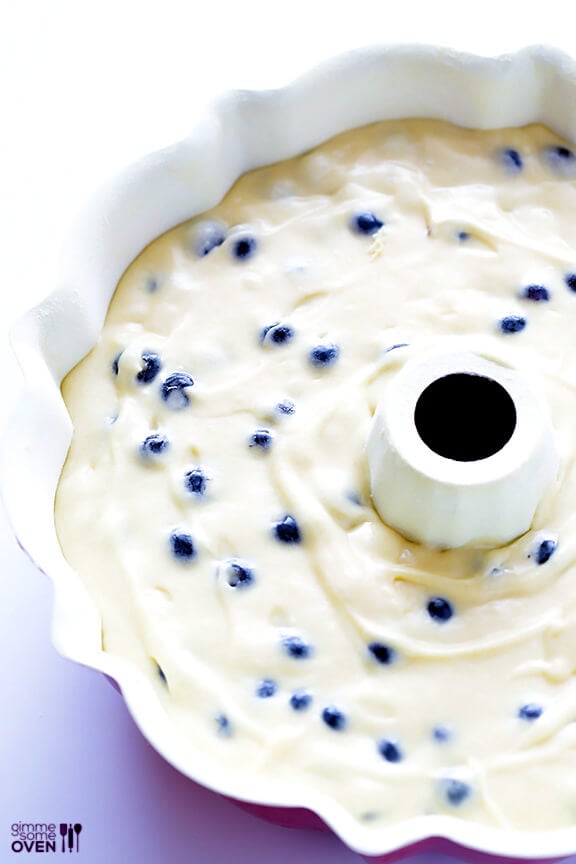 Then apply one of the tricks Ali taught me. Spray your bundt pan down with cooking spray and then sprinkle some flour on the pan and turn it around so the whole inside of the pan is covered with flour. This helps the cake to not stick to the pan when you take it out.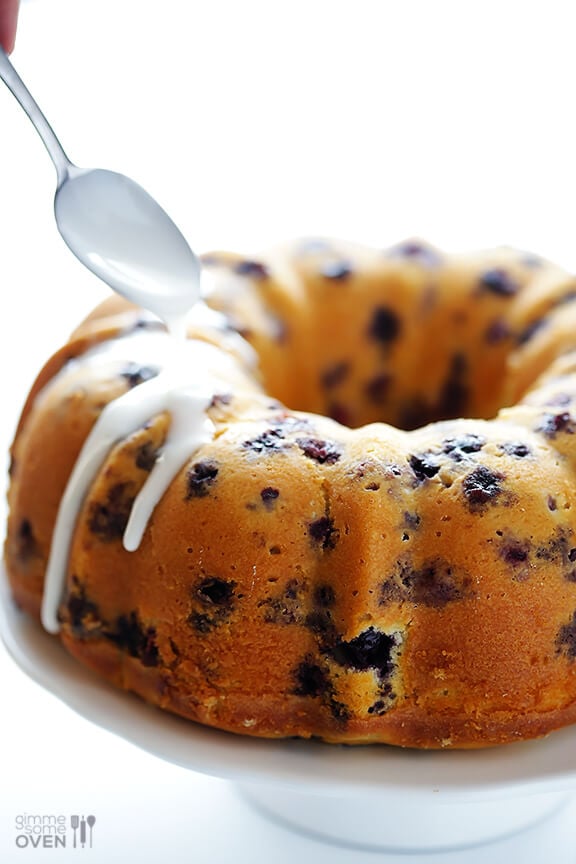 When we took our cake out of the oven it smelled delicious and looked even tastier! We had to be patient and wait for it to cool before inverted it onto a cake pan. Then we oohed and awed over the blueberry filled cake. Finally we drizzled it with a simple powdered sugar glaze.

That glaze was definitely the icing on the cake.  ;)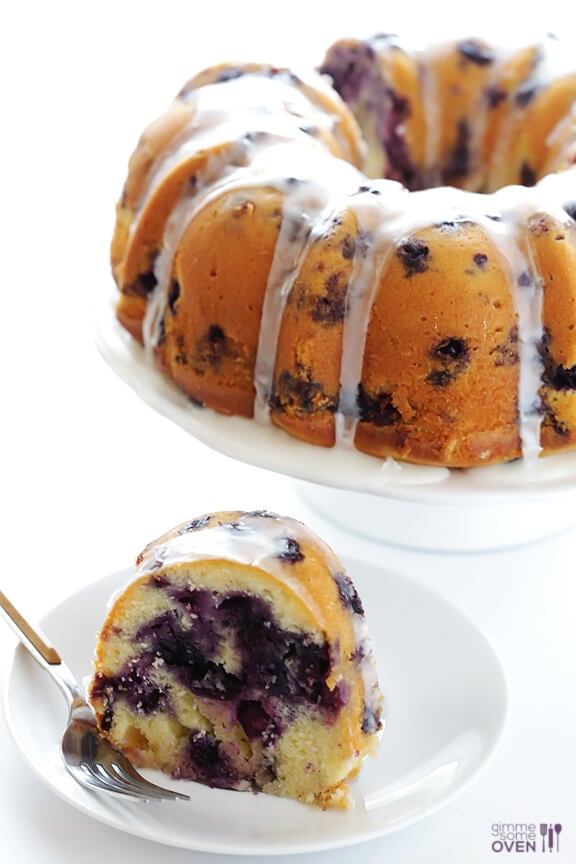 And look what we found inside the cake.  Blueberries galore!!!
Gotta love those blueberries.
And there you have it…a scrumptious summertime cake to share with your family and friends! I hope you enjoy making this cake as much as I did. Enjoy!
Thanks again to Maya for helping cook, write, and photograph this post with me.  She did a great job, didn't she?  :)  ~Ali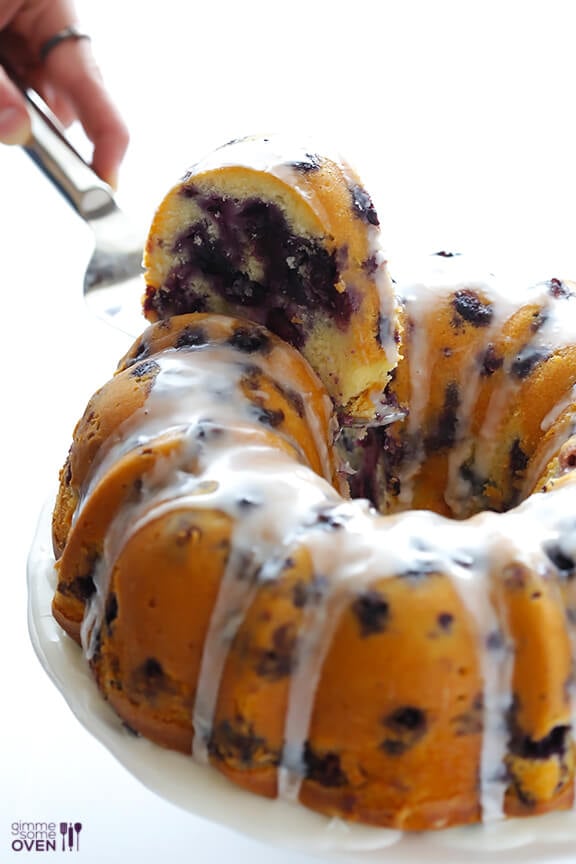 Blueberry Cake
This blueberry cake recipe is moist, flavorful, and literally overflowing with fresh and delicious blueberries!
Ingredients:
Blueberry Cake Ingredients:
3 cups all-purpose flour
1/2 teaspoon baking powder
1/4 teaspoon baking soda
pinch of salt
1 cup (2 sticks) butter, softened
2 cups granulated sugar
6 eggs
1 cup plain Greek yogurt
1 teaspoon vanilla extract, store-bought or homemade
1/2 teaspoon almond extract
2 pints (4 cups) fresh blueberries
Glaze Ingredients:
1 cup powdered sugar
2-3 tablespoons milk
1/8 teaspoon vanilla extract
Directions:
To Make The Cake:
Preheat oven to 325 degrees F. Grease and flour a bundt pan, and set aside. (See tips below for how to properly grease/flour a pan. Also, I used a 10-cup large bundt pan.)
In a large bowl, whisk together flour, baking powder, baking soda and salt until combined.
Using an electric mixer with the paddle attachment, cream butter and sugar together on medium-high speed for about 3 minutes, or until light and fluffy. Reduce speed to medium-low. Add vanilla, almond extract, and eggs (one at a time). Continue beating for an extra 2 minutes, scraping down the pan once or twice so that everything is well mixed. Add in half of the flour mixture, and beat on low speed until just combined. Add in half of the Greek yogurt, and beat on low speed until just combined. Repeat with the remaining flour mixture and Greek yogurt, beating until just combined. (Do not overbeat.) Fold in the blueberries by hand, reserving a dozen or so extra berries on the side.
Sprinkle the reserved blueberries evenly around the bottom of the prepared bundt pan. Then pour batter evenly into the pan on top of them, and spread the top of the batter with a spoon until it is smooth.. Bake for 60 to 75 minutes or until a toothpick inserted near center of cake comes out clean. Cool in pan on a wire rack for at least 30 minutes, or until the metal pan is lukewarm to the touch (and not hot). Invert the cake onto a cooling rack or serving dish, and let it cool completely. Drizzle with the glaze.
Serve immediately, or store covered for up to 5 days.
To Make The Glaze:
Whisk ingredients together in a small bowl until smooth. If the glaze is too thick, add more milk. If it's too thin, add more powdered sugar.
*To grease and flour a bundt pan, begin by liberally greasing the inside of the pan with cooking spray so that 100% of the inside surface is covered.  Add a few tablespoons of flour into the pan, and gently turn and pat the pan until the flour covers every inch of the greased surfaces (adding more flour if needed).  Then, invert the pan and give the top of it a few good pats to shake off any excess.
All images and text ©
If you make this recipe, be sure to snap a photo and hashtag it #gimmesomeoven. I'd love to see what you cook!