Chicken Lettuce Wraps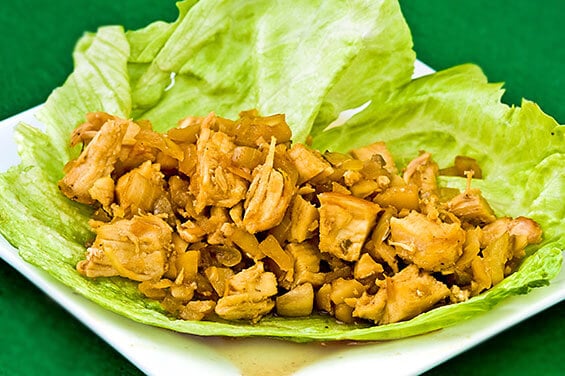 Somehow PF Changs came up in conversation yesterday when I was talking on the phone with my Mom.  And ever since, you can guess what two words have been on my mind….lettuce wraps.  :-)  YUM.  Ironically, I happen to live right by a PF Changs, but have probably eaten there more in other cities than here at home.  Go figure…  But whenever I do, their classic lettuce wraps are always at the top of my list.
I've experimented with a few recipes of my own over the years — some great, some not-so-much — but have settled upon this one as a favorite (with a few modifications!).  Great flavor, fresh and healthy ingredients, and best of all…the recipe makes a delicious "pouring" sauce to finish them off!  As noted in the recipe, you can experiment with adding the Chinese mustard and/or Sriracha to kick up the heat.  Or, feel free to keep it "mild and mellow" as well.  :)
While lettuce wraps are great to serve as an appetizer or main dish at home, I've also had a fun time turning these into bite-sized apps before for parties!  Just tear the lettuce into smaller pieces (mine were usually about 2″ x 3″), and then just spoon some of the filling and pouring sauce on top.  I guarantee they'll disappear instantly!  ;)
So if you've never tried making these at home (or have tried a few less-than-successful recipes before, like me!), go for it!!!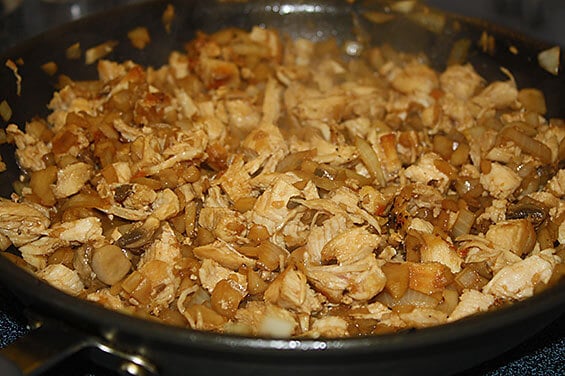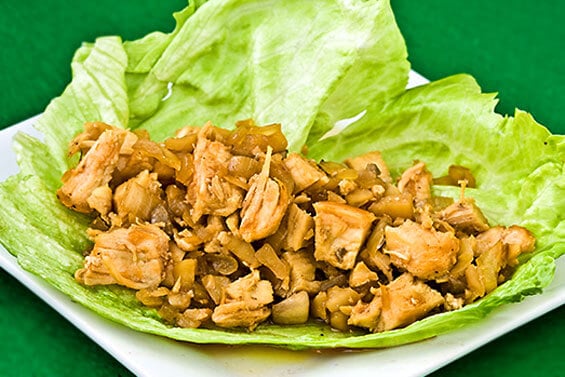 Chicken Lettuce Wraps
Make your own fresh and flavorful favorite wraps at home with this Chicken Lettuce Wraps recipe! So easy and quick to prepare! You'll love them!
Ingredients:
Chicken Stir-fry Ingredients:
2 Tbsp. extra virgin olive oil
1 Tbsp. sesame oil
2 boneless skinless chicken breasts, cubed to 1/2?
1 (8 oz.) can sliced water chestnuts, drained and minced
1/2 cup mushrooms, minced
1/2 onion, chopped fine
3 cloves garlic, minced fine
6 large leaves of iceberg lettuce or nappa cabbage
Stir-fry Sauce Ingredients:
1 Tbsp. soy sauce
1 Tbsp. brown sugar
1/2 teaspoon rice wine vinegar
Pouring Sauce Ingredients:
1/4 cup sugar
1/2 cup warm water
2 Tbsp. tamari or soy sauce
2 Tbsp. rice wine vinegar
2 Tbsp. ketchup
1 Tbsp. lemon juice
1/4 tsp. sesame oil
1 Tbsp. Chinese or Dijon mustard (to taste – I'm not a big fan so only used 1 tsp.)
1 Tbsp. Sriracha (to taste – I used it all!)
2 cloves garlic, minced
Directions:
Begin by making the pouring sauce. In a large bowl, dissolve sugar in 1/2 cup warm water, then add soy sauce, rice wine vinegar, ketchup, lemon juice and sesame oil. Whisk together well. Then add in mustard and/or Sriracha to taste. Set aside or pop in the refrigerator until ready to use.
Combine olive oil and sesame oil and add to wok or large frying pan. Heat oil over high heat until it glistens, about one minute. Add chicken and saute until cooked through, then remove from the pan and cool. Keep oil in the pan, keeping it hot over a low flame.
Prep the stir fry sauce by mixing soy sauce, brown sugar, and rice vinegar in a small bowl.
Take pan that you cooked the chicken in (with the still-warming oil) and turn it up to medium-high heat. Add another tablespoon of olive oil to the pan, wait one minute, and then add garlic, onions, water chestnuts, mushrooms, and the stir-fry sauce you prepared earlier. Stir-fry everything until the mushrooms have cooked, about four minutes, then add in the chicken and stir until combined. Remove from heat.
Serve stir-fry with iceberg lettuce or nappa cabbage leaf wraps and top with pouring sauce.
If you make this recipe, be sure to snap a photo and hashtag it #gimmesomeoven. I'd love to see what you cook!
Ali's Tip:
Feel free to also sub in ground turkey/beef/pork, or even pre-ground chicken into this recipe.  It'll work with just about anything!