Homemade Peanut Butter
Learn how to make homemade peanut butter with simple step-by-step photo tutorial. All you need to make peanut butter are peanuts and a food processor, and it's yours to enjoy!
Today marks two weeks of living in my new loft without a fully functioning kitchen, which in the land of food blogging has proven a bit challenging.  Let's just say I've been eating a lot of salads and sandwiches.  (Ok, ok, and maybe taking the opportunity to frequent my favorite taco shop across the street a few times.)  :)
But one of the joys of moving was discovering some little hidden treasures in my pantry, including three containers of peanuts.  Who knew?  So for something different today, I thought I would take the opportunity to spruce up an old recipe on the blog for homemade peanut butter.
I first blogged about how to make homemade peanut butter four years ago, and have made it countless times since.  It literally could not be easier.  Just process peanuts in the food processor for a few minutes until their smooth, and you're good to go.  I used to add oil and honey to my peanut butter, but now I just like it plain with an extra pinch of salt.  You can also use any kind of peanuts that you want — party peanuts, honey-roasted, unsalted, Spanish peanuts, mixed nuts, etc.  Just about anything works, and the variations can be so fun!
So for anyone who has never tried this fun trick at home before, I snapped photos this time around for a step-by-step tutorial.
First, you begin with your peanuts.  You can use however many you'd like!  I used all of the peanuts I had on hand this time, which was nearly 6 cups.  But you can make as large or small a batch as you would like.
Simply pour the peanuts into the bowl of your food processor, and then watch the peanuts go through the various stages that come with homemade peanut butter.
First they turn into a fine ground…
…which I usually have to loosen a bit with my rubber spatula so that they don't all stick to the sides of the food processor…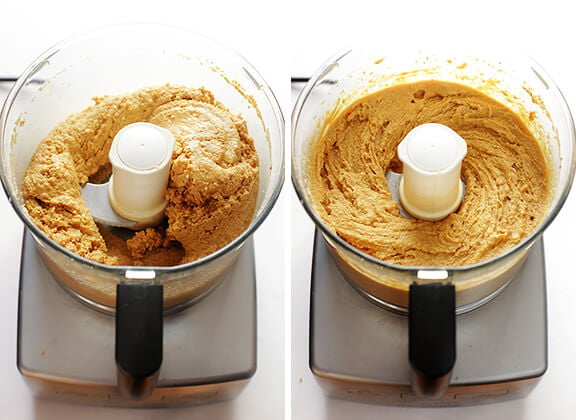 …then it will turn into a thick, gritty paste…and then sandy smooth…
…until finally the peanut butter reaches the really creamy, smooth state.  Couldn't resist a little lick.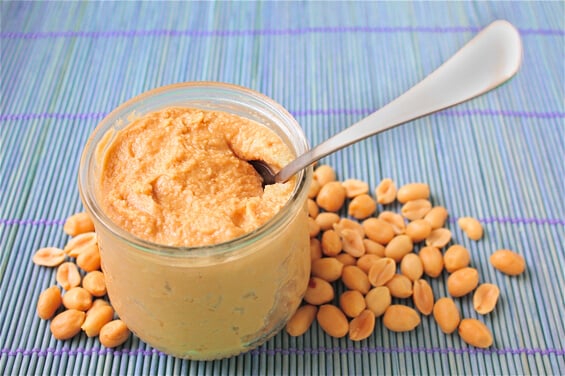 For old times' sake, here's the photo I took as a new food blogger in 2009.  It still tastes as good now as it did then.  Try some for yourself soon!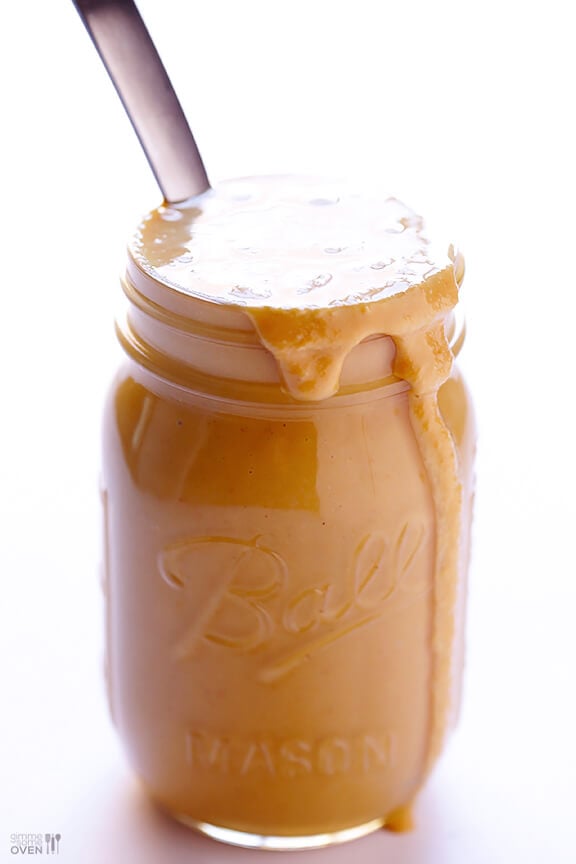 Homemade Peanut Butter
Learn how to make homemade peanut butter with this simple tutorial. It's so easy!!
Ingredients:
2 cups peanuts (any kind -- party, honey roasted, mixed, dry-roasted, salted/unsalted, any!)
optional add-ins: pinch of salt, honey, and/or other seasonings
Directions:
Place the peanuts in a food processor, and process for 1 minute. Use a spatula to loosen mixture from the sides of the bowl if it's sticking. Then continue to process until smooth, about 2-3 more minutes.
Transfer to an airtight container, cover and refrigerate until use. Peanut butter should keep for between 4-6 weeks in the refrigerator. Stir each time before using.
If you make this recipe, be sure to snap a photo and hashtag it #gimmesomeoven. I'd love to see what you cook!
Leave a Comment:
Comments
Trackbacks/Pingbacks