how to: homemade peanut butter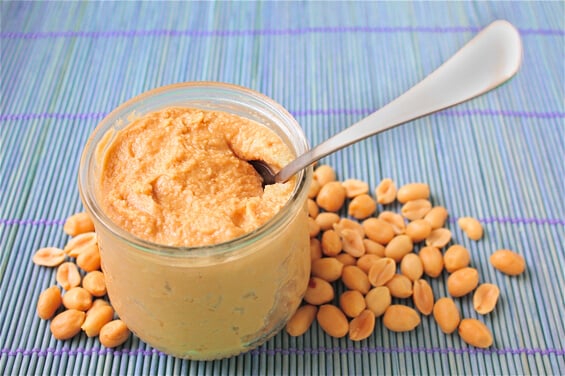 Ok, for all of you out there who are obsessed with the peanut-butter-making machine at Whole Foods, I offer you a brilliant new alternative — making your PB at home!!! Seriously, it is ridiculously simple! And, for people like me who take a little too much delight in experimenting with the food processor, it's also quite entertaining. :)
Below is the recipe for my favorite kind of peanut butter — creamy, not too oily, and not too sweet. But you can create yours however you'd like! If you're a fan of chunky peanut butter, simply add in a few tablespoons of (whole) peanuts at the end of the process, and pulse the machine a few times until they are roughly chopped and mixed in. If you want to control the salt, use unsalted peanuts and then add in your own salt to taste. If you'd rather not mess with oil, use spanish peanuts since they are naturally quite oily. If you want some actual sugar in your peanut butter, use honey-roasted peanuts or add in some brown or white sugar. And if you're really feeling creative, you can always substitute in some other fun nuts for the chunks (like macadamia, sunflower seeds, etc.).
Since homemade peanut butter is truly "natural" and preservative-free, it needs to be refridgerated and will only have up to a 2 month shelf life. But if you're like me (or my good friend, Cass, who recently got me addicted to the simple toasted bagel + peanut butter breakfast combo), quickly using up a small batch will be no problemo. :)
Seriously. Give this one a try!
Homemade Peanut Butter Recipe

(Original recipe)
Ingredients:
2 cups roasted, shelled, salted peanuts
2 Tbsp. oil (preferably peanut or vegetable)
1 Tbsp. honey (or agave nectar)
Method:
Place the peanuts and honey in a food processor, and process for 1 minute. Use a spatula to loosen mixture from the sides of the bowl if it's sticking. Then continue to process while slowly drizzling oil into the mixture for another 2-3 minutes, or until the mixture is smooth, thick and shiny. (Nuts will go from a rough chop, to finely ground, to a thick paste, and then finally a shiny, smooth peanut butter.) Remove and store in an airtight container, and refrigerate. If mixture is too thick and cool when you're ready to use it, simply place the container in a warm water bath, or pop your needed amount in the microwave microwave to warm and soften it up.
Ali's Tip:
This recipe is also great for gifts! I always keep an eye out at thrift stores for cheap mason jars and such for projects like this…