How To: Make Homemade Croutons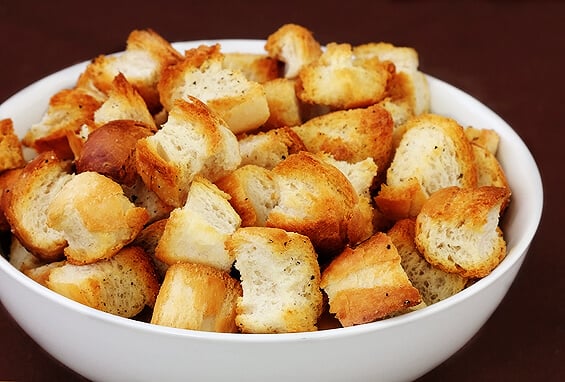 Leftover bread?
Make croutons!!!
Seriously — homemade croutons are super-easy to make, and they are  oh-so-tastier than anything you buy at the store.  You also don't have to worry about preservatives or suspicious-sounding ingredients.  But the best part is that you get to choose your own breads, oils and seasonings!
I've included a bunch of ingredient ideas and variations on the recipe below.  But the bottom line is that this is a total "method" — just use whatever ingredients you have on hand.  Your salads, stuffings, and soups will thank you.  :)
How To: Make Homemade Croutons
Ingredients
loaf of quality bread (preferably a day or two old), cut into about 1-inch cubes
about 1/4 cup olive oil
salt and pepper
seasonings (optional - see tip below)
Method
Preheat oven to 375 degrees.
In a large bowl, evenly drizzle or use a Misto to mist olive oil over the bread. Toss until well mixed, and the bread is evenly coated. Season with salt and pepper, and additional seasonings (if desired). Toss once more until seasonings are evenly distributed.
Spread bread cubes in a single layer on a baking sheet and bake until golden, turning to brown all sides. Cooking time will depend on the thickeness of the cubes, so watch that they do not burn. (Mine generally take between 15-20 minutes.) Remove from oven, and let cool completely. Store in an air-tight container. Use within one week, or freeze for up to 6 months.
Variations:
Season using a salad dressing instead of oil and herbs
Ground up the croutons once baked to make toasted breadcrumbs
Bake in a toaster oven
Use different kinds of bread (sourdough, rye, etc...or even sandwich bread)
Use different kinds of dried seasonings. Some of my favorites are...
Italian seasonings (thyme, oregano, parsley, rosemary, sage, basil, etc.)
garlic powder
onion powder
http://www.gimmesomeoven.com/how-to-make-homemade-croutons/
(c) 2013 Gimme Some Oven. All rights reserved.
Ali's Tip:
I prefer to use a sprayer (I have a Misto) to coat these with oil.  It allows you to use a little less oil, but spreads more evenly than drizzling.
Leave a Comment:
Comments
Trackbacks/Pingbacks