Italian Seasoning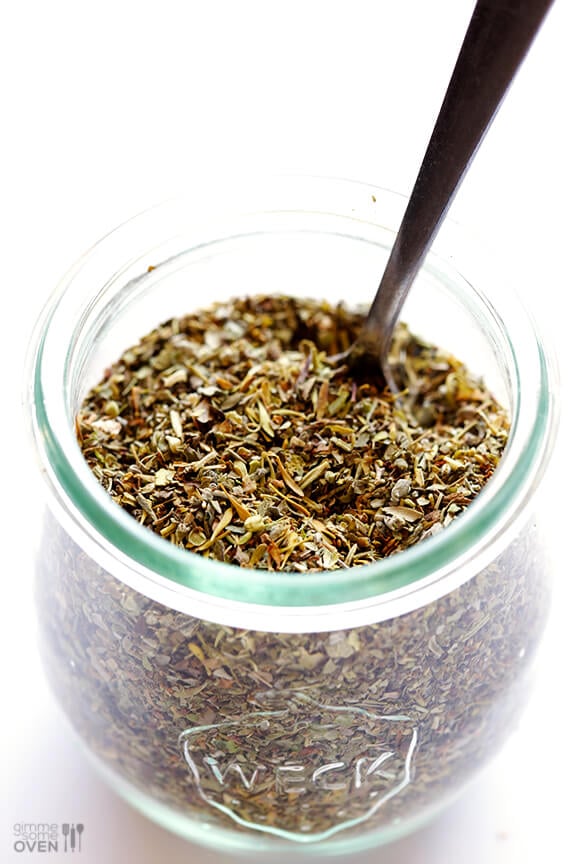 Just popping in today for a quick post on something I recently just made out of necessity — Italian seasoning!
Yes, necessity.
I realize that Italian seasoning falls in the category of those generic seasoning blends that "real cooks" claim to never use, such as seasoned salt and lemon pepper.  But you know what?  I use them all the time.  Proudly.
Heck yes!  Those dollar-bin seasonings were a big part of how I learned to cook back in the day.  They were quick, reliable, and darned affordable when I wanted to try seasoning a chicken breast for dinner instead of ordering take-out.  And even today if I'm whipping up a quick soup or my favorite flatbread or even if I just want to add some extra flavor to a pizza, I will still happily reach for a jar of Italian seasonings in a heartbeat.  Because let's be honest, when you're in a hurry, who really wants to get out the marjoram, and the oregano, and the thyme, and the basil, and….

Well, actually the other day I did.  Because when I reached for my trusty jar to make a quick Italian salad dressing (for a salad coming on Monday!), it was basically empty.  So I decided to pull out all of the spices that were listed on the container and figure out how to whip up some Italian seasonings of my own.  So today I thought I'd share my findings with you.
I will admit, it's definitely easiest to just buy this stuff at the store.  But if you ever find yourself in a pinch, or even if you'd just like to tinker with the specific spice amounts or make a batch with better-quality spices, then you can give it a try.  Ahem — proudly give it a try, because there's no Italian Seasoning Shame on this blog.  ;)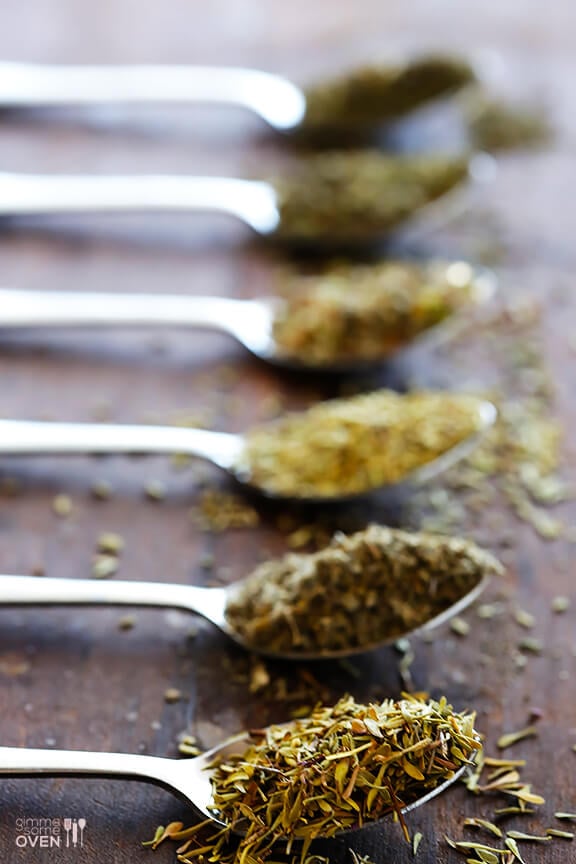 I will note that I chose to make a recipe that is based off of the classic Italian seasoning blends, which is just straight dried herbs.  Some of the more gourmet seasoning blends also add in things like garlic powder, onion powder, and/or crushed red pepper flakes (which I love!).  But I like adding those separately, so that I can control exactly how much goes into a specific recipe.
Here's the basic blend: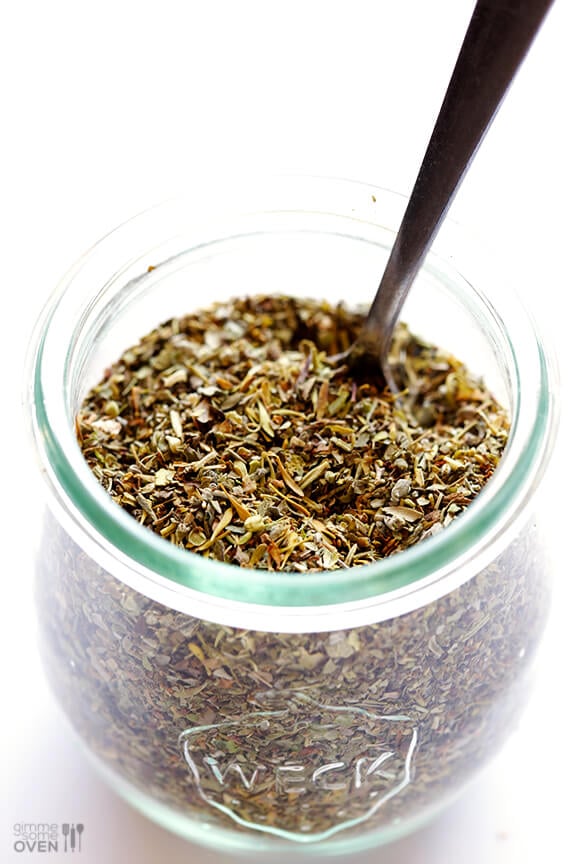 Italian Seasoning
This delicious Italian seasoning recipe is simple to make at home!
Ingredients:
1 1/2 teaspoons dried oregano
1 teaspoon dried marjoram
1 teaspoon dried thyme
1/2 teaspoon dried basil
1/2 teaspoon dried rosemary
1/2 teaspoon dried sage
Directions:
Whisk all seasonings together in a bowl until combined. Use immediately or store in a sealed container.
*Feel free to adjust the ratio to make whatever size of batch you would like.
All images and text ©
If you make this recipe, be sure to snap a photo and hashtag it #gimmesomeoven. I'd love to see what you cook!
Here are some more homemade seasonings to try: