Linguine w/ Arugula, Garlic & Parmesan
When people find out I'm a food blogger, often they make a comment about how I must eat such "amazing" meals all the time. While that's sometimes true, more often than not, I find myself pressed for time and happy when I have the chance to whip up a 15-minute meal in between commitments. You know how it goes!
But today I thought I'd share with you one of my behind the scenes favorites — my beloved Linguine with Arugula, Garlic & Parmesan. This 5-ingredient meal (gotta throw in the olive oil) is one of my most comforting of comfort foods. It can be on the table in the amount of time it takes to boil water and cook pasta, and it is super quick and easy. The ingredient list is short, but the combination of flavors is one of my all-time favorites.
And apparently I'm not the only one who loves this dish! Last week as I mentioned on Instagram, I was taking my Prius into the dealership for a tune-up and had just turned to go in the waiting room when the mechanics stopped me and asked for the recipe because it "smelled SO good". Made me smile! So I scribbled out a recipe on some scratch paper then, but later thought he might not be the only one to enjoy it. So behold, I share with you too the goodness of Linguine with Arugula, Garlic & Parmesan. I hope you enjoy it as much as I do!
Do you have a favorite quick and easy go-to pasta recipe?
Linguine with Arugula, Garlic & Parmesan
Ingredients
8 ounces linguine or other dried pasta (I love Dreamfield's)
1 Tbsp. olive oil
5 cloves garlic, peeled and thinly sliced
2 cups baby arugula
1/2 cup freshly-shredded or shaved Parmesan
Method
Cook pasta al dente in a large stockpot according to package instructions. (*Be sure to also liberally salt the pasta water. This is the only chance you have to flavor the actual pasta.*)
While pasta is cooking, heat olive oil in a saute pan over medium-high heat. Add the sliced garlic and cook for 4-5 minutes, or until it begins to turn just slightly golden. Remove from heat, and reserve garlic and olive oil drippings on a plate.
Once the pasta has finished cooking, drain it. Then add in the garlic and olive oil mixture and the arugula. Toss until combined. Serve individual portions garnished with lots of Parmesan cheese.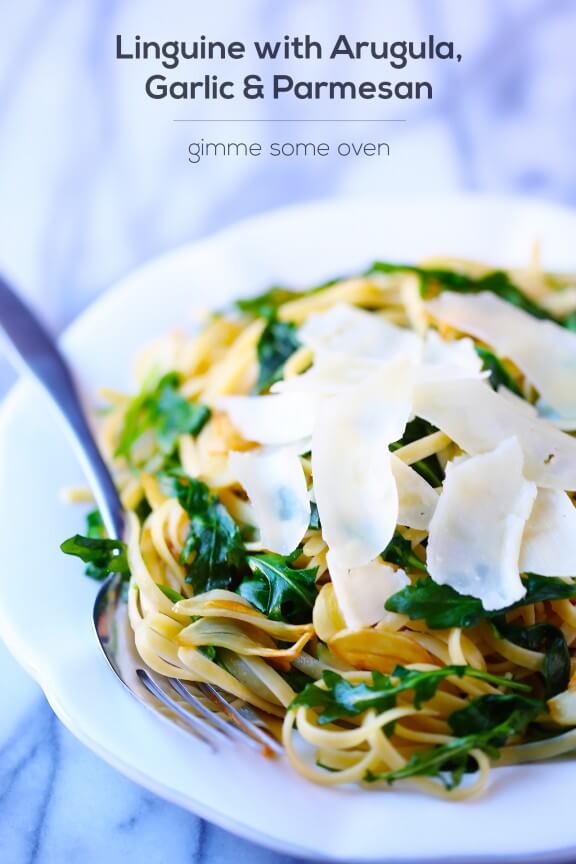 This post contains affiliate links.