Pineapple Orange Banana Popsicles
Ok, I know I already posted a recipe where I turned my favorite pineapple-orange-banana juice into a smoothie. But I couldn't resist one more recipe — pineapple orange banana popsicles!!!
Seriously, friends. I know I'm admittedly obsessed with the pineapple-orange-banana combo. But you need to make these.
Super delicious.
Perfect for breakfast, a snack, or a fruity dessert.
And just three delicious, fresh ingredients.
You will love them!!!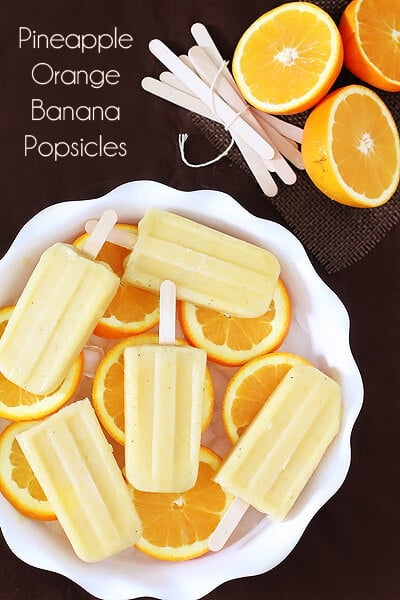 Pineapple Orange Banana Popsicles
Ingredients
2 cups fresh chopped pineapple
3 bananas, peeled
2 oranges, peeled
Method
Pulse all ingredients together in a blender until smooth.
Pour into popsicle molds and freeze until firm.
Ali's Tip:
These are also great when made with a teaspoon of grated fresh ginger!