Pork and Bacon Sliders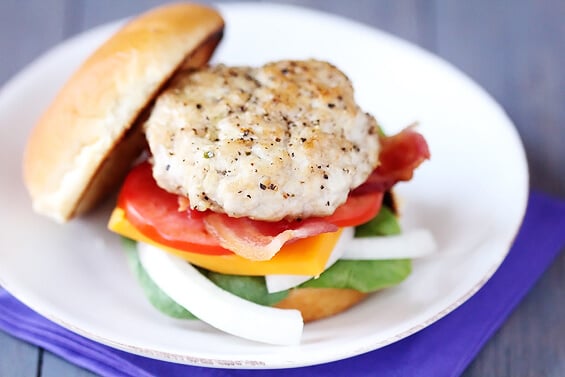 Being the granddaughter of proud Kansas farmers, I'm excited that a group of us bloggers from KC are taking today to celebrate a special local group — our Kansas Pork Association farmers!  I feel like I have a special connection with this crew, being that my super-stylish aunt (raised on a farm, now a city girl) was once upon a time crowned the Kansas Pork Queen back in the day.  True story.  :)
But seriously, I have been around enough farmers to know that they are some of the most respectable, hardest-working folk around.  And they also love what they do!  This was undoubtedly the case with Jim Crane, a Kansas farmer who lives near my hometown.  I had the chance to interview Jim, and completely enjoyed hearing his perspective on pork, farming, and his sweet family's life on the farm.  Read below for my interview, and then check out my take on his favorite recipe — what he calls "The Ultimate Pork Burger"!  Granted, his recipe was a little more than my small frame could handle, so I decided to adapt it into some simple little sliders.  No frills or fancy sauces here — just the delicious pork patties, bacon, and whatever fixin's you prefer.
So read on for the recipe and my interview with Jim, along with my fellow bloggers' interviews with their farmers.  And also be sure to check out the Kansas Pork Association's Facebook page to enter a contest for the "Ultimate Tailgating Party", which features an amazing grill package that includes over $800 worth of "pure tailgaiting bliss"!  Now that's a good way to kickoff football season.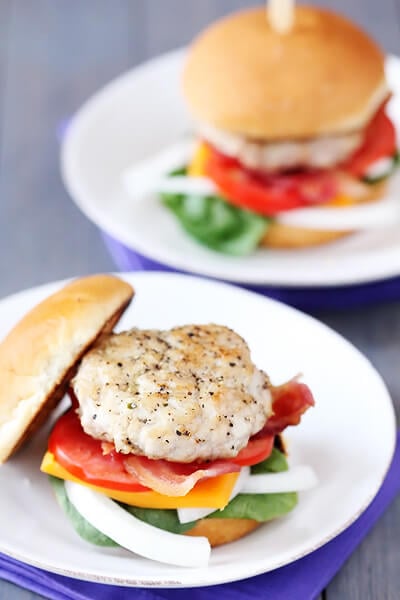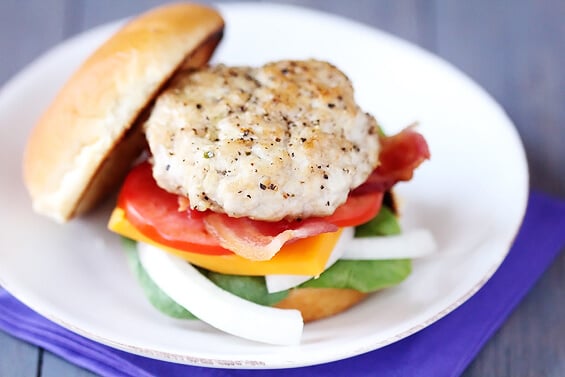 Pork and Bacon Sliders
These Pork & Bacon Sliders are quick and easy to make, and so delicious!
Ingredients:
1 lb. ground pork
salt and freshly-ground black pepper
2 Tbsp. vegetable or canola oil
6 slices of bacon, cooked and cut in half
10-12 slider buns or small rolls
lettuce or spinach
sliced tomatoes
sliced cheddar cheese
sliced white onions
Directions:
Season the ground pork with a few generous pinches of salt and freshly-ground black pepper. Score the mixture into 8 equal portions, and then use your hands to shape each portion into a patty.
Heat oil in a large skillet over medium-high heat. Cook the sliders in a single layer (you may need to do 2 or 3 batches) for about 3-4 minutes on each side, or until done to your taste. Once the sliders are done cooking, add the buns to the skillet (flat-side down) for a few seconds each until the insides are slightly brown and crispy.
Lay out the bottom halves of the buns on your work surface. Then add to each a layer of lettuce/spinach, onions, cheese, tomatoes, bacon, the pork patties, and then top with the final layer of the bun. Secure with a toothpick and serve immediately.
ALI'S TIP:
Jim's original recipe called for making each of the "bun" layers a grilled cheese sandwich. So if you're feeling brave, feel free to make the top and bottom layers each their own mini grilled cheese sandwich!
All images and text ©
If you make this recipe, be sure to snap a photo and hashtag it #gimmesomeoven. I'd love to see what you cook!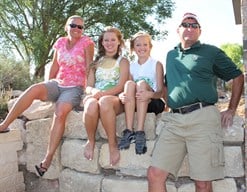 My interview with local Kansas pork farmer, Jim Crane:
I completely enjoyed getting to know Jim!  He could not have been more kind and gracious, and it's clear that he genuinely loves being a Kansas pork farmer.  You can read more about his farming and favorite recipe here on the KPA page.
Why would you encourage people to try cooking more with "the other white meat"?
Pork has extremely competitive pricing; this week our local store had pork chops priced at $2.49 per pound compared with hamburger at $3.99 per pound. Pork tenderloin is probably one of the best values and we use it more than any other product in our home today. There are many quality pork recipes available online for all types of pork products; you can view some of them at www.porkbeinspired.com.
The new cooking guidelines released by the USDA to cook pork to 145 degrees with a three minute rest makes pork an even better option because you can avoid drying the product during the cooking process. This keeps the today's lean pork much more tender and juicy.
How has the pork industry changed over the years that you have been farming?
When I first started I worked on a 100 sow farm where all the animals were housed outdoors. We had to deal with rain, snow, the extreme cold and extreme heat. Most farms at that time were 100-300 sows producing 15-16 pigs per sow each year. Over the last 30 years the size of farm has increased and the pigs are mainly raised in a climate controlled environment, with heat during the winter and fans and misters to provide a cool barn in the summer. This has allowed us to decrease the impact extreme weather conditions have on our pigs and keep our pigs healthier…. What I find fascinating, and what I like about farming today, is we are more responsible with our natural resources than years ago. Today's pork farms use 41% less water…78% less land…and we have reduced our carbon footprint by 35%.
How do you set the bar high on your farm to raise a quality product?
We believe in continuous quality improvement and are always looking for ways to improve. Areas we monitor daily, weekly and monthly include: animal handling, farm appearance, cleanliness, medication records, medications timing, proper treatment, vaccination timing, 0-3 day piglet care, and sow condition. We use feedback from our customers to insure we provide a safe quality product to our family and yours.
What do you wish consumers knew (that they might not) about the farms and farmers who grow their pork?
We take for granted that we can go to the supermarket and buy whatever we need at a fair price. I wish people understood that may not always be the case as there are many factors that impact the production of high quality food in the US and there are organizations that believe we should not produce pork. I wish consumers had an understanding of the changes that have taken place in farming over the last couple decades and the people raising the pigs are committed to providing proper care for our animals and many of us are only in this industry because we love working with the animals.
What is your favorite daily task on the farm? Your least favorite?
Working with the sows and piglets during the birthing process and the first few days of the pig's life has always been one of my favorite activities. Obviously most babies are cute and piglets are no exception, the results of providing proper care for sows and piglets are easy to see and unlike the breeding process feedback on whether you have been successful is almost immediate.
My least favorite is harder to come up with. I guess anything that requires doing the same thing repeatedly for more than an hour or two, but that is why I like farming. There are many tasks that are constantly changing.
How do you and your family like to kick back and relax after a hard day's work?
Three of the four of us like to play golf and will play 3-4 times a week in the summer. We still sit down for dinner most nights with the entire family. In addition the girls are into soccer, volleyball and track so there are frequently times we are off to sporting events through the fall, winter and spring. We enjoy watching college football so we are looking forward to that kicking off again in the next couple weeks.
My dad grew up on a farm and has a zillion funny farm stories to tell. Any entertaining stories from your farm lately?
One of my favorite memories happened years ago when Nancy and I were loading market hogs. We were pulling them from a dirt lot and there was a large mud puddle in the area we were working. Nancy got her boot stuck in the mud and in her struggles pulled her foot out of the boot and fell in the mud. I was laughing so hard I couldn't really help. She, as you might guess did not see the humor in the situation and I finished loading the pigs without her help.
Also check out my fellow KC bloggers' interviews with their local farmers: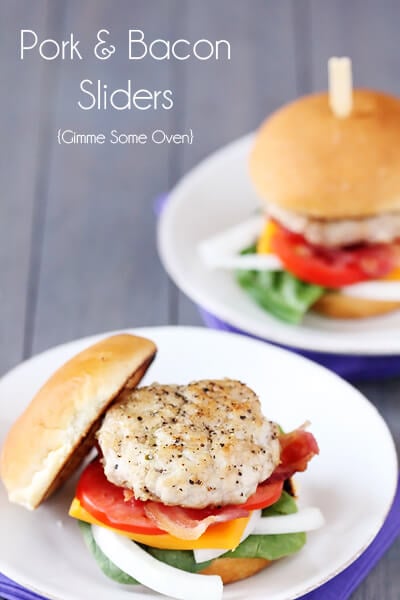 This is a sponsored post on behalf of the Kansas Pork Association. I was compensated for my time however all opinions expressed are my own.