Pumpkin Pie Oatmeal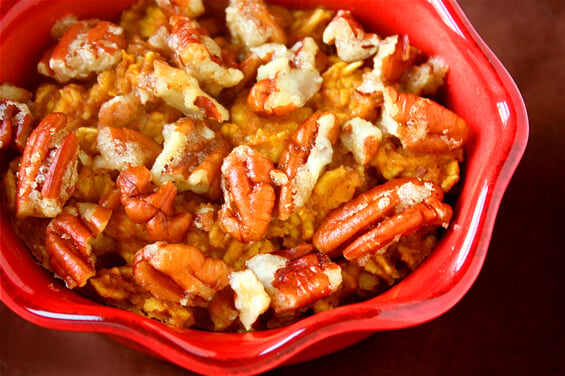 Pumpkin pie for breakfast??  Absolutely.  :)
For the second post in my "Ode To Pumpkin Week", wanted to pay tribute to the most important meal of the day with this yummy baked pumpkin oatmeal recipe.  Not only is it absolutely delicious, and provides all sorts of great nutrients to begin the day, but it's a snap to throw together.  Seriously!
Just as a random example (which I may or may not have tested out this morning), one could mix up all the ingredients and pop the ramekins in the oven — then run and take a quick shower while they're baking — return and add the nutty mixture — then blow-dry my hair for round two of baking — and return within 7 minutes to a wonderfully-smelling kitchen and a delicious little breakfast.
Voila!  A simple, satisfying, and oh-so-delicious breakfast is served.  :)
Pumpkin Pie Oatmeal
Kick breakfast up a notch with this healthy, super-delicious oatmeal! Detailed instructions and photos included.
Ingredients:
1 cup old fashioned oats, not quick cook
1 Tbsp. whole flax seeds, optional
2 1/2 Tbsp. brown sugar, packed
1/2 tsp. cinnamon
1/4 tsp. allspice
1/8 tsp. nutmeg
1/2 tsp. lemon zest
1/4 tsp. salt
1/2 tsp. vanilla
1/2 Tbsp. butter, softened
3/4 cup pumpkin puree
3/4 cup milk
Topping:
1/3 cup pecans, chopped
1 Tbsp. butter, softened
1 Tbsp. brown sugar
Directions:
Preheat oven to 375F degrees. Grease 4 individual-sized ramekins. Set aside.
Combine the first eight ingredients (oat thru salt) in a medium-sized bowl. Stir well. In a separate bowl, combine the vanilla, butter, pumpkin, and milk. Whisk thoroughly. Pour the pumpkin mixture into the oats, and stir until combined.
Divide mixture evenly between the four ramekins. Place ramekins on a baking sheet (this makes it easier to move in and out of the oven.). Bake at 375 degrees for 10 minutes.
Meanwhile, combine the ingredients for the topping: chopped pecans, butter, and brown sugar. After the oatmeal has baked for 10 minutes, remove and divide topping mixture evenly between the ramekins. Bake and additional 7 minutes. Cool for 5 minutes before serving. Top with a splash of milk and raisins, if desired.

The topping to this is one of my favorite parts.  Feel free to sub in whatever nuts you have on hand (almonds, walnuts, etc.).  Or even double the topping if you'd like to be really "nutty"!  :)
Leave a Comment:
Comments
Trackbacks/Pingbacks