Roasted Tomato Salsa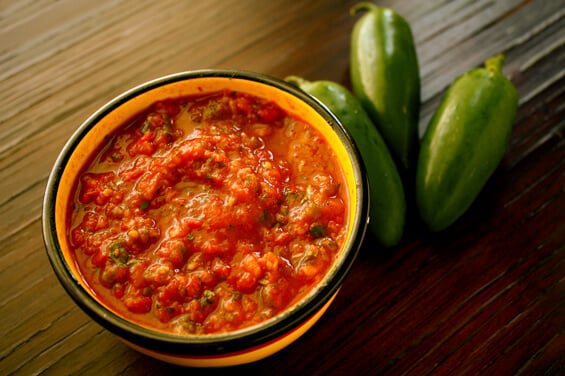 With the advent of tomato-picking season comes….SALSA season!!   Three cheers for America's favorite condiment — which is made all the more popular, as pointed out on a classic Seinfeld episode, because of the sheer delight people take in saying it's name.  :) Ssssssalsa!
So to celebrate the season, I decided to kick it up a notch this week and make a roasted salsa for a Mexi potluck with friends.  This recipe makes plenty for a group, although a good portion of mine may or may not have "disappeared" while cooling in the fridge the few hours before the party…
Anyway, if you've never made roasted salsa before, this method is a great alternative to typical fresh salsa if you have time to roast the veggies.  This specific recipe definitely packs some heat, but the richness and smoky undertones in the flavor make it irresistible!  So grab some of your favorite tortilla chips and dive in!!
Roasted Tomato Salsa
This roasted tomato salsa brings your typical salsa to the next level. Roasting the tomatoes really enhances their flavor!
Ingredients:
8 to 10 roma tomatoes, halved lengthwise
1 poblano pepper, halved lengthwise (remove the seeds and ribs, if you're concerned about heat)
1 jalapeno pepper, halved lengthwise (remove the seeds and ribs, if you're concerned about heat)
3 cloves garlic, peeled and halved
2 tablespoons extra-virgin olive oil
1/2 teaspoon fine-grain sea salt
1/4 teaspoon pepper
1/2 teaspoon cumin
1/4 cup roughly chopped cilantro
1/2 cup roughly chopped red onion
3 tablespoons lime juice
sea salt, to taste
Directions:
Preheat the oven to 450. Line a rimmed baking sheet with aluminum foil and set aside.

In a large bowl, toss the tomatoes, peppers and garlic with the oil, salt and pepper. Transfer the oiled vegetables to the prepared baking sheet and spread them into a single layer. Bury the garlic cloves in the tomato halves to prevent them from burning. Roast the vegetables for 20 minutes. Remove once the peppers have started to blacken and the tomatoes have begun to collapse. Allow all of the vegetables to then cool slightly.

Transfer the slightly cooled vegetables to a food processor, fitted with a metal blade. Add the cilantro, red onion and 2 tablespoons of the lime juice. Pulse about a dozen times, to achieve the texture of a chunky puree. If the salsa is too thick, add more lime juice. Salt to taste (be generous!). Either serve immediately or cover the salsa and refrigerate it.

Salsa always tastes better after it's had a chance to sit and let the flavors infuse.  So if you have the time, let it sit in the refrigerator for at least a few hours before you dig in!

If you make this recipe, be sure to snap a photo and hashtag it #gimmesomeoven. I'd love to see what you cook!
Leave a Comment:
Comments