Classic Margarita
This classic margarita recipe is made with 3 main ingredients — tequila, lime juice, and orange liqueur — and always tastes so refreshing and delicious!  Instructions are included below for a single serving or a full pitcher.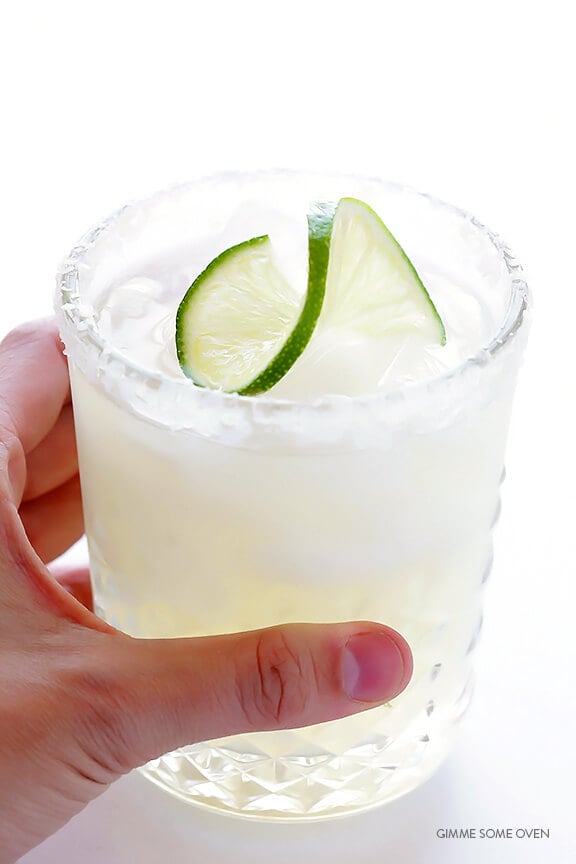 So, I was planning to wax poetic about my love of margaritas today.  But I have much more important news:
I think I may have finally discovered the secret to me becoming a "brunch" person.
Now hold on, don't get me wrong.  I always enjoy a good brunch, and will eat my eggs and bacon and waffles and biscuits and gravy (accompanied by loads of coffee) anytime my friends send out the group texts to meet up for a lazy Saturday morning.  But I'm generally not all that hungry in the mornings, and have just never been as obsessed with breakfast foods as the rest of the world.  So as such, I've just always been more of a "social brunch-er".
However.
Yesterday after church, my friend Sarah recommended that our crew who went to Todos Santos last year meet up for a little reunion for brunch at one of my favorite restaurants in town…which happened to be Mexican (of course)…and also, as it turns out, has a huge brunch menu (whaaa?!?).  I don't know if the Mexican brunch trend is just slow to hit Kansas City, but this was one of the first full menu offerings I have seen locally.  And let me tell you, it was dreamy.  They had everything from chilaquiles to breakfast tacos to avocado toast to breakfast fundido to Mexi sausage to breakfast chimis and more.  And chips and salsa were involved.  And the best part?!  Margaritas for brunch.
This place happens to have a delightfully creative margarita menu, and we were all curious and had to try a round of things like hibiscus and watermelon-mint and prickly-pear-serrano, which were all as yummy as we had hoped.  But when the waitress came back around and asked about another round, we all looked at one another and somehow had the same thought — everyone wanted a classic margarita.  As my friend Lauren said, you just really can't beat a classic freshly-squeezed lime margarita, especially when good tequila is involved.
I happen to agree.  When we were compiling our round-up of 15 margarita recipes to share with you yesterday, I was actually combing through the archives of this blog and found 13 (yes, thirteen!!!) margarita recipes already on here ranging from skinny margaritas to jalapeno watermelon margaritas to champagne margaritas and beyond.  (Plus the half dozen or so marg recipes I'm hoping to share with you this summer.)  But I realized we were sorely in need of just a go-to classic margarita recipe on the blog.  One that you can bookmark as your go-to, that will never fail you, and will always be a crowd pleaser.
It was hard work whipping up a batch so that I could snap some photos and share them with you, but someone had to do it.  ;)
Classic Margarita Recipe | 1-Minute Video
As much as I love margaritas, I will admit that there's one kind of margaritas I don't like — those made without freshly-squeezed lime juice.
It's a high crime in Margaritaville.
Good margaritas must be made with freshly-squeezed lime juice.  And good-quality tequila and Cointreau (which I much prefer to Triple Sec) are also essential.  Since classic margaritas really only include those three ingredients, it's important that they all be fresh and good.
However, after making countless batches of margaritas over the years, I've also become a big proponent of making another important margarita investment: a really good lime juicer.  I have tried all sorts of lemon and lime juicers over the years, but Kathryne actually introduced me to this citrus juicer (affiliate link) while we were in Austin.  And let me tell you — it is a champ.
I actually made a triple batch of my fresh pineapple margaritas for my birthday party this past weekend, which required juicing 30 limes.  And for the first time ever, I was actually still in a good mood when I was done juicing.  It is super strong and durable and is designed to do most of the work for you.  Anyway, I bought the lemon juicer because it fits both lemons and limes, but both are available on the market.
(Pardon the juicing informercial, but if you make as many margaritas as I do, this tool is a game changer.)
Anyway, mix up all of that freshly-squeezed lime juice with some Cointreau and silver tequila.  (And if you like a sweeter margarita, feel free to stir in some agave or simple syrup.  I like mine without.)
Then give the mixture a good shake (or stir) in a cocktail shaker, and serve it over the rocks.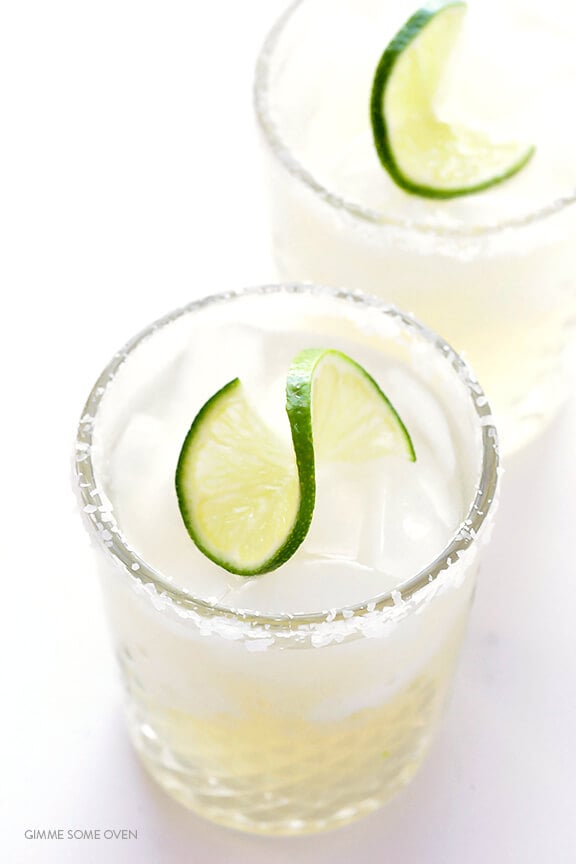 Also, feel free to garnish your glasses however you'd like.  I'm a big fan of the salted rim, although I love rimming my glass with a fresh orange slice (vs. lime) and then salting it.  But either will work, or you can totally skip the salted rims altogether.
Bottom line, this recipe is a keeper.  Perfect for Cinco de Mayo, perfect for Mexican brunching (woot!), and perfect for any ol' day you're craving a perfect margarita.
Cheers, friends!
Classic Margarita Recipe
This classic margarita recipe is always a winner! Freshly-squeezed lime juice is a MUST, and I recommend using Cointreau as your orange liqueur.
Ingredients:
For A Single Margarita:
1 1/2 ounces tequila, silver or reposado
1 ounce Cointreau (orange liqueur)
3/4 ounce freshly-squeezed lime juice
optional: agave nectar or simple syrup for sweetening, if desired
ice
optional: lime wedge and salt for rimming the glass
For A Pitcher Of Margaritas (16 Servings):
3 cups tequila, silver or reposado
2 cups Cointreau (orange liqueur)
1.5 cups freshly-squeezed lime juice
optional: agave nectar or simple syrup for sweetening, if desired
ice
optional: lime wedges and salt for rimming the glass es
Directions:
If you would like salt-rimmed glasses, begin by running a lime slice (the juicy part) around the top rim of a glass.  Fill a shallow bowl with salt, and dip the rim in the salt until it is covered with your desired amount of salt.  Set aside.
Add tequila, lime juice and Cointreau to a cocktail shaker, and shake or stir until combined.  Taste, and if you would like it to be sweeter, stir in a half teaspoon of agave or simple syrup at a time until the mix reaches your desired level of sweetness.
Fill glass with ice.  Pour in the margarita mixture over the rocks.  Serve immediately, garnished with an extra lime wedge if desired.
To Make A Pitcher Of Margaritas (16 servings):
Stir tequila, lime juice and Cointreaue together in a large pitcher until combined.  Add your desired amount of sweetener if desired (I would begin with 2-3 tablespoons agave) until the margaritas reach your desired level of sweeteness.
Fill the glasses with ice.  Pour in the margarita mixture over the rocks.  Serve immediately, garnished with extra lime wedges if desired.
*The serving sizes for these margaritas are equivalent to traditional cocktail serving size.  (Not the enormous margaritas served at some Mexican restaurants.)  ;)  They're plenty strong, but make extra servings if you'd like!
All images and text ©
If you make this recipe, be sure to snap a photo and hashtag it #gimmesomeoven. I'd love to see what you cook!