Sesame Strawberry Salad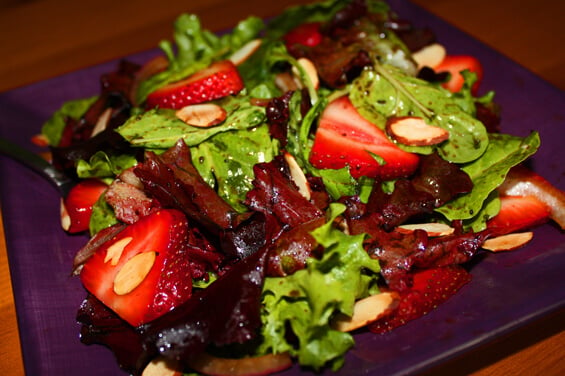 There are so many smells I love in the kitchen — homemade bread, freshly cut pineapple, any sort of roasting garlic — mmm, the list goes on and on… But if I were ever forced to pick an absolute favorite, there would be no contest. My answer would be two simple words:
Sesame oil.
My heart may or may not skip a little beat each time I get to reach in the cabinet for that fabulous little bottle of goodness. :) It's divine!!
Thus, to offer a slight alternative on the standard balsamic and strawberry salad, I recommend this little gem of a recipe. It's great for fruity salads, marinades, and whatever else you can dream up. And its delightfulness is, of course, all due to the you-know-what. Enjoy!!
Sesame Strawberry Salad
Ingredients
1/2 cup white sugar
2 tablespoons sesame seeds
1/2 teaspoon sesame oil
1 tablespoon poppy seeds
1 1/2 teaspoons dried minced onion
1/4 teaspoon paprika
1/2 cup vegetable oil
1/2 cup balsamic vinegar
2 bunches fresh spinach - chopped, washed and dried
1 pint strawberries, halved
Method
Whisk together the sugar, sesame seeds, sesame oil, poppy seeds, dried onion, paprika, oil and vinegar. Refrigerate until chilled.

In a salad bowl, combine the spinach and strawberries. Drizzle with dressing, toss lightly and serve.