Slow-Cooker Shredded Beef Tacos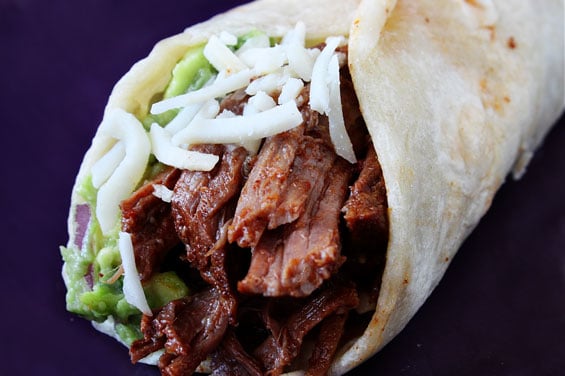 I think I may be one of the only people in the world who's not a Chipotle fan. I know…judge away.
But…I absolutely love shredded beef tacos. :) They're my absolute favorite thing to order at two of my favorite Mexican restaurants in town. So when I saw one of my favorite bloggers post a delicious photo and recipe of her shredded beef tacos a few months ago, I knew I had to give them a try!
In the past whenever I've tried making shredded beef, the seasonings have always seemed too bland. But sure enough, this recipe — rockin' the chipotle peppers, cumin, smoked paprika, garlic and more — made for some totally flavorful tacos!!! And for leftovers later in the week…it starred again in some quesadillas and sandwiches as well. :)
So bring out your crock pot, and give this recipe a try! It's definitely a keeper!
Slow-Cooker Shredded Beef Tacos
Ingredients
2 Tbsp. extra virgin olive oil
2 pounds beef (I used a boneless chuck roast)
2 tsp. chili powder
1 tsp. cumin
1/2 tsp. smoked paprika
1 cup beef stock
2 Tbsp. tomato paste
1 chipotle pepper in adobo sauce, minced (I love spice and used two!)
1/2 large sweet onion, diced
4 cloves garlic, minced
Flour tortillas

Favorite taco toppings:

guacamole or avocado
fresh salsa
Mexican rice
grated cheese
fresh lettuce
tomato
onion
cilantro
squeeze of lime juice
Method
Whisk together the chili powder, cumin, and smoked paprika in a small bowl. Rub the spice mix into the beef, covering each side evenly.
Heat olive oil in a large skillet over medium-high heat. Carefully place the beef in the skillet and sear on each side until browned. Add the diced onion and minced garlic on top of the seared beef in the slow cooker.
Remove the beef from the skillet and place in the bottom of a slow cooker. Leave the pan on the heat, and add in the beef stock to deglaze, scraping up any browned bits from the bottom of the pan. Add the tomato paste and minced chipotle and whisk into the pan sauce. Bring the sauce to a boil, reduce the heat, and simmer for a 3-5 minutes until the sauce has reduced and thickened slightly. Pour the pan sauce down over the onions, garlic, and beef in the slow cooker. Cover and cook on low for 6-8 hours.
Shred the beef and onions with two forks. Serve the beef in the flour tortillas, topped with your favorite taco toppings.
Ali's Tip:
If you're like me and rarely make it through an entire can of chipotle peppers in adobo sauce, would highly recommend chipotle powder! It's now available in most grocery stores, and is so fun to have on hand. For one pepper, I usually substitute in around 1/2 tsp. of the powder.