S'mores No-Bake Cookies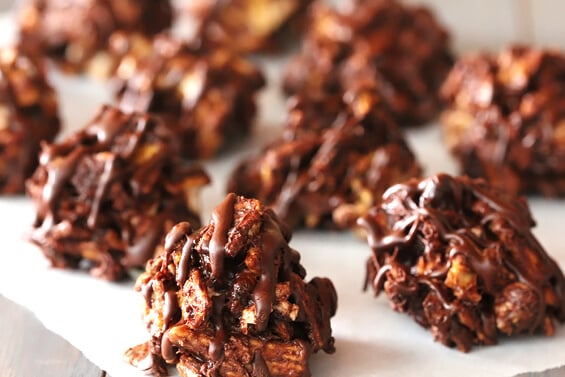 Happy National S'More Day to you!!!
Thanks to Heidi's stellar new calendar, I'm now aware of all sorts of national foodie holidays such as the upcoming "Filet Mignon Day", "Whiskey Sour Day", and even "Bratwurst Day".  Oh yes, it's true.  While I might skip on the brats, I am definitely in for a day celebrating all sorts of stellar s'mores recipes!  So today I bring you these S'mores No-Bake Cookies.
Granted, I took a few tasty liberties with the traditional s'mores ingredients.  Instead of graham crackers, I went with one of my favorite childhood cereals — Golden Grahams!  And then mixed them in rice-crispy-style with some marshmallows and milk chocolate chips to make some easy no-bake cookies.  Couldn't decide while I was mixing them up whether to turn them into bars, or truffles, or what!  But somehow this batch turned into little s'mores no bake cookies, drizzled with a little extra chocolate for fun.  Cute and simple!
Since it's National S'mores Day, I should probably also mention that another s'mores recipe is still one of the top posts on my site ever — S'mores Pops!  Also quite cute and simple, and addictive.  I have made them now many a time.  :)
What are some of your favorite s'mores recipes?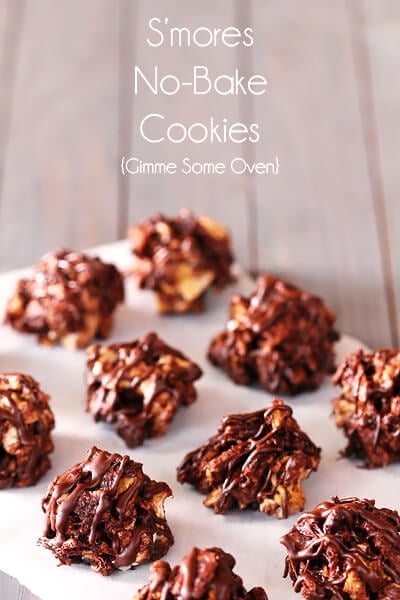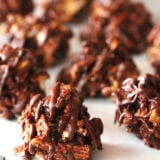 S'Mores No-Bake Cookies
These delicious s'mores cookies are made with Golden Grahams, milk chocolate chips and marshmallows. Perfect for National S'mores Day!!
Ingredients:
1/4 cup butter
1 (10.5 oz) bag mini marshmallows
1 (11.5 oz) bag milk chocolate chips, plus (an optional) 1 cup chips for drizzling
8 cups Golden Graham cereal
Directions:
Melt butter in a medium stockpot over medium heat. When melted, add in marshmallows, and stir frequently until melted. Remove from heat.
Stir in Golden Graham cereal until evenly coated. Add chocolate chips and continue stirring until evenly distributed. (If you would rather the chips not melt much, just freeze them beforehand.)
Use a spoon to shape mixture into small clumps and place on wax or parchment paper to cool.
For the optional drizzle, melt chocolate chips in a double-boiler or (carefully) in the microwave until melted. If the chocolate is too thick, stir in a teaspoon or two of shortening or vegetable oil to thin. Transfer melted chocolate to a pastry bag fitted with a small tip, and drizzle onto the cookies once they have cooled slightly. (If you do not have a pastry bag, you can also use a plastic freezer bag, and just snip off a tiny corner to drizzle.)
Store in an airtight container for up to 2 weeks.
All images and text ©
If you make this recipe, be sure to snap a photo and hashtag it #gimmesomeoven. I'd love to see what you cook!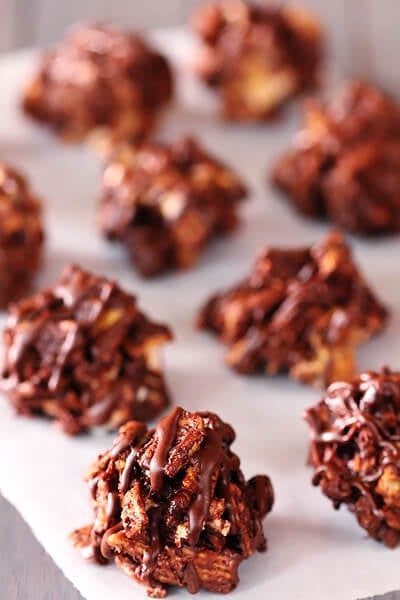 Also try these fun S'mores Pops!