spaghetti carbonara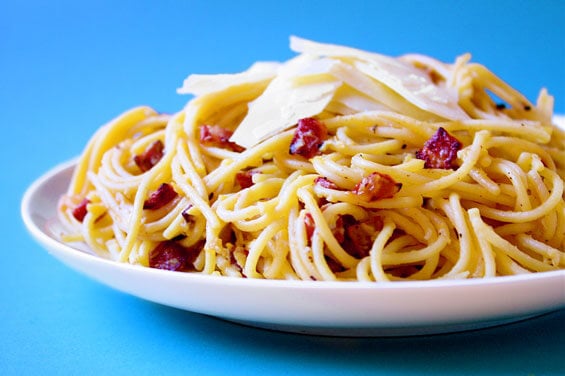 In honor of this crazy recession we're going through, it's officially Cheap Eats Week on the blog! I'm going to be posting one recipe a day that is super-delicious, but will also be an especially pleasant surprise at the checkout counter. :)
To kick things off, I'm stoked to share one of my all-time favorite recipes with you – spaghetti carbonara! Fondly dubbed the "eggs and bacon pasta" by my friends, this classic Italian dish has been a staple in my kitchen since college. I was actually introduced to it by the wife of one of my professors, who not only was a fantastic cook, but had also spent some time living (and cooking!) in Italy. I remember walking into their house the night they made this, and being surprised by the heavvvvvenly smell of bacon and eggs coming from the kitchen. Was a little doubtful about how those flavors/textures would translate to pasta, but I instantly became a fan. (As have the probably 25+ people who have tried this at my house over the years!)
It's truly one of my favorites — simple, packed with delicious flavor, and made with ingredients I almost always have on hand. But perhaps the best part? It literally costs about $5 to make — and easily feeds at least four!
So if you like eggs and bacon, trust me that this is a good one. You must give it a try! :)
Spaghetti Carbonara Recipe
(From my friend, Joni)
Ingredients:
1 lb. spaghetti
1/2 large onion, diced (about 1 cup)
1/2 lb. turkey bacon (or the real thing), diced
5 eggs
1/4 cup milk
1/4 cup parmesan (or more)
1 tsp. freshly ground black pepper
olive oil
Method:
Bring a big pot of salted water to a boil on the stove. (Use about 2 Tbsp. salt – this is the secret to flavorful Italian pasta!)
While waiting for the water to boil, heat 1 Tbsp. of oil in a large skillet over medium-heat. Add the turkey bacon and cook until it is nearly crispy, stirring every few minutes. (If using real bacon, you will not need to add oil initially, and you may actually need to drain some grease before the next step.) Then add the diced onion to the skillet, and continue cooking until the bacon is crispy and the onion is translucent.
In a separate small bowl, whisk together eggs, milk, parmesan and black pepper until well-blended. Set aside.
Once the pasta water is ready, add the spaghetti and cook according to package instructions until it is al dente. (Usually about 9-11 minutes.)
When the pasta is ready, carefully and quickly drain out the pasta water, and return the pasta to the hot pot immediately. Then while stirring the pasta with one hand, use the other to pour the egg mixture into the pasta and continue to toss until the egg mixture is cooked into the pasta. (You may see a few tiny clumps, but in general, the eggs will just coat the individual pieces almost like a sauce.) Then add in the bacon and eggs mixture and toss until mixed.
Feel free to garnish with extra parmesan and/or chopped fresh parsley. Serve immediately.
Ali's Tip:
One of the reasons I love this recipe is because the "healthier" version does not seem to be at all lacking in flavor or richness. But classic Italian carbonara recipes call for heavy cream (instead of milk), real bacon, and potentially even more eggs. So feel free to substitute if you want to be extra "authentic".