1-Hour Soft and Buttery Dinner Rolls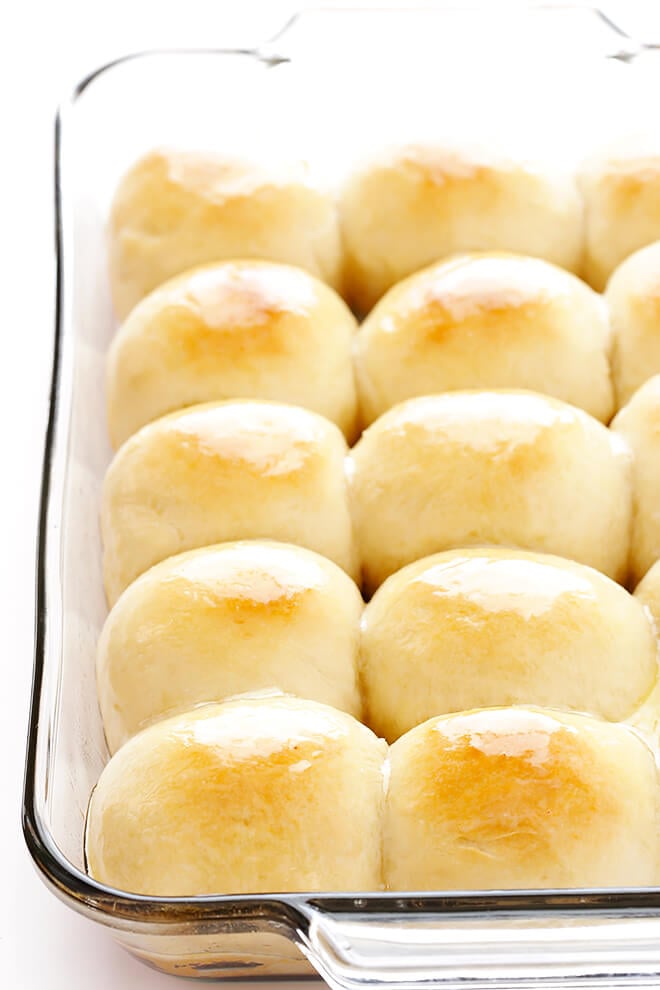 This past weekend, I did something I never do.
I didn't leave the house for over 2 full days…and it felt so good.  ?
On Friday night, Barclay and I hosted a big easygoing Christmas party with all of our best friends, complete with a yummy spread of simple appetizers, lots of homemade apple cider and mulled wine to go around, mellow acoustic Christmas jams on in the background, my extroverted pup making the rounds in his handsome Christmas sweater, and — of course — all under the light of my (first real!) Christmas tree and the glowing warmth of my Netflix fireplace.  Mmmm, it was just the best.  Warmed my heart in all of the best ways, and made me so thankful for the thousandth time for this incredible group of dear friends in our lives.
And after that?  I decided to take the rest of the weekend 100% off, and burrow inside for some major holiday R&R.
Actually, I think that's what most of Kansas City decided to do, thanks to the snowy, icy, bitter, subzero weather that blew into town during my party.  It was so cold and miserable that our streetcar even had to shut down, and all of my favorite take-out restaurants were closed.  So I snuggled in my warm little loft, pulled out the comfy sweats and my favorite foot duvets, lit a bunch of candles, and spent the rest of the slow weekend catching up on some good books, episodes of The West Wing, my mailbox full of Christmas cards, puppy snuggles galore, and a few long winters' naps.  And of course, no winter weekend in my book is completely without a big pot of soup.  So I made a big batch in the slow cooker to eat all weekend long, plus a batch of my perfectly soft, fluffy, and very-buttery dinner rolls to go along with them.  Because…comfort.
And oh my goodness, I think these may just be the most comforting rolls ever.
I'm sure that a part of that is pure nostalgia for me.
Growing up, I was always the pickiest kid at the table…especially on holidays.  And while my extended family would pile their colorful plates high with turkey, gravy, stuffing, sweet potato casserole, green beans, glazed carrots, cranberry sauce and more.  Whereas my monochrome little plate would usually just include maybe a little slice of turkey, a bit of mashed potatoes (sans-gravy, of course), a dinner roll, a dinner roll, a dinner roll, and another dinner roll.
I didn't like much, but I sure loved a good dinner roll.
Fast-forward to today, and it's shocking how much I now genuinely enjoy trying to make my plate as protein- and veggie-filled as possible.  (Trust me, at least one relative always makes sure to note "how far I've come".?)  But when it comes time to pass the dinner rolls, you'd better believe that a few extra still always make it onto my plate.  Because as much as I love some roasted green beans, I will forever and always love me a good dinner roll.  And there's no healthy shortcuts for me when it comes to good dinner rolls.  I like them made with good ol' AP flour, baked to soft and fluffy (not too hard and golden) perfection, and extra extra buttery.
Because…comfort.
Well, for those of us who always used to leave the dinner roll baking to Grandma and never learned how to make them ourselves, I'm happy to say that it's actually incredibly easy to make a life-changing batch of dinner rolls.  And with this easy recipe, you can literally have them on the table in just one hour.
Perfect for busy holidays…or weekends "in" when you'd rather be cozied up with a good book than buzzing around the kitchen.  (And in case you need a good soup recipe to go with them, these dinner rolls pair perfectly with my Chicken Pot Pie Soup recipe.)  ?
Just follow the step-by-step instructions below, and you'll have a big pan of warm, fresh-outta-the-oven, delicious rolls to share and enjoy in no time.  Oh, and in case you're intimidated by working with yeast in recipes like this one, don't be.  Just be sure that your yeast is fresh (not expired) and that your milk mixture is the right temperature (110°F) before mixing it with the yeast, and everything beyond that is a piece of cake.  Or, a piece of delicious dinner roll.  You know…
Anyway, since I've been blogging for 7+ years and have apparently never shared a dinner roll recipe in that time, I thought I would share my tried-and-true recipe with you today.  Hope that you enjoy it as much as I have.  ?
1-Hour Soft and Buttery Dinner Rolls
This 1-Hour Soft and Buttery Dinner Rolls recipe is surprisingly easy to make…and irresistibly delicious!
Ingredients:
1 cups water
2 tablespoons melted butter
1/2 cup milk
2 tablespoons honey
1 tablespoon active-dry yeast*
3.5 to 4 cups all-purpose flour
1 teaspoon salt
extra melted butter, for brushing on top
Directions:
Preheat the oven to 400°F.  Grease a 9 x 13-inch pan with cooking spray, and set aside.
In a microwave-safe bowl, whisk together warm water and melted butter until combined.  Stir in the milk and honey.  Then microwave for 1 minute 15 seconds, or until the mixture is very warm to the touch (it should be 110°F).  Test it, whisk and re-heat in 15 second additional intervals if needed until the mixture is warm enough.
Pour the water mixture into the large bowl of a stand mixer, then sprinkle the yeast on top, and give it a quick stir to combine.  Wait for five minutes, or until the yeast is foamy. Add in 3.5 cups of flour, and the salt.  Then using the dough-hook, mix on medium-low speed until combined.  If the dough is sticking to the sides of the bowl, add in 1/4 cup more flour at a time until the dough pulls away from the sides of the bowl and is only slightly sticky to the touch.  (Only use up to 4 cups of flour total.)  Continue mixing on low speed for 4-5 minutes.  Then form the dough into a ball with your hands and transfer it to a greased bowl.  Cover with a damp towel or paper towel, and let rise for 15 minutes.
Gently punch the dough down and divide into 15 equal-sized pieces. Form each piece into a ball and place evenly in the prepared pan.  Cover the pan, and let rise for an additional 15-20 minutes.
Bake 15 minutes, or until lightly golden brown on top and cooked through. Remove and brush with butter.  Serve warm.
*I buy my yeast in bulk.  But if you're buying the packets, note that 1 packet contains 2.25 teaspoons yeast.  So this will call for a little more than 1 packet.
All images and text ©
If you make this recipe, be sure to snap a photo and hashtag it #gimmesomeoven. I'd love to see what you cook!