$100 visa giftcard giveaway
This post may contain affiliate links. Please read my disclosure policy.
Entertaining does not need to be crazy stressful.
Case in point.
This past weekend, I ended up doing an impromptu lunch on Saturday with friends. Being me, and the crazy schedule that is often my life, I had somehow also booked plans for breakfast out with my small group from church beforehand and then a late afternoon wedding afterwards. Which pretty much left me with 30 minutes to prepare a meal for friends. But hakuna matata! I had some new Monterey Gourmet Foods™ ravioli pastas in the fridge that I was stoked to try. So whipped up a batch of their "Creamy Ricotta Florentine", some "Butternut Squash Ravioli with Brown Sugar Walnut Sage Butter" (recipe below), paired it with some simple pesto stuffed mushrooms and a salad, and voila — a super delicious meal was literally ready to go in less than 30 minutes!
Definitely my kind of meal. Classy, quick, and oh-so-delicious. And the best part was that my friends completely enjoyed it! They went on and on about the delicious flavors of the ravioli, and the decadent (although secretly super-simple!) sauces that had everyone asking for more. And they really loved the bright green "Basil, Almonds & Pine Nut Pesto" that was served with the ricotta ravioli and the stuffed mushrooms. So fresh and vivid!
I also loved the fact that the food my friends were enjoying was all natural. I have learned that all of Monterey Gourmet Foods' pastas and sauces are actually all natural, which is a definite priority in my kitchen. (And makes me, as the cook, feel better about enjoying the meal as well!)
All in all, definitely a great Saturday with even greater friends. And a needed reminder for me that some of my favorite meals can be quick and easy, saving time to be enjoyed with the friends I'm privileged to have in my life.
So to celebrate many more great meals to come, we are going to be giving away a $100 Visa giftcard and some rockin' Monterey Gourmet Foods VIP coupons this week! Read below for giveaway details, and to also learn how to make these yummy recipes!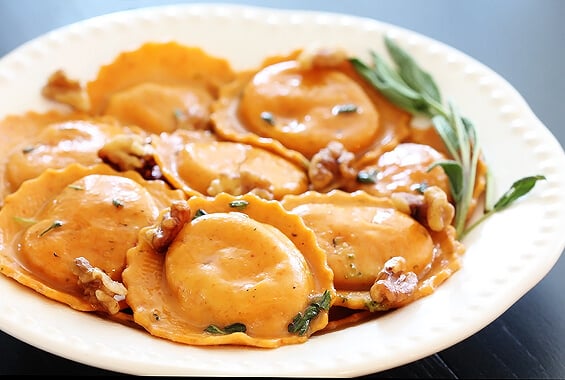 Butternut Squash Ravioli with Brown Sugar Walnut Sage Butter Recipe
Ingredients:
16 ounces butternut squash ravioli, cooked per package preparation
3/4 cup walnut pieces
2 Tbsp. butter
1/4 cup brown sugar (packed)
3/4 tsp. salt
Pinch cayenne pepper
1 Tbsp. chopped fresh sage or ≤ teaspoon dried rubbed sage
1-2 Tbsp. cream
Method:
Prepare pasta as directed. While pasta cooks, start the sauce. Have all ingredients ready as this comes together quickly.
Using a large wide sauce pan or skillet, toast walnuts on medium heat until just fragrant and beginning to color. Reduce heat to low, add butter and stir. Add brown sugar, salt, cayenne and sage. Stir until butter is completely melted. Whisk in cream, add cooked ravioli and enjoy.
Ali's Tip:
This would also be terrific with some grilled chicken, bacon, or chicken sausage mixed in!
Source:
Recipe from Monterey Gourmet Foods.
$100 Visa Giftcard Giveaway
Giveaway Rules:
To be entered for a chance to win, please tell me what you would make using a Monterey Gourmet Foods pasta or sauce product. If you'd also like to share a recipe, feel free to post it on your blog/website and include a link to it in your comment.
No duplicate comments.
You may receive (2) total entries by selecting from the following entry methods:
a) Leave a comment in response to the sweepstakes prompt on this post
b) Tweet about this promotion and leave the URL to that tweet in a comment on this post
c) Blog about this promotion and leave the URL to that post in a comment on this post
d) For those with no Twitter or blog, read the official rules to learn about an alternate form of entry.
This giveaway is open to US Residents age 18 or older. Winners will be selected via random draw, and will be notified by e-mail. You have 72 hours to get back to me, otherwise a new winner will be selected.
The Official Rules are available here.
This sweepstakes runs from 4/2/2012-5/31/2012.
Be sure to visit the Monterey Gourmet Foods page on BlogHer.com where you can read other bloggers' reviews and find more chances to win
Monterey Gourmet Foods™ is a registered trademark of Pulmuone Foods USA, Inc.