2018 Holiday Gift Guides!
This post may contain affiliate links. Please read my disclosure policy.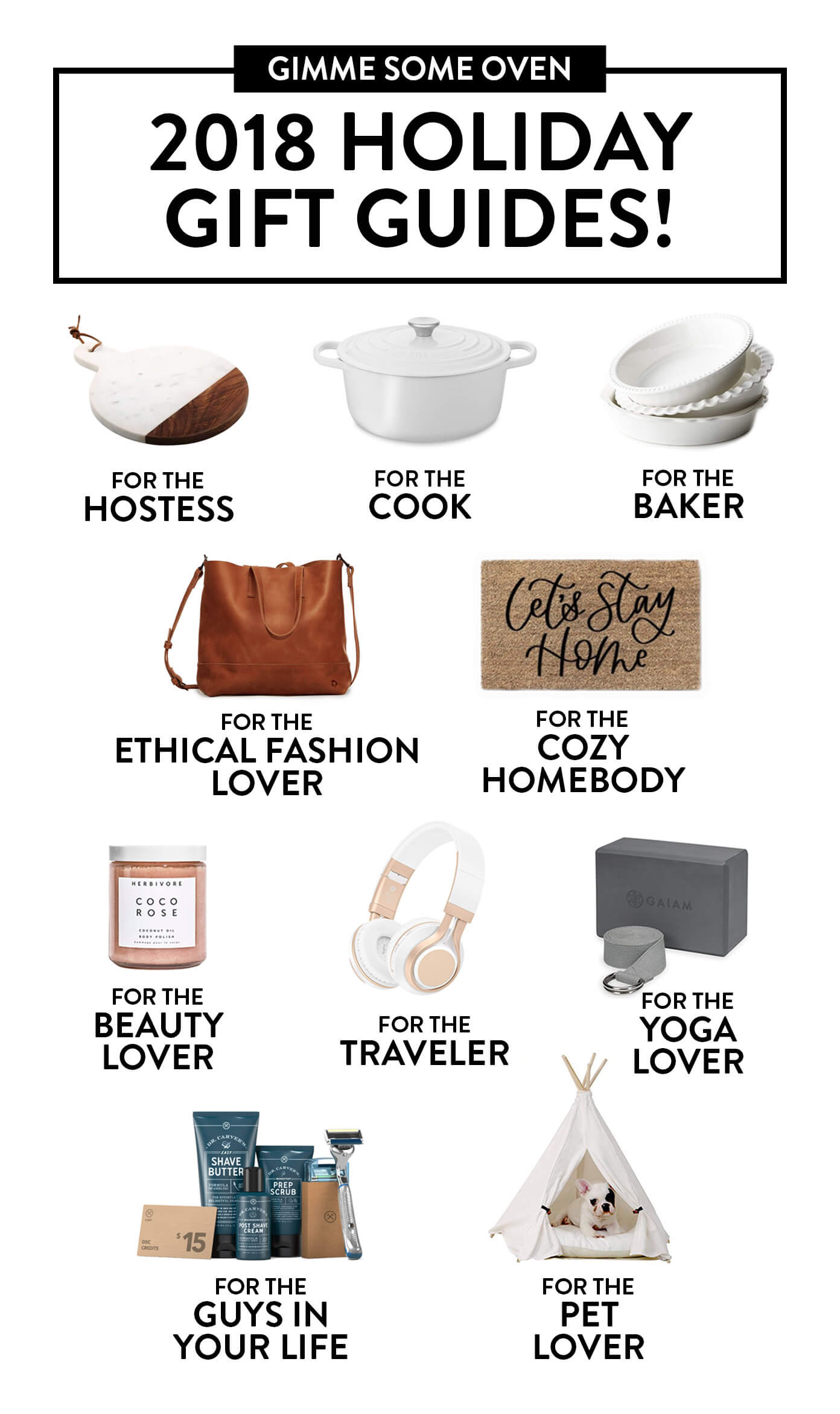 Fa la la la la, friends!
Our collection of 2018 holiday gift guides is hot off the press today, just in time to do some shopping this weekend from the cozy comfort of your living room. You know, snuggled under a nice warm blanket (psst, I have a few good recs below), with a fireplace cracklin' in the background (a real one if you're lucky, or we make do with Netflix), cuppa hot tea in hand (or mmm, maybe some homemade mulled wine), holiday tunes playing in the background (I can't wait to start playing this album)…you do you.  We're going for stress-free, snuggly shopping this year. Because I think we can all agree that "adding to cart" sounds infinitely more appealing than braving the cold and crowds this season, right?
Well to that end, I have ten brand new holiday gift guides here for you today that will hopefully some of the stress out of gift buying this year. And I've gotta say, I'm pretty excited about them! We have gift guides for the hostess, cook, baker, ethical fashion lover, cozy homebody, traveler, yogi, guys in your life, and pet lover. Plus a new one this year per your request — an entire gift guide devoted to my latest favorite beauty products! Lots of good stuff to share. Plus, the majority of items this year are from Amazon, so you can Prime your hearts out and also have a few items bookmarked for the big sale days this weekend.
So take a scroll through the ten guides below. And hopefully they will help you spot a few special somethings for the special someones in your life. And take a little extra hustle and bustle out of your holiday to-do lists. And make this gift-giving season extra warm and bright.
Happy holidays, everyone. ♡
Update: These gift guides are no longer active. Please see this year's new gift guides!