4-Ingredient Slow Cooker Salsa Verde Chicken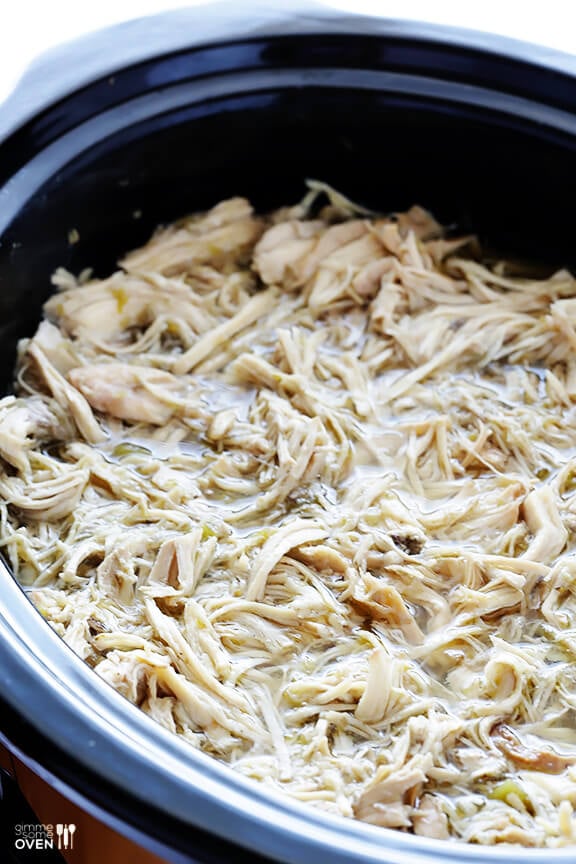 I absolutely love food blogging.  But I have to confess, there's one thing about my pre-recipe-developing days that I really miss sometimes about cooking — not measuring stuff.
Before I started sharing recipes with you, I was totally "that cook" who prided herself on rarely pulling out a measuring cup or spoon.  Sure, I usually had to do so for baking.  But for cooking?  I loved tossing in a "glug" of this here, a "pinch" of that there, a "handful" of that here, and a "sprinkle" of that there….you know, "eyeing it".  It's definitely my favorite way to cook.  And arguably, it's the way that people have cooked for most of history and still continue to cook today in most countries around the world.
But hey, there's also something to be said for a good, specific, predictable, tried-and-true recipe.  So today I thought I'd share one that began as a dump-everything-in-a-crock-pot-and-see-what-happens, and actually turned out so good that I went back afterwards to measure everything in order to share it with you.  It's basically a seriously delicious and easy Mexican shredded chicken recipe made with two of my favorite ingredients — salsa verde and beer.
I actually made this one for a cooking class I taught a few months ago at my church.  I wrote about it on here once before, but basically it was a serious taco-a-thon complete with 3 homemade salsas and 3 homemade fillings.
The salsas included my favorite restaurant-style salsa, tomatillo salsa verde, and 5-ingredient mango salsa.  And the fillings included a spontaneous sweet potato and black bean saute and my crispy slow cooker carnitas.  And….this chicken.
We only had a little over an hour to cook together, so I prepped the carnitas and chicken in the slow cooker.  But I hadn't planned out how to season the chicken, so I did some experimenting.  (Nothing like trying out a recipe on 20 people for the first time.)  ;)
Thankfully, it came out even better than I expected!  Here are the steps: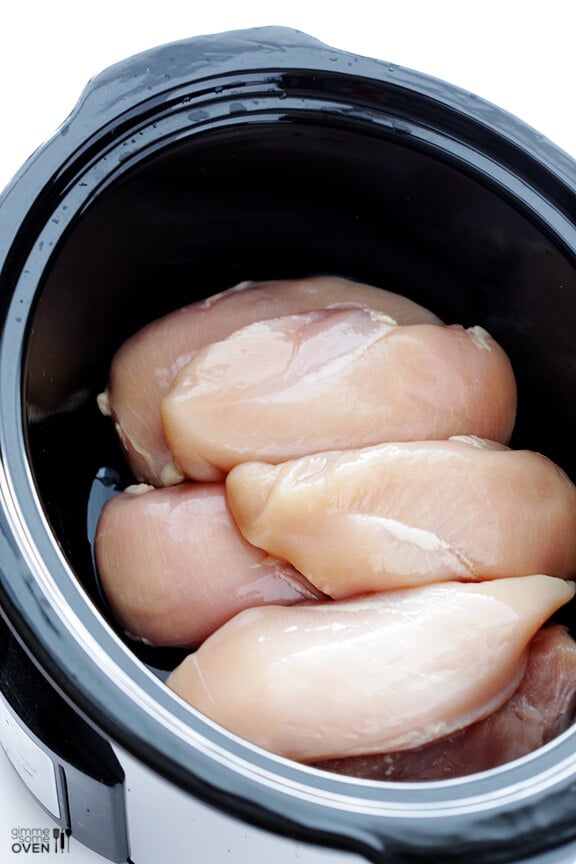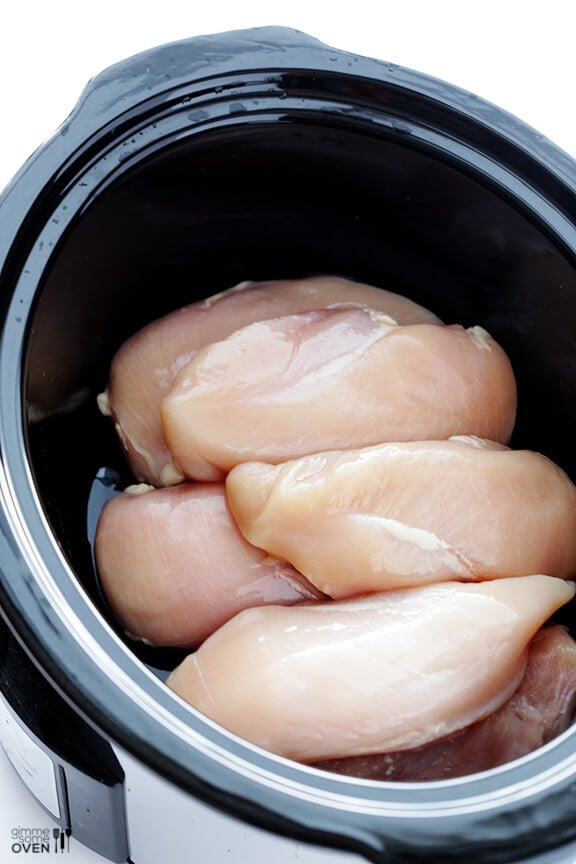 Begin with a bunch of chicken.  I used boneless, skinless chicken breasts, but I'd like to try boneless dark meat next time for extra flavor.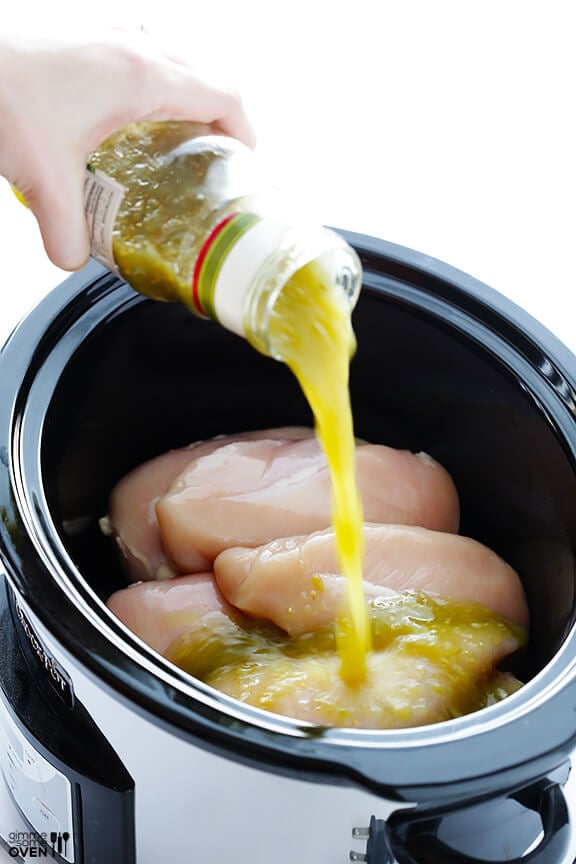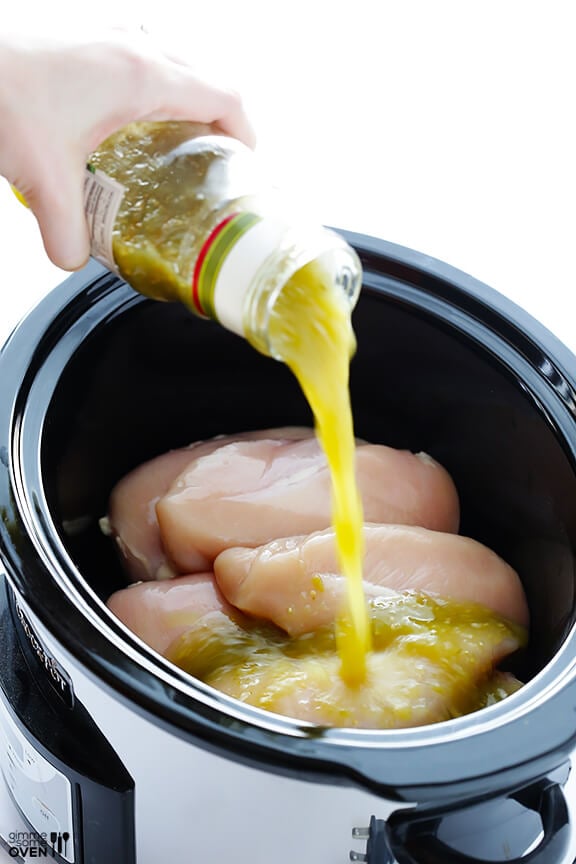 Pour in a bunch of salsa verde, either homemade or store bought.  (And if you like spicy food, I would also recommend adding in a jalapeno or two here with the stem removed.)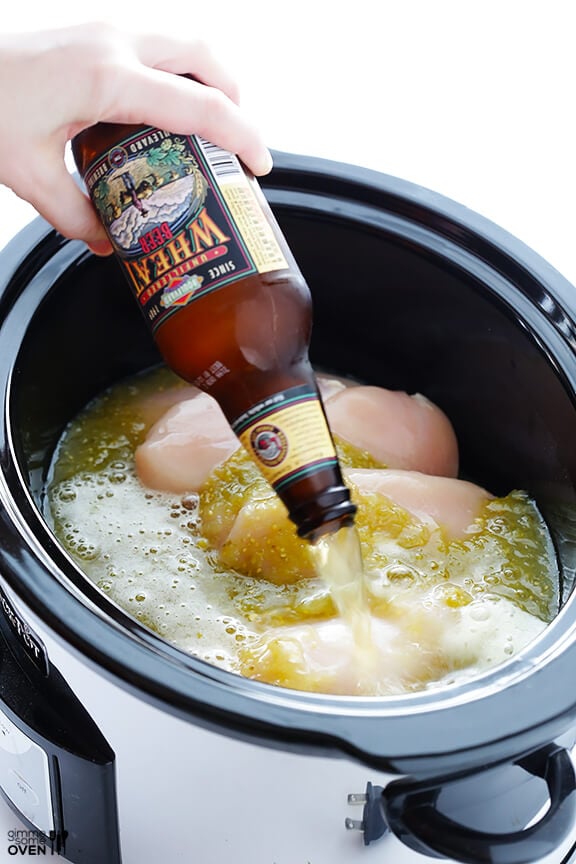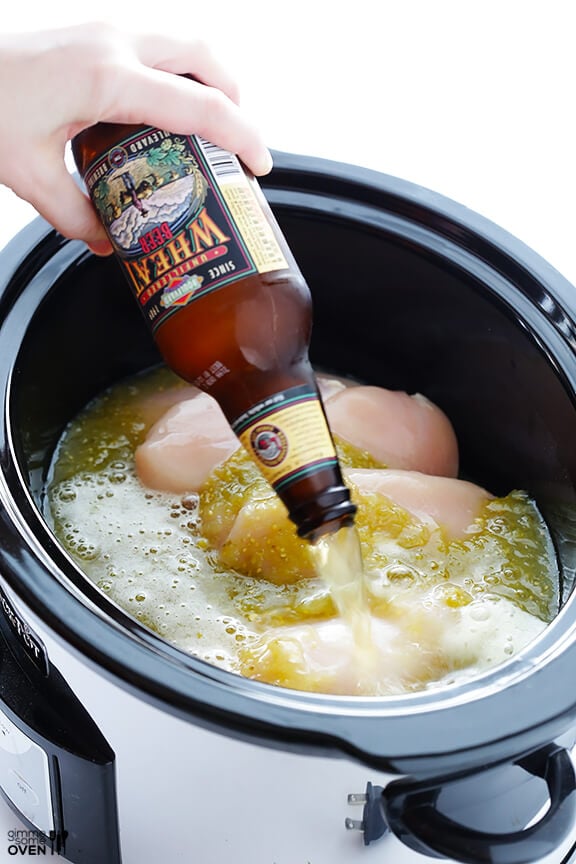 Then add in a bottle of beer.  I had our local wheat beer on hand, but Modelo Negro or a Corona might be a little more apropos for this recipe.
And then add the step that I didn't photograph — cumin!  You definitely want cumin to help round out the flavor profile and bring in a little of that earthy, peppery goodness.
Cover and cook for 3-4 hours on high heat or 6-8 hours on low heat.  Then once the chicken shreds easily with a fork, shred it all up and give it a good toss with those juices that remain.
And then serve it up however sounds good.  I loved this one with just your simple street taco toppings — chopped fresh cilantro and white onion on corn tortillas (which are gluten-free!) . Of course, it's also all the better when topped with "a few" slices of fresh avocado, a "heaping spoonful" of extra salsa, and a "sprinkle" of some crumbly cheese.  Or whatever sounds lovely.
Really, this shredded chicken will taste good with just about anything.  So get creative, and give it a try.  :)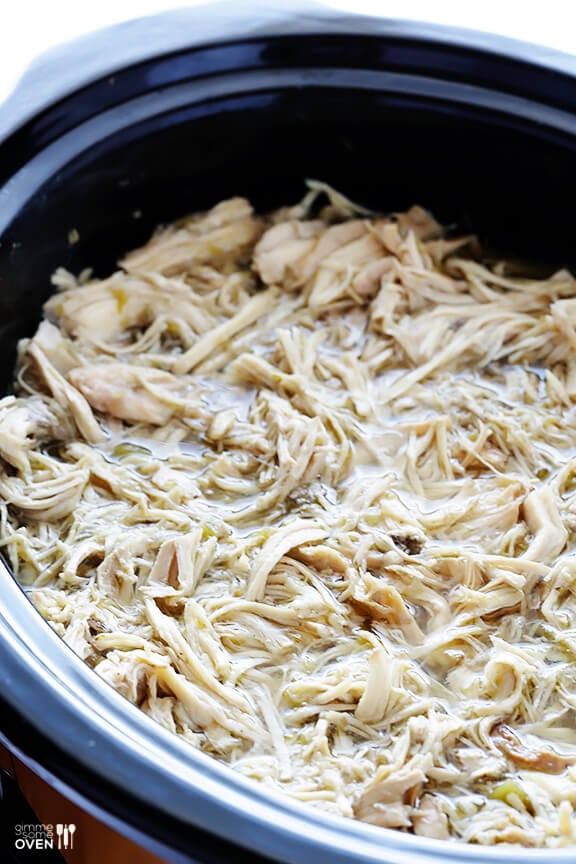 4-Ingredient Slow Cooker Salsa Verde Chicken
This 4-Ingredient Slow Cooker Salsa Verde Chicken is simple to make and full of amazing flavor!
Ingredients:
6 boneless, skinless chicken breasts
2 cups salsa verde
1 bottle beer*
2 teaspoons cumin
salt and black pepper
(optional: 1 jalapeno, stem removed and diced, leaving the seeds in for extra heat if desired)
Directions:
Add chicken to the slow cooker. Top with salsa verde and beer, and sprinkle with cumin and season with a few generous pinches of salt and a pinch of pepper. Use a pair of tons or a spoon to turn the chicken so that both sides are coated. Cover. Cook for 3-4 hours on high heat, or 7-8 hours on low heat.
The chicken is ready when easily shreds with a fork. Shred the chicken in the slow cooker, and toss with the juices. Then remove the chicken with a slotted spoon and serve warm. Or, store the shredded chicken in a sealed container in the refrigerator for up to 5 days, or in the freezer for up to 3 months.
*If you want to make this gluten-free, you can either use gluten-free beer. Or replace the beer with chicken broth.
All images and text ©
If you make this recipe, be sure to snap a photo and hashtag it #gimmesomeoven. I'd love to see what you cook!
Here are some of the other recipes we cooked that night: