Tomatillo Salsa Verde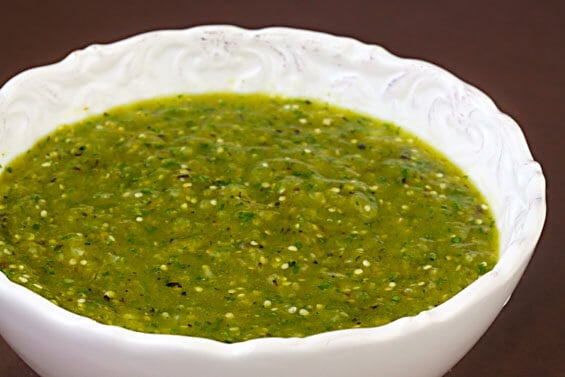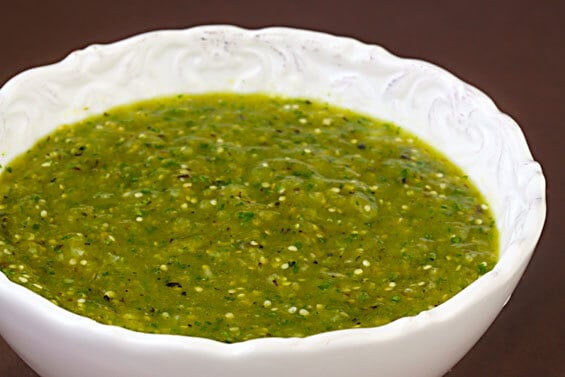 I have had the privilege of taking tomatillo salsa-making lessons not once, but twice this summer.  Once was during my fabulous Mexican cooking course at the Culinary Institute of America (read all about my adventures here, here, and here!).  But a few weeks before that, I actually had a fun evening cooking and making all sorts of rockin' salsa, guacamole, tacos and carnitas with my friend, Ita!
Interestingly enough — in addition to being absolutely delicious (and addictive!), the recipes for tomatillo salsa verde from Chef Remolina and Ita were identical! Kid you not.  I shouldn't have been surprised — Ita was born and raised in Oaxaca, and our course at the CIA was on Pueblan and Oaxacan cooking.  But still, it was fun to see the traditional recipes really line up!
According to both of them, the key to making authentic, delicious salsa verde is using a molcajete – a Mexican, granite mortar and pestle.  (Ita's was shaped like a pig!)  You can definitely make salsa verde in the food processor as well (see tip below), but apparently there's something in the process of dry-roasting the vegetables and then grinding them by hand that releases different kinds of yummy flavor.
I have to admit though.  Ita will tell you — I'm a total wimp with the molcajete.  After a few minutes, I was sweating and whining about my aching arms, and my veggies were still hardly broken up.  Whereas with just a few swift, expert twists with the pestle, Ita had all the veggies perfectly broken up, and she adeptly multi-tasked all of our other recipes in the meantime.  Clearly, I have much to learn.  (And maybe a few more push-ups with Jillian Michaels to do…)
Probably the biggest surprise in salsa-making lessons was learning that there are no secret, surprise ingredients in authentic salsa verde.  Just the normal tomatillos, serrano, cilantro, lime juice, onion, garlic, and salt.  But believe me, there's nothing "normal" about how incredibly fresh, deeply flavored and 100% addictive this salsa can be.  Infinitely better than anything you could ever buy at the store.  :)
So cheers to delicious and healthy Mexican food.  (And a special cheers as well to Ita and her fiancee, Nick (also a fantastic chef!), who are getting married in a month!  Felicidades!!)
Tomatillo Salsa Verde
Learn how to make delicious, authentic, and 100% addictive Mexican tomatillo salsa verde recipe at home!
Ingredients:
1 pound tomatillos, husks removed and rinsed
1 serrano pepper (or 2 jalapeno peppers)
2 unpeeled garlic cloves
1/2 cup fresh cilantro
1/4 cup diced white onion
2 tsp. lime juice (optional)
large pinch of salt (to taste)
Directions:
Dry roast the tomatillos, onion, garlic (with peel on!) and the serrano chile on a griddle (or use a cast-iron or heavy skillet) over medium heat. Once the garlic skins begins to brown, remove from heat, peel and discard the skins. Continue dry-roasting the other vegetables, turning fairly frequently, until they are mostly blackened on each side. Then remove from heat and set aside.

Place the dry-roasted garlic in a molcajete (mortar) with 1/2 teaspoon of salt, and mash into a paste with the tejolote (pestle).

Remove stem and skin from the dry roasted serrano and slice in half. Add the serrano to the molcajete and mash into a fine paste. Add the onions and tomatillos one at a time, swirling and grinding until all the tomatillos are incorporated into the salsa.

Season with salt and add the chopped cilantro and lime juice. Stir to combine and serve. (This will keep for four days in the refrigerator.)

Recipe adapted from my friend Ita and Chef Remolina

If you make this recipe, be sure to snap a photo and hashtag it #gimmesomeoven. I'd love to see what you cook!
Ali's Tip:
Here are instructions on making these by broiling the veggies in the oven, and blending them in a food processor:
Preheat broiler to high.  Place the tomatillos, serrano and unpeeled garlic cloves in a baking dish and put under the preheated broiler until the tomatillos are roasted and the peppers are slightly charred on all sides, about 10-15 minutes.  Rotate the ingredients during cooking to make sure all sides are charred.
Remove the baking dish from under the broiler.  Once slightly cooled, peel the peppers and garlic and remove any extremely charred skin from the tomatillo (although this adds flavor if you'd like to leave some in).
Add the tomatillos, garlic, serrano, onions, cilantro, lime juice and salt to a food processor.  Pulse until the salsa is well-blended.  Season with extra salt if needed.
Leave a Comment:
Comments
Trackbacks/Pingbacks