5-Ingredient Italian Sausage and Kale Baked Ziti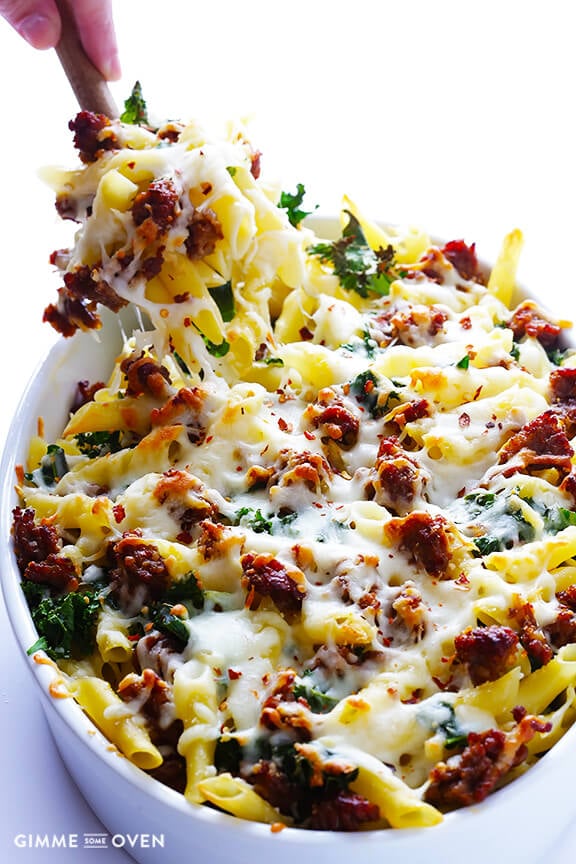 My friend, Michelle, has a little family "tradition" that all us friends have decided to co-opt and adopt for ourselves.  It's Very Serious Business, it's an art to be learned, and it's best studied in groups.  And it's fondly called…
…ultimate comfort.
To quote, Michelle defines ultimate comfort as "making cushiness, warmth, and togetherness your top priority."
For example, ultimate comfort when watching a movie?  Achieving the correct amount of fluffy blankets while watching a movie on a giant sofa with perfectly popped popcorn within arm's reach.  Ultimate comfort when laying out for a day at the beach?  A comfortable padded deck chair with a massive umbrella, huge sunglasses, an icy drink topped with an umbrella nearby, and an entertaining (yet well-written!) chick lit paperback in your hands for reading enjoyment.  Ultimate comfort for a road trip?  Pillows for all, comfy yoga pants and sweats, unending bags of Chex Mix to pass around, huge cups of iced tea and other beverages with pellet ice from Sonic, a well-curated nostalgic playlist that everyone can jam along to, followed my compelling podcasts for the driver once people start nodding off.
It's not just comfort.  The mission is ultimate comfort.
And when achieved together, it's a glorious thing to be celebrated.
So when I started getting all whiny last week about the umpteenth gray, dreary, and freezing day in a row, I decided that it was time for some ultimate comfort to come to the rescue.  I had leftover sausage and kale in the fridge from making my favorite zuppa toscana soup.  So I called up some girlfriends and invited them over for a spontaneous dinner in our slippers, lit up my Netflix fireplace, pulled out the wine glasses and lots of cabernet, and set to work making quite possibly the easiest and most comforting baked ziti recipe I could imagine.  5 ingredients, about 20 minutes of prep time, and 20 minutes of bake time later, we gathered around the table and ultimate comfort dinner was served.
Mission accomplished.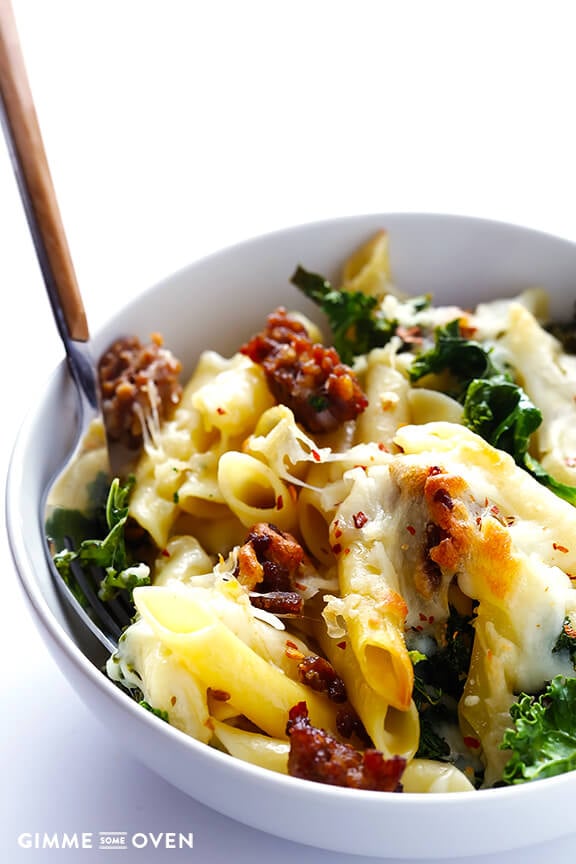 Anyone who reads this blog regularly knows that any recipe that falls in the "quick and easy" category scores major extra bonus points in my book.  And while this dish might look like you spent an hour on it, the truth is that it was ridiculously easy.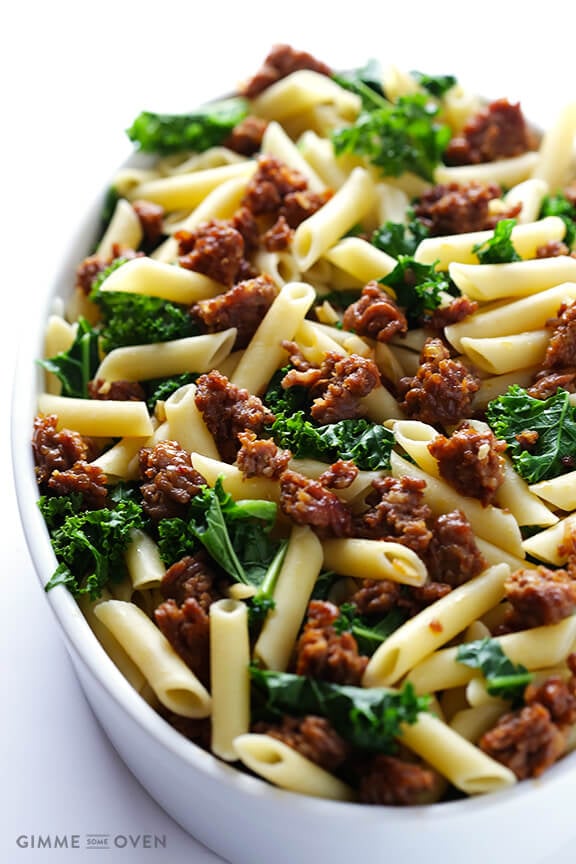 Simply brown up some Italian sausage.  (I strongly, strongly recommend using "spicy" Italian sausage for this one, even if you typically tend towards mild since the sausage is primarily what flavors this pasta.)  Then add in lots of garlic because, well, who doesn't like lots of garlic.  And then toss it all together with some pasta and fresh kale…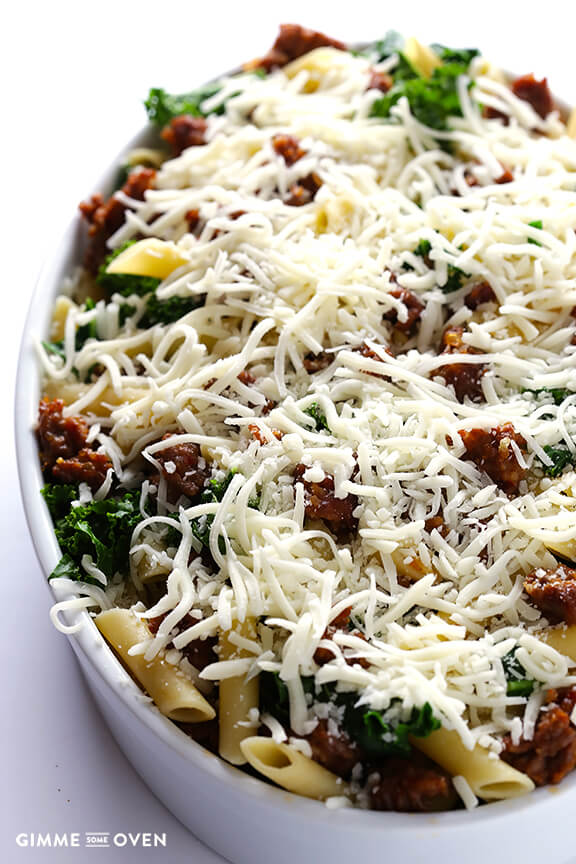 …layer it in a baking dish with lots of mozzarella cheese so that it gets all melty and stringy and gooey…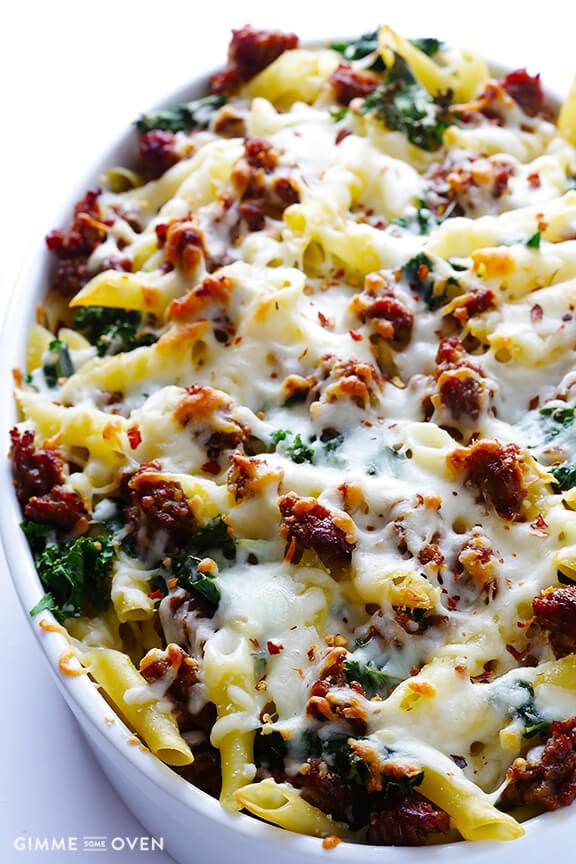 …and then bake it up to baked ziti perfection.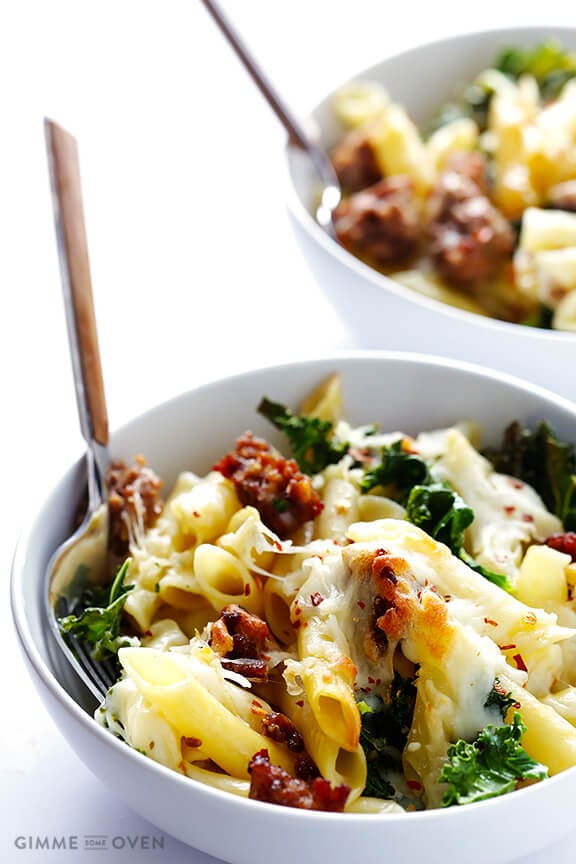 And then dive in.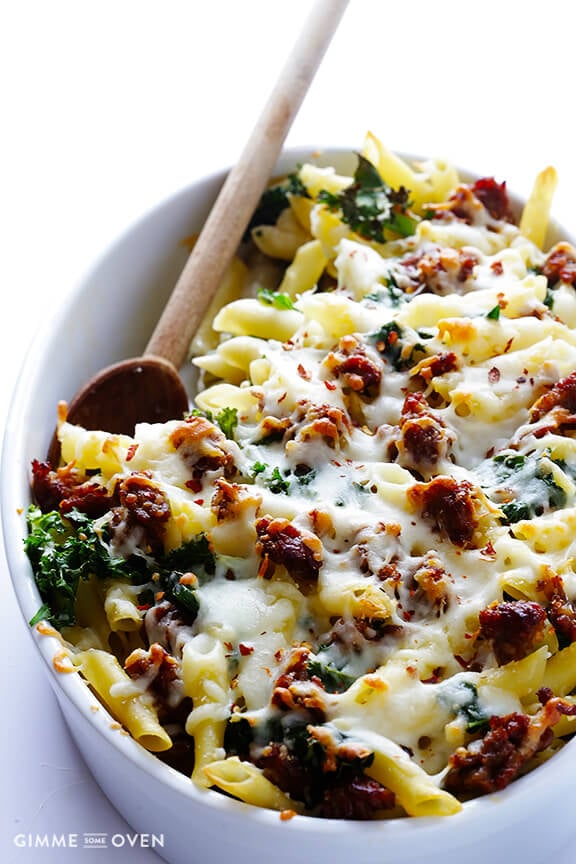 Ultimate comfort, Gimme-Some-Oven-style, right there.  It's flavorful, simple, and oh-so-comforting, especially during these colder winter months.  All the better when shared with friends around the faux-fire with fuzzy slippers and full wine glasses and full hearts all around.
Make it happen.  :)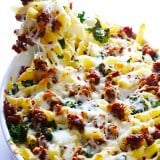 5-Ingredient Italian Sausage and Kale Baked Ziti
This 5-Ingredient Italian Sausage and Kale Baked Ziti recipe is made easy with just 5 ingredients. And it's totally delicious and comforting!
Ingredients:
12 ounces ziti (or any pasta shape)
1 lb. ground Italian sausage (I strongly recommend using "spicy" Italian sausage)
4 cloves garlic, minced
3 large handfuls roughly-chopped kale leaves, stems removed
2 cups shredded mozzarella cheese (I used 2% low fat)
optional additional toppings: shredded Parmesan cheese, crushed red pepper flakes
Directions:
Preheat oven to 375 degrees F.  Heat a large stockpot full of generously-salted water for the pasta.
In a (separate) large skillet, saute the Italian sausage over medium-high heat until browned (about 8-10 minutes), breaking the sausage up with a spoon into bite-sized pieces while cooking.  When the sausage has browned, add in the minced garlic and saute for 1-2 additional minutes or until the garlic is fragrant.  Remove pan from heat and set aside.
While the sausage is browning, cook the pasta al dente in the stockpot of boiling water according to package instructions. Drain.
Return pasta to the stockpot and add the sausage, garlic and kale. Gently toss to combine until the kale is dark green and slightly wilted.
Pour half of the pasta into a greased 11×7-inch or 9×13-inch baking dish. Sprinkle evenly with 1 cup of cheese. Layer the remaining half of the pasta evenly on top. Sprinkle evenly with the remaining 1 cup of cheese.
Bake for 20-25 minutes until the cheese is melted and just barely starts to turn golden. Remove and serve immediately, sprinkled with additional toppings if desired.
All images and text ©
If you make this recipe, be sure to snap a photo and hashtag it #gimmesomeoven. I'd love to see what you cook!