5-Ingredient Pasta Salad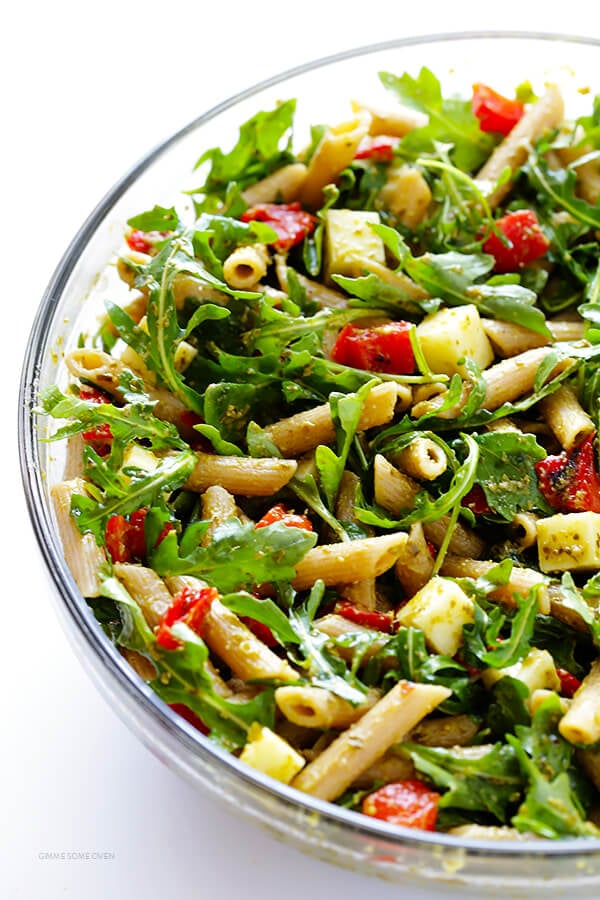 One of my favorite things about my book club is how we rotate houses each month.  I love — like, love — getting to spend time in my friends' homes!
I love getting to have a context for where they spend their days and nights.  I love getting to check out their decorating styles, and hear the stories behind old photos, and take in all of the thousand little details they choose to make a house a home.  I love getting to say hey to husbands and roommates, and snuggle with cute pups and cats.  I love squeezing our big book club into small living rooms, and cozying up in the little nooks where my friends probably read our books.  And of course, I love all of the home-cooked food we get to enjoy in these homes.
That's right, no restaurant meet-ups for our club.  We dig random smorgasbords enjoyed in the comfort of one another's living room, sometimes featuring lots of homemade dishes, often featuring more last-minute-Trader-Joe's-appetizer runs, usually with plenty of wine to go around, and always with good friends and good bookish conversations a-plenty.
My contribution last month?  This stellar 5-ingredient pasta salad.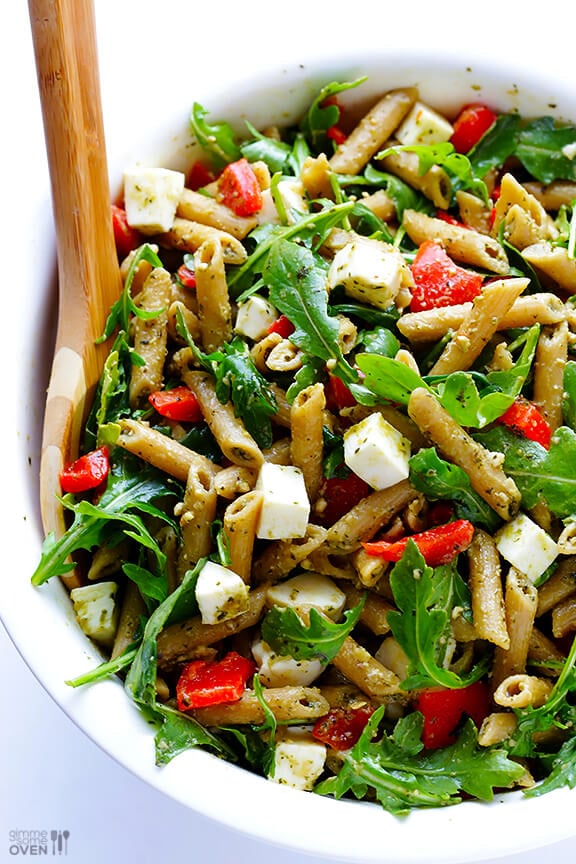 Our book club house of the month for April was my friend Kerry's, which happens to be about 45 minutes outside of town in Lawrence, KS.  So I knew that anything I made would need to survive a nice little car ride, as well as our little hipster soda shop visit beforehand, where we created our own six-packs with some of the 1000 (1000!) kinds of retro and modern sodas they had on hand.  (I went a little crazy in the ginger beer section!)
Still, I was craving something fresh and spring-y, and had a bunch of arugula in the fridge.  So I decided to dig into my DeLallo drawer (yes, I have an entire drawer in my kitchen full of DeLallo products) and try out this 5-ingredient idea on my friends.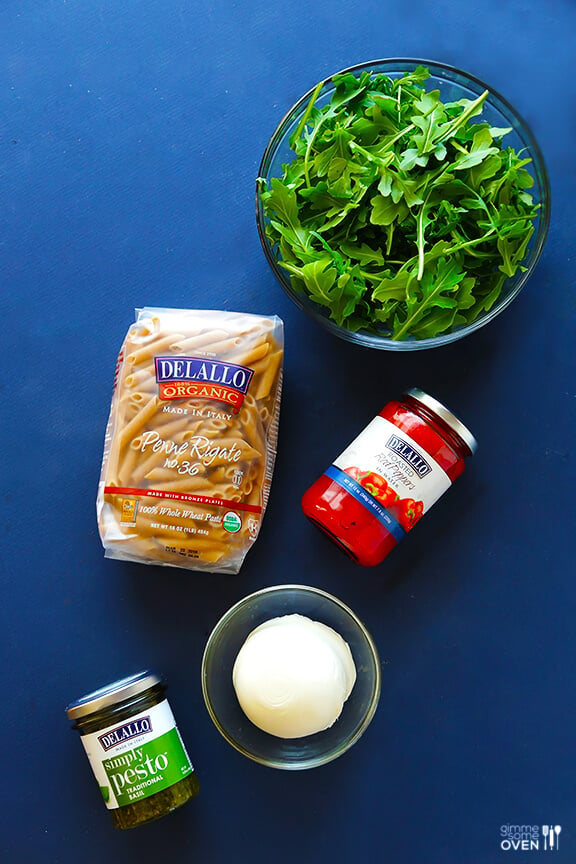 The ingredients were super simple:
whole wheat pasta (DeLallo's is the only kind I love — the BEST!)
fresh arugula (my favorite green, which provides great flavor in pasta salads)
fresh mozzarella (you could also use shredded cheese)
roasted red peppers (sweet and smoky and perfect)
Now, I have to say one quick word about this pesto.  I've admittedly been pretty anti-jarred-pesto for years, especially when it comes to basil pesto.  More often that not, it seems like the stuff you buy at the store is lacking in flavor, color and freshness.  Sure, it can work if you're in a bind, but I always found it to be more than a little "meh".
Enter…DeLallo.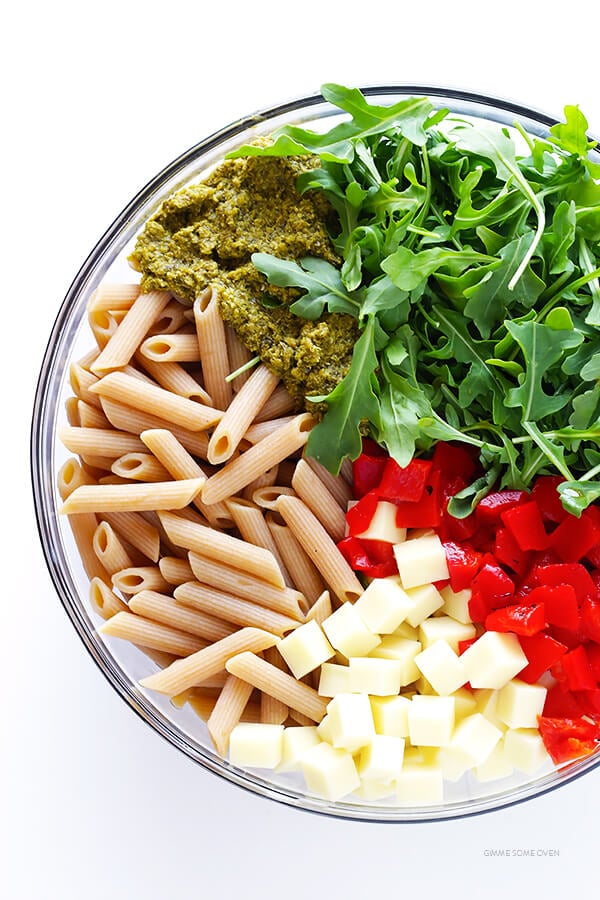 Once again, this brand has made a believer out of me.  First it was with whole wheat pasta.  Now, jarred pesto.  Theirs is seriously good.  Not I'm-in-a-bind-and-it's-passable-good.   Like, I-would-willingly-buy-and-use-it-often-good.  And brag-to-everyone-at-book-club-that-can-you-believe-this-pesto-is-from-a-jar??-GOOD.
In a nutshell, it is the closest thing I've found to tasting like fresh pasta.  It's green.  It's packed with flavor.  And that flavor tastes really fresh — perfectly basil-y, cheesy, and nutty.  I was also interested to learn that it's made with a mixture of pine nuts and cashews, which I really loved.  But bottom line, it's just really yummy.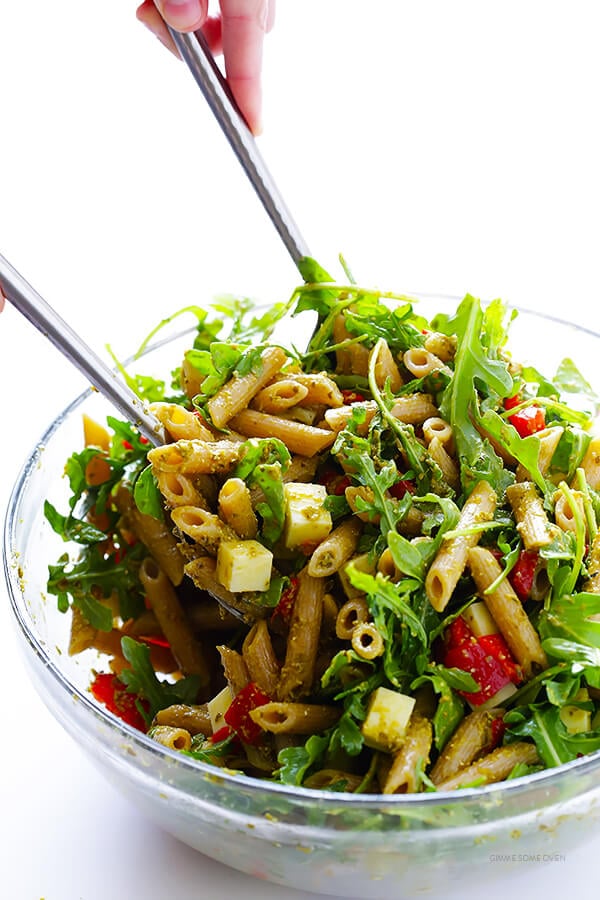 So long story short, I knew the pesto would hold its own and make this 5-ingredient recipe taste like 5 million bucks.
And no surprise, it did.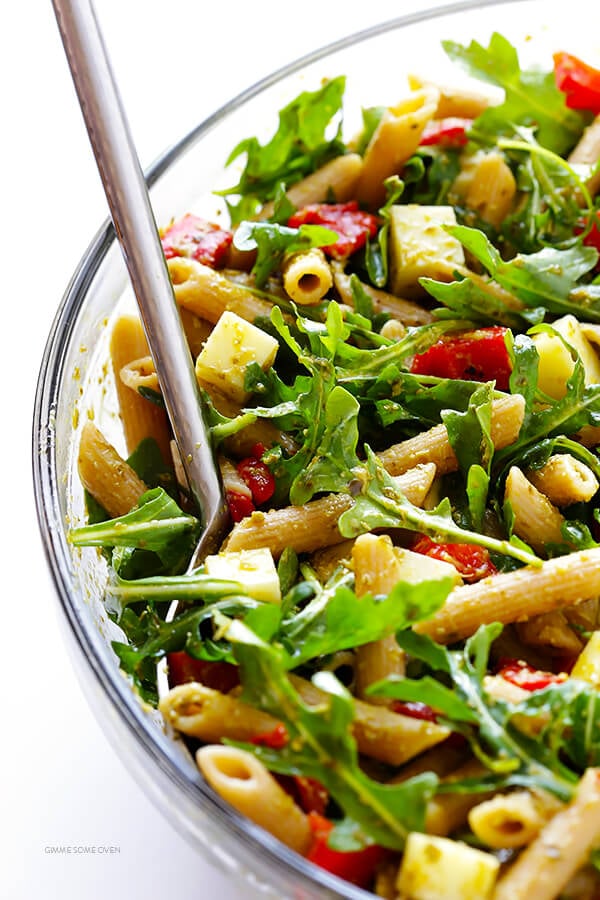 The pasta was delicious and chewy.  Those sweet roasted reds were amazing (and a fun twist instead of tomatoes!).  The arugula was perfectly peppery and pretty.  The cheese was cheesy.  And man, the whole thing was just tasty.
In a book club where we take group polls on books with thumb votes, my friends gave it a definite two (or twenty!) thumbs up.  And I was a fan because it took an entire five minutes to prepare.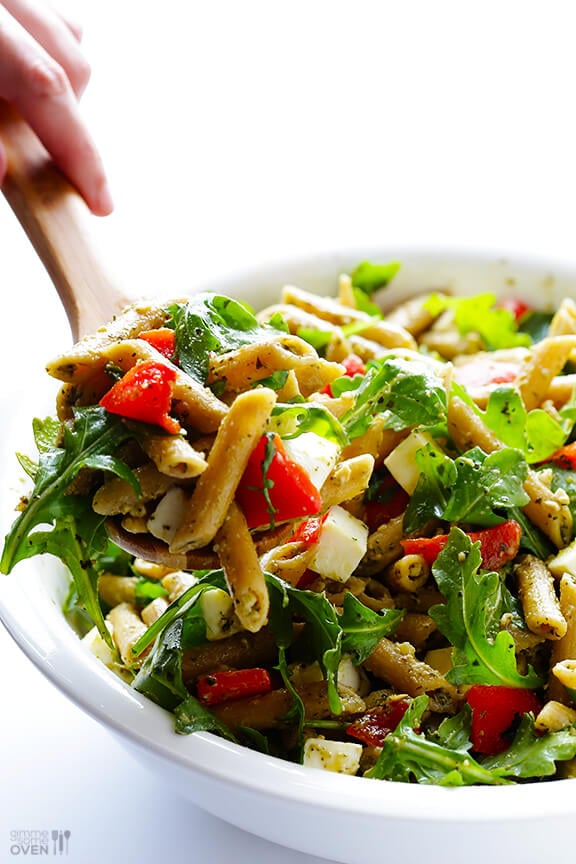 Definitely good food for a good night, with a good book, in a good home, with good friends.  Just how I like it.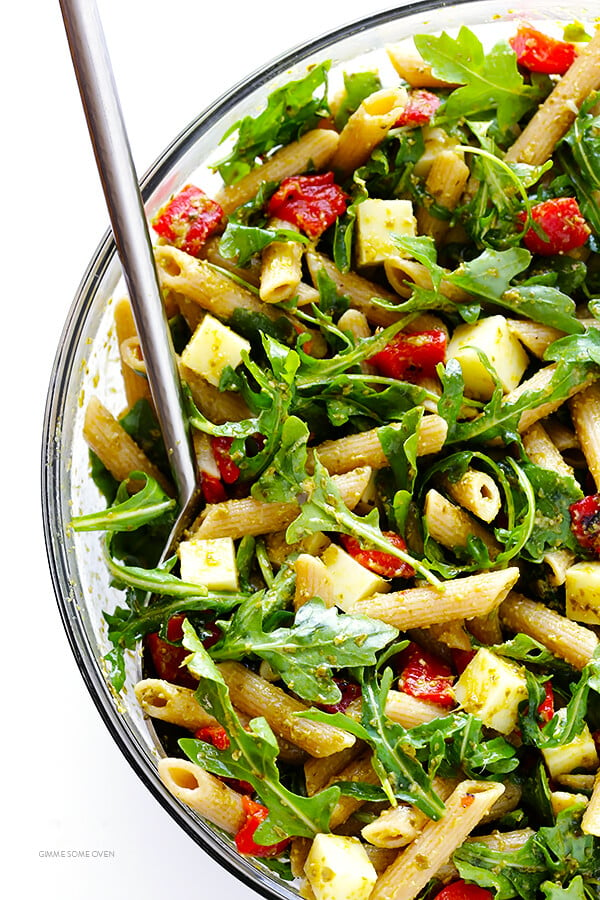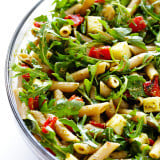 5-Ingredient Pesto Pasta Salad
This quick and easy pesto pasta salad is always a crowd-favorite!
Ingredients:
Directions:
Cook pasta in a large stockpot of generously-salted boiling water al dente, according to package instructions. Drain pasta and rinse under cold water for about 20-30 seconds until no longer hot.
In a large serving bowl, toss pasta with the remaining ingredients until combined. Serve immediately, or refrigerate in a sealed container for up to 3 days.
All images and text ©
If you make this recipe, be sure to snap a photo and hashtag it #gimmesomeoven. I'd love to see what you cook!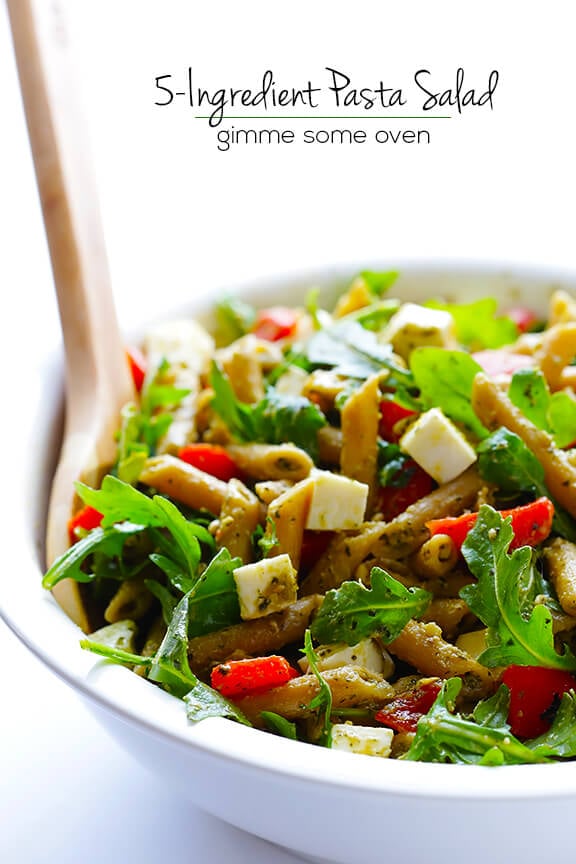 Disclaimer: This is a sponsor post from DeLallo.  I am partnering with them this year to bring you some yummy Italian recipes using my favorite products of theirs, but all opinions are 100% my own as always.  I'm just a mega-fan of this brand, so I'm excited to share about them with you.  Thanks for supporting brands like theirs who help make this blog possible.