Easy Peanut Butter Chocolates (Sweetened With Honey!)
I am so in love with our little house here in Austin.
Kathryne and I had searched for weeks and weeks on AirBnB when we planned this trip, hoping to find a place that could feel somewhat like "home" for a month.  Initially, it seemed like everything cute and fun was way out of our price range.  But then one day we happened to stumble across this beautiful collection of mid-century homes in the perfect neighborhood, all within walking distance to South Congress (hello amazing everything), built with soaring vaulted ceilings (my favorite), gloriously white walls (a photographer's dream), tons of natural light (to let in that warm Texas sunshine), a big open kitchen (thankfully for two food bloggers), and it's all decorated with the cutest modern furniture (my bed here even has the same West Elm duvet cover that I have at home).  I had that deja vu sense I once had when searching for months for a house to buy, and we both knew in a heartbeat that this was "it".
Sure enough, the place has been absolutely dreamy so far.  I love how the light streams in the back window each morning while we make French press, I love how every inch of the counter space gets crammed full of food and dishes and props while Kathryne and I are testing recipes during the day, I love the comfy couches that await us (complete with pups ready for snuggling) once we come back home at the end of the day after exploring the city.  I love it!!
Ha, I have to say though, the only thing I don't love is the one small refrigerator and pantry that the two of us have to share for a month.  I mean, I totally get it, knowing that most vacationers are probably not staying here cooking up a storm in the kitchen each day.  But suffice it to say that by our second day here, we were having to go on treasure hunts through our packed fridge trying to find things.  And our pantry is only large enough for the absolute essentials, which probably should be good news, because there's not much extra space to fill it up with snacks.
But yesterday when I happened to be craving chocolate — just a little bite of chocolate! — there was none to be found in the house.  I did have a jar of cocoa powder in the pantry, though.  So for the first time ever, I decided to take matters into my own hands and make some homemade chocolates for myself.  And…maybe stir in a little peanut butter as well.  And sweeten them with honey, since I'm going refined sugar-free for awhile.
5 ingredients, about 5 minutes of prep, and 15 minutes in the freezer later, the most delightful little chocolates were ready to go.
And I am so in love.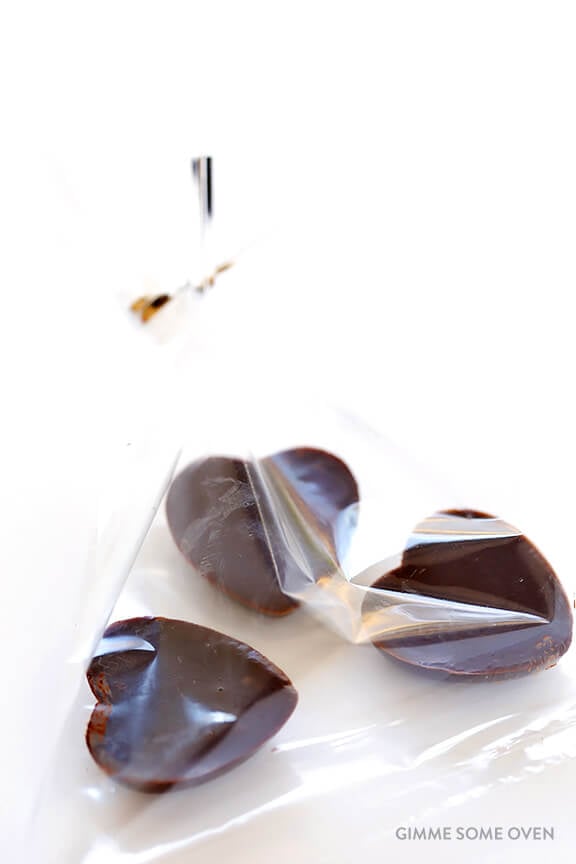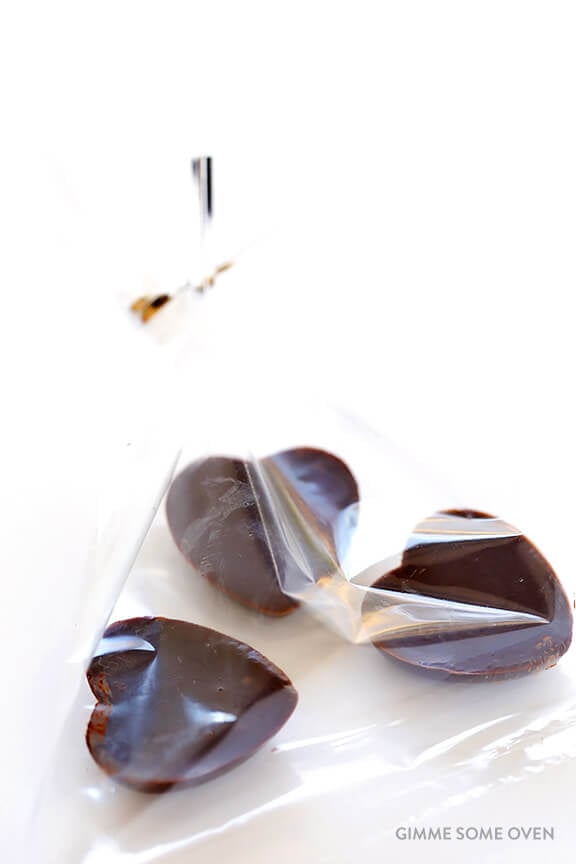 All of you candy-making pros out there have probably made homemade chocolates a million times.  But as someone who has always been slightly intimidated by all forms of homemade candy, I have to admit that I had no idea how ridiculously easy it is to make homemade chocolates from scratch!!
You don't even need fancy ingredients.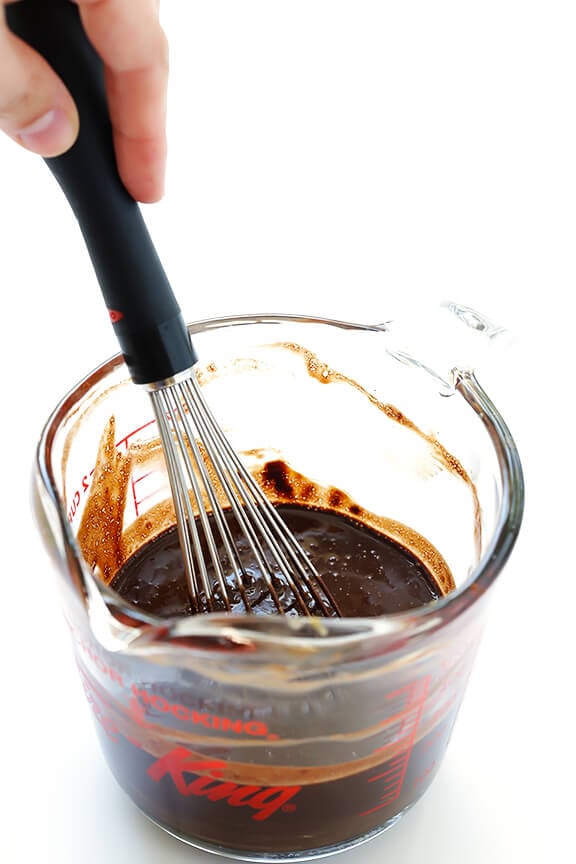 Just take some unsweetened cocoa powder (the higher quality, the better), melted coconut oil, honey and a pinch of salt and whisk them all together until combined.  And then for this recipe, I couldn't resist adding a few tablespoons of peanut butter too.  You can't quite see it in the mix, but trust me, it's deliciously there.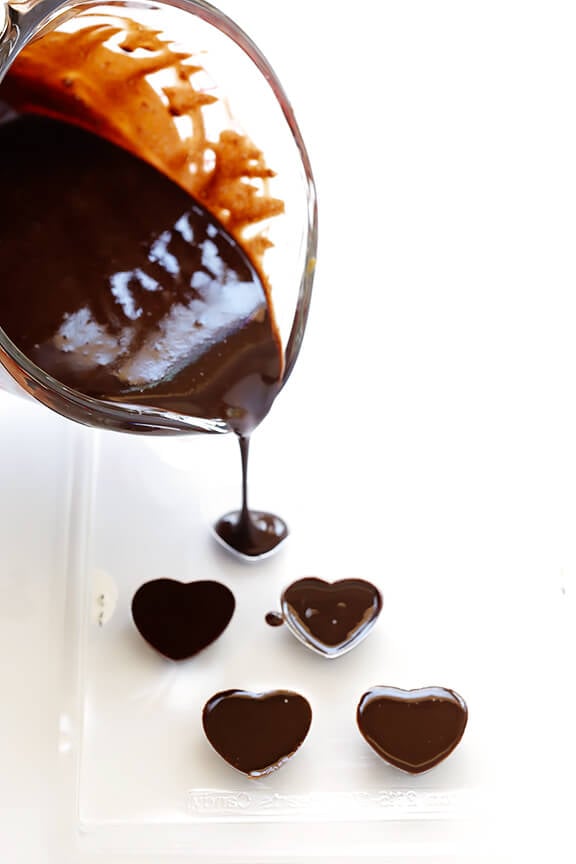 Then pour the hot mixture into your candy molds, or into a parchment-lined small baking tray…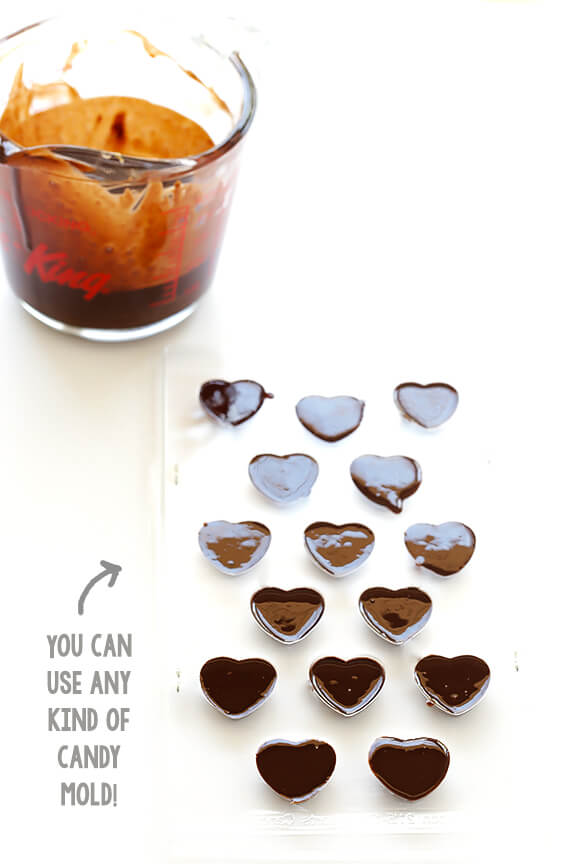 …and pop it in the freezer to harden (or the fridge, but let's face it, I'm impatient).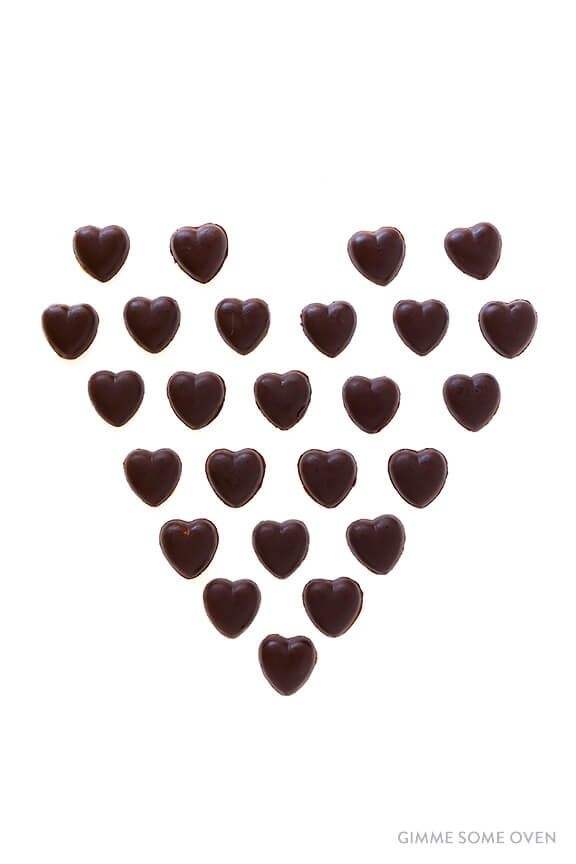 And sure enough, just 15 minutes later, these bite-sized, naturally-sweetened, delectable little bites will be ready to go.
I did go with a little heart candy mold that I picked up at the last second at Michael's for $1.99, in honor of that heart-filled holiday coming up later this week.  But you can seriously mold these little bites into whatever shape you'd like.  Or just break them into bars or little pieces if you use a baking dish.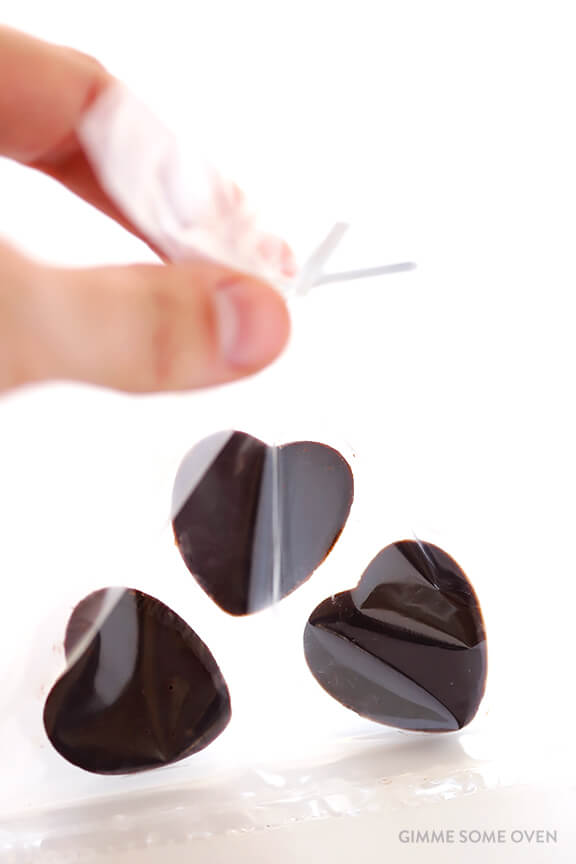 And if you really want to make someone's day, bag a few up and give them as a gift!
I will say that these chocolates get fairly soft and room temperature, so they are best stored and served completely frozen or (at least) chilled.  Comes with the territory with these healthier honey-sweetened chocolates.  But trust me, they are still delicious with every chilled bite.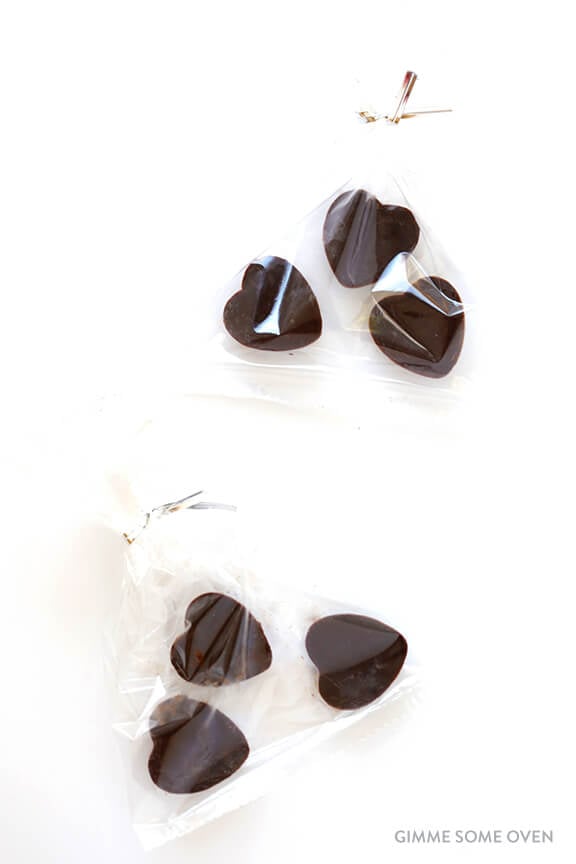 Hope you "heart" these little guys as much as I do.  And happy early Valentine's Day to each of you!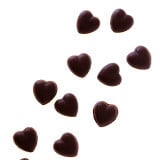 Easy Peanut Butter Chocolates (Sweetened With Honey!)
These easy peanut butter chocolates are sweetened with honey, made with just 5 simple ingredients, and they are the most delicious little treats. You'll "heart" them!
Ingredients:
1/2 cup unsweetened cocoa powder
1/4 cup melted coconut oil
3 Tablespoons natural creamy peanut butter
2-3 Tablespoons honey (to taste)
1/4 teaspoon salt
Directions:
Add all ingredients together in a small bowl or measuring cup.  Whisk together until combined and smooth.
Pour into a candy mold or into a parchment-lined small baking dish (or bread pan).  Refrigerate or freeze until completely solid and chilled.
If you are using a mold, simply then pop the chocolates out to serve.  If you are using a baking dish, remove the chocolate and carefully chop into your desired size of pieces with a chef's knife.
*I recommend storing the chocolate in the refrigerator and serving it chilled.  It will be super-soft at room temperature.
All images and text ©
If you make this recipe, be sure to snap a photo and hashtag it #gimmesomeoven. I'd love to see what you cook!