5-Minute Rustic Fruit Galette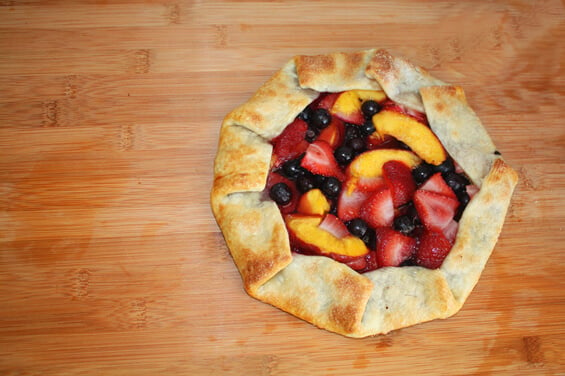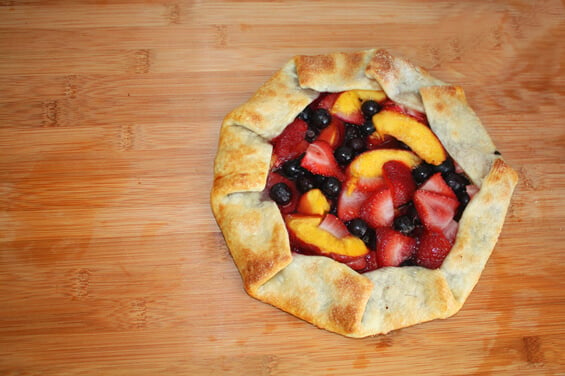 One of the things I clearly inherited from my mom is a love for making and enjoying homemade desserts.  All through childhood, I remember always looking forward to what fun surprise would follow dinner.  From more elaborate creations, to a quick batch of cookies or homemade shakes (my dad's specialty) — my family definitely loved to end a meal well.  :)
Still, always being the health-nut, my mom was (and still is) great about trying to incorporate at least a little bit of nutrition into this tradition.  So fruit cobblers, pies, and the like were always a favorite.  And, all the better if the recipe is a snap to whip up!
Thus, I present to you our recipe for an uber-easy fruit galette.  It will take your oven longer to heat up than to prepare this one.  So gather up whatever leftover fruit is in your fridge, and put it to good use.  And then smile and wipe your brow as everyone ooohs and ahhhs over the beautiful presentation that must have taken "forever" to prepare… :)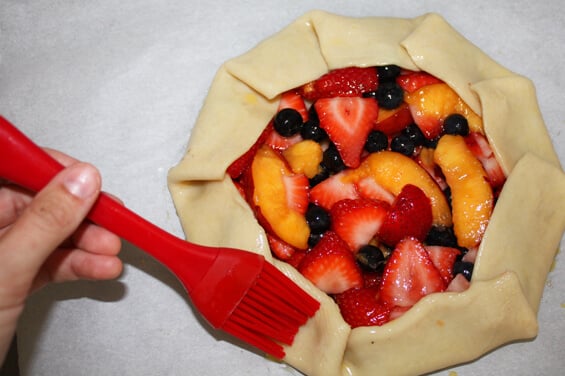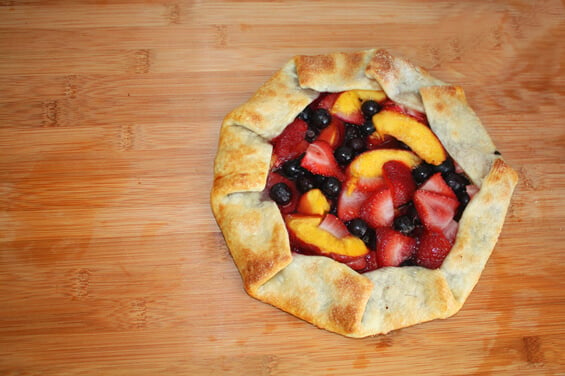 5-Minute Rustic Fruit Galette
You will love this 5-miute rustic fruit galette, it tastes just like summer!
Ingredients:
1 (9 inch) refrigerated pie crust
2 Tbsp. sugar, plus 1 tsp. for sprinkling on crust
1 Tbsp. cornstarch
1 large egg, beaten
2 – 3 cups of fresh fruit, cut into bite-sized pieces (I used strawberries, blueberries and a nectarine in this one
Directions:
Preheat oven to 425 degrees. Gently unfold and lay out pie crust on a baking sheet lined with parchment or on a baking stone.
In a separate bowl, gently mix together the (sliced) fruit, sugar and cornstarch. Then pour into a strainer to release any extra juices. (Just baking this will release plenty!) Pour the mixture in the center of the unfolded pie crust leaving a 2-inch border. Fold up the uncovered border over the edge of the fruit and pinch into pleats. Then brush the egg onto the crust, and sprinkle with the remaining tablespoon of sugar.
Bake in preheated oven until crust is lightly browned, 12 to 15 minutes. Serve warm or at room temperature.
I proudly confess: I am a BIG fan of pre-made refridgerated pie crusts. It's true. Thanks to having spent years in college making literally hundreds of homemade pie crusts for an annual apple pie fundraiser I did with a leadership team, and having made plenty others on my own, I'm convinced that the store ones taste just as good. (Just as I also believe – now hold your breath – that a good brand of boxed brownies will rival any homemade!)
Anyway, now that I've thoroughly let down all of you passionate bakers, feel absolutely free to use whatever crust you'd like for this recipe. I'm sure a homemade one would be fabulous too. ;)
Original family recipe
All images and text ©
If you make this recipe, be sure to snap a photo and hashtag it #gimmesomeoven. I'd love to see what you cook!