Almond Joy Energy Bites
Allow me to introduce you to my cute "dates" for Valentine's Day.
They're sweet, they're charming, they are nice and healthy, and they come bearing chocolate — a must for any Valentine's Day, if you ask me.  ;)
Yep, I made you some Almond Joy Energy Bites!  I realized we were long overdue on here for a new energy bites recipe.  And since chocolate seems to be on everyone's minds this week, I thought it might be nice to have a healthier chocolate recipe that you could turn to for breakfast, lunch, dinner, snack time, or — yes — dessert.
As opposed to actual Almond Joy bars, these little bites are made with all natural, healthy ingredients.  And they are vegetarian, vegan and gluten-free.  And they are made with one of my favorite natural sweeteners — my Valentine's "dates", Medjool dates.
I'm pretty positive you are going to fall in love.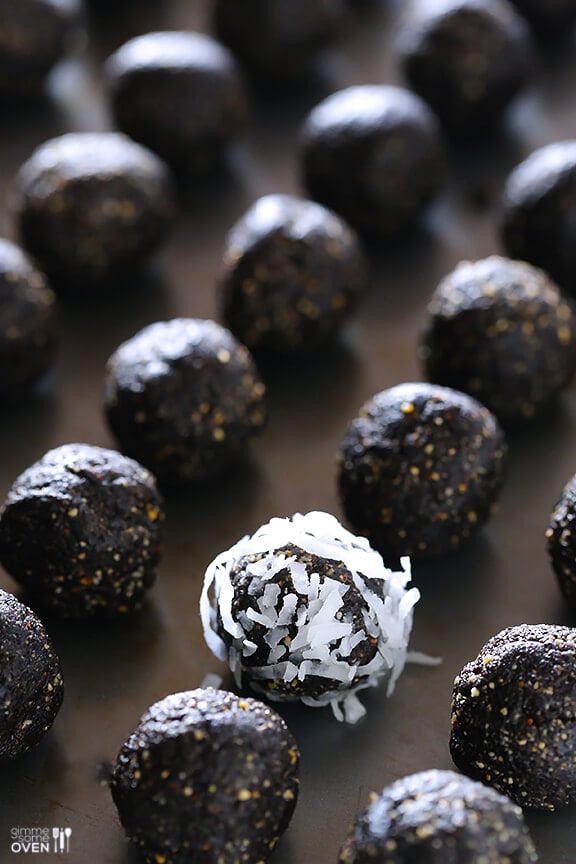 I've long been a fan of traditional Almond Joy bars, but have never been stoked about all of the corn syrup they use to sweeten them.  So for these Almond Joy energy bites, I turned to one of my favorite natural sweeteners — Medjool dates!
I'm actually such a fan of dates that I'm taking over the Natural Delights Medjool Dates Facebook page this week, and talking about all things "dates" with their readers.  (If you're free today at noon CST, hop over and come join for a Q&A about dates, where I'll be answering reader questions!)
But it's true — I discovered the joy of dates as a natural sweetener when I first began cooking, and have used them for cooking (and snacking!) countless times since.  When it comes to finding a natural sweetener that's healthy, widely-available, affordable, sticky (especially good for energy bites), and full of delicious sweet flavor, dates win the gold star in my book.  Especially Medjool dates.
For years, I have to admit that I didn't know there were different kinds of dates out there.  But then some friends introduced me to Medjools, and I fell in love.  They are larger than most other dates, sweeter, really soft (not try), and crazy good.  They literally taste like candy to me!  But they are also an awesome choice for a natural sweetener with cooking and baking.  They are easy to use, and they don't give you the energy crash that comes from eating regular sugar.  Win-win, if you ask me.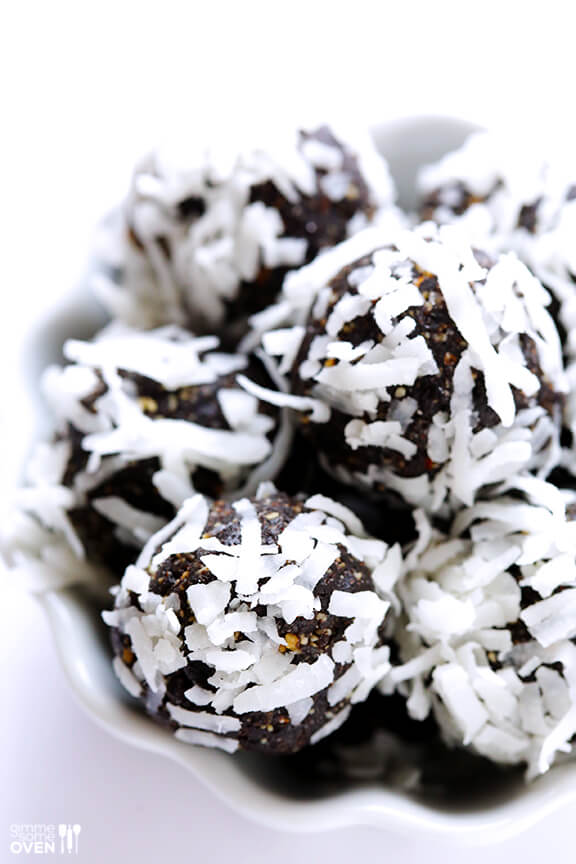 So it comes as no surprise that the Medjool dates rocked it in this Almond Joy Energy Bites recipe.  All of the ingredients came together perfectly in this recipe, and so easily too!  You literally just dump everything together in a food processor (or a strong blender) and let it do the work.  Then you can either shape the mixture into little energy bites or energy bars.  Here's the how-to: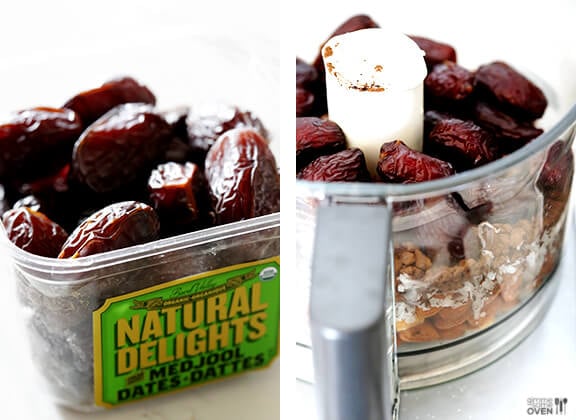 Begin with — yes — your dates.  I used Medjool dates for this recipe, which I pitted by hand.  (Although you can buy them pitted as well.)  Then I popped them in the food processor, along with the remaining ingredients.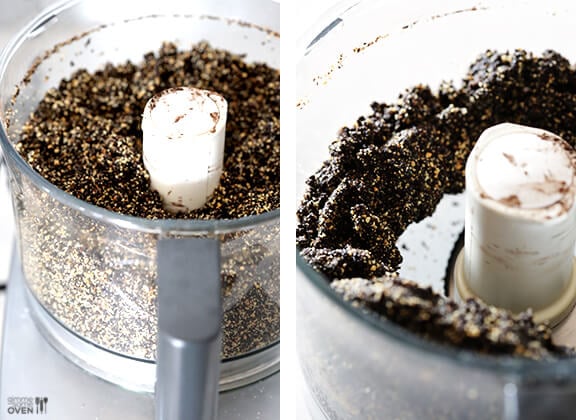 And then I let the food processor do the work.  You'll need to process the mixture for at least 2-3 minutes so that the almonds can grind up to form a sort of sticky almond butter.  Otherwise, they may not stick together as well.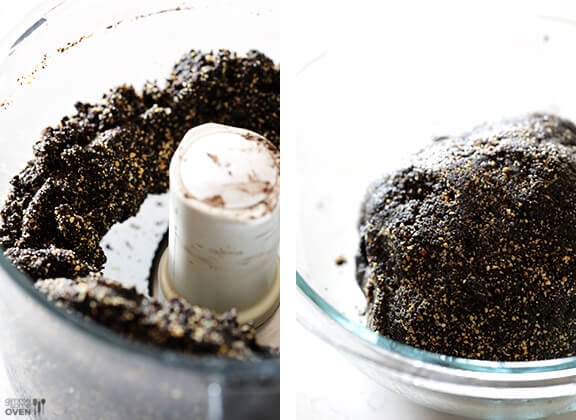 You'll know the mixture is ready when it moves past the crumbly stage and begins to clump to the sides of the food processor.  I then turned the mixture out into a bowl, and molded it into a big ball for easy scooping.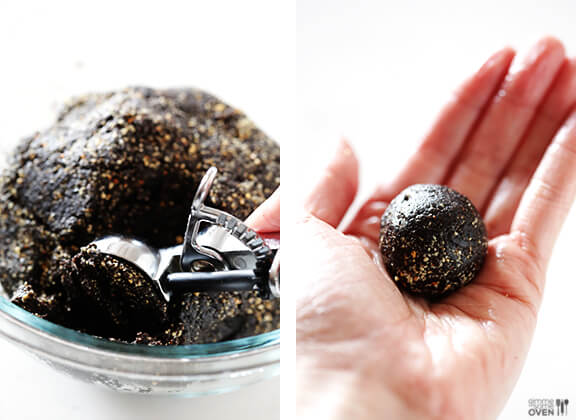 Use a spoon or a cookie scoop (I used a small 1-tablespoon scoop) to help form your desired size of energy bites.  You can either roll them plain like this…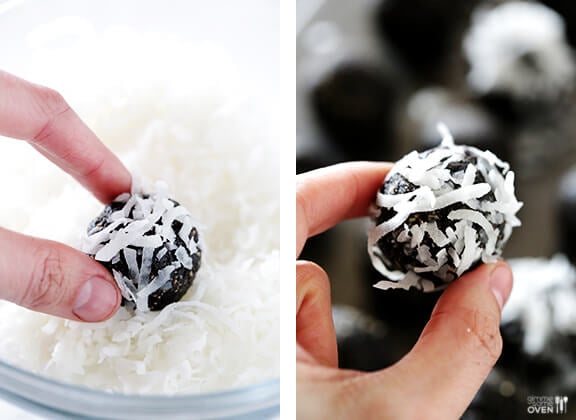 …or immediately roll them in coconut flakes for extra coconut-yness.  (Just be sure to roll them immediately or else the coconut will not stick.)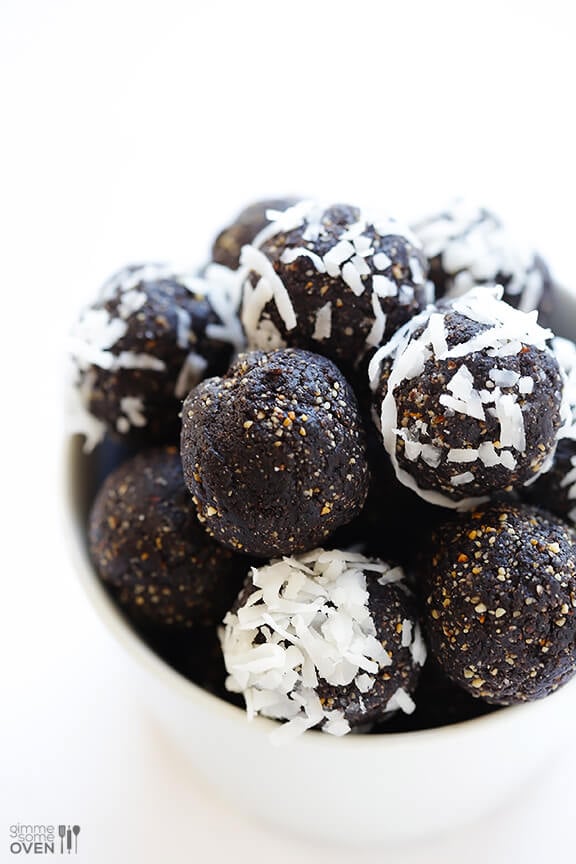 I made a mixture of coconut-covered energy bites, and just regular ol' energy bites.  And then I thoroughly enjoyed eating them ALL.
Most of the time, I enjoy these as a pre- or post-workout snack (part of my motivation for working out!).  But they are also perfect for breakfast or even dessert.  Or Valentine's Day.  ;)
You're going to love 'em!
For more great recipes and tips on using Medjool Dates in cooking, be sure to visit their website, Facebook, Twitter, Pinterest, YouTube, and Instagram.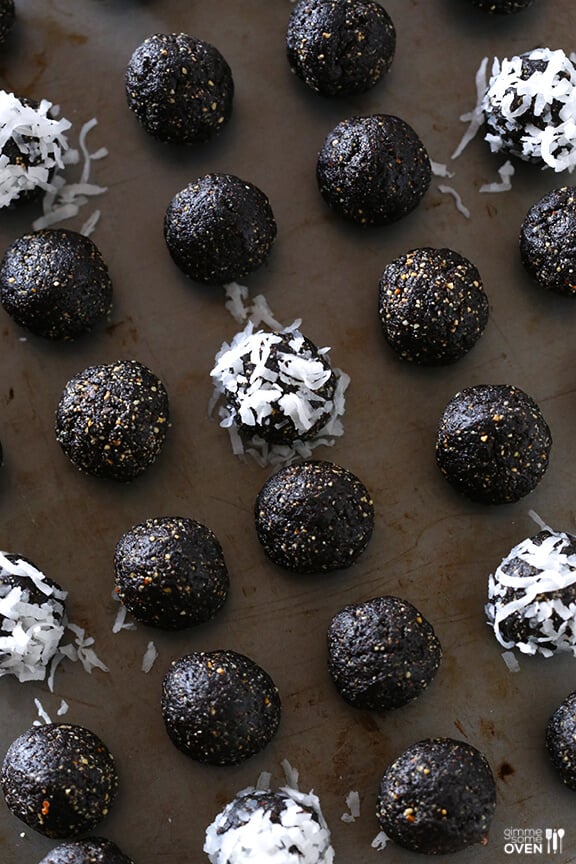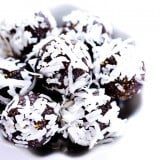 Almond Joy Energy Bites
These Almond Joy Energy Bites taste like the candy bar we all love, but are made with healthier ingredients and sweetened with dates.
Ingredients:
12 oz. (about 2 cups, loosely-packed) Medjool dates (**see note below about types of dates and substitutions**)
2 cups almonds
1/2 cup shredded coconut
1/2 cup unsweetened cocoa powder
1 Tbsp. coconut oil
1 Tbsp. vanilla extract
1/2 tsp. almond extract (optional)
Directions:
Add dates and remaining ingredients to a food processor. Pulse a few times to combine, then use a rubber spatula to scrape the sides of the bowl. Blend the mixture for about 3 minutes, or until the mixture has moved past the crumbly stage and begins to clump and stick to the sides of the food processor.
Use a spoon or small cookie scoop to measure out a tablespoon of dough (or your desired size) and roll it into a ball. If desired, roll the ball in a bowl of coconut flakes. Or just set it aside to eat as-is. Repeat with the remaining dough. (Alternately, you can flatten the dough into the bottom of an 8×8-inch parchment-lined baking dish, then cut it into bars.)
Store the energy bites in an airtight container for up to 2 weeks.
**I used Medjool dates in this recipe, which are already nice and soft. If you substitute another kind of date, you may need to soak them in warm water for 10 minutes first in order to soften then. (Then drain them before using.)
All images and text ©
If you make this recipe, be sure to snap a photo and hashtag it #gimmesomeoven. I'd love to see what you cook!
Disclaimer: This is a compensated sponsored post from Natural Delights Medjool Dates.  All date-loving opinions are 100% my own as always.  Thank you for supporting brands like this that help make this site possible!