Apple Cheddar Bread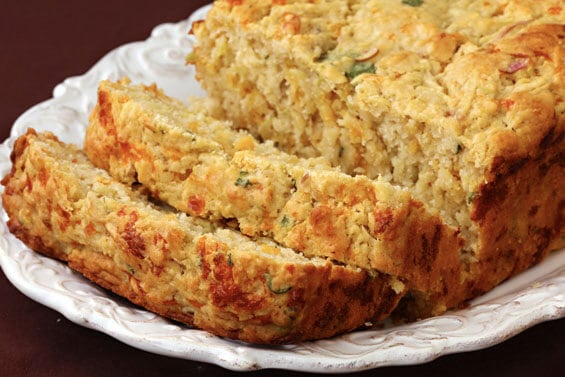 I love sweet breads.  And I love savory breads.  But I especially love sweet and savory breads!
So of course I wanted to give this new recipe a try.  I ran across it online last week, and realized I actually had all of the ingredients on hand to give it a try.  So even though I was a little doubtful about how well the ingredients would taste together, I pulled out my food processor and mixer and gave it a go.
Within an hour, my house smelled amazing and I had a remarkably beautiful (loved the flecks of apple and sage!), moist, and delicious loaf of bread ready to go.  I know some may not be as big of fans of sweet+savory, but I ended up loving the flavor.  You could definitely taste each of the ingredients — the apples, cheddar, sage, all sweetened with some brown sugar — but I thought they made a great combination.  And with the food processor's super-speedy help in grating the apples, it ended up being fast and easy too!
So if you're looking for a new bread to enjoy this season, give this one a try!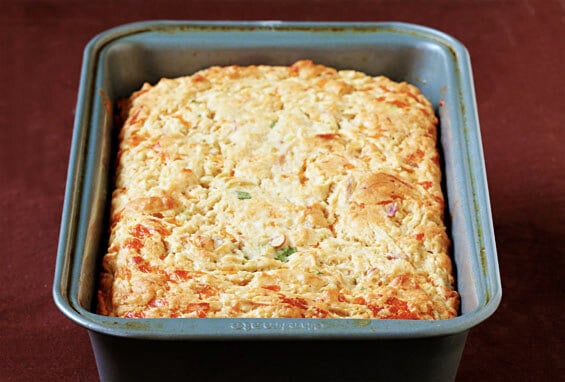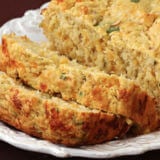 Apple Cheddar Bread
If you are a fan of fresh breads, you will love this Apple Cheddar Bread recipe which is an artful combination of both sweet and savory apple goodness.
Ingredients:
2 cups all-purpose flour
2 tsp. baking powder
½ tsp. kosher salt
8 Tbsp. butter, room temperature
¼ cup light brown sugar
2 large eggs, room temperature & fork beaten
2 cups apples (any favorite), unpeeled & finely shredded
1 cup cheddar cheese, shredded
2-3 Tbsp. minced sage, to taste
Directions:
Preheat oven to 350 degrees F. Coat a 9" loaf pan with cooking spray. (Insert parchment paper overlapping over the long sides if you'd like.)

In a separate bowl, stir together the flour, baking powder and salt. Set aside.

Using an electric mixer, beat the butter, sugar until light and fluffy. Then beat in the eggs until combined. By hand, mix in the flour mixture. Fold in the apples, cheese and sage. Spread batter into prepared pan.

Bake until risen and a wooden skewer comes out of the center clean, about 45 minutes. Cool to room temperature before slicing.

If you make this recipe, be sure to snap a photo and hashtag it #gimmesomeoven. I'd love to see what you cook!
Ali's Tip:
Next time I try this, I'm going to use smoked cheddar cheese.  I'm thinking that extra smokey kick would be delicious!!