Avocado Pesto Pasta
Yep.  Thought it was time that I gave this latest food blogosphere trend a try.
Like many of you, my eyebrows went up too the first time I saw the words avocado and pesto paired together.  But I happen to be a ridiculously enthusiastic fan of both.  So why not see if they really are, in the words of Jack Johnson, "better together"?!?
Part of the rage of the avocado pesto trend is that it is heralded as a 15-minute meal.  So I put some water on to boil, and then went to work blending up the pesto ingredients.  I decided to try it (as others had suggested) sans pine nuts and Parmesan, and with some extra lemon juice.  And upon my first taste-test, it was actually surprisingly pleasant!  But once the pasta was cooked and I was tossing the two together, I admit I caved and as you can see, decided to add the pine nuts and Parmesan back in on top.
Still, it was quite nice!  The avocado was definitely a different twist, but I think I liked it.  For the sake of a base recipe, I went ahead and photographed the recipe plain.  But look forward to making it again with some roasted veggies, roasted or sun-dried tomatoes, and definitely some grilled shrimp or chicken or something.  And you could definitely experiment with adding nuts or Parmesan into the pesto as well, or any of your other favorite pesto ingredients.
Cheers to new food fads!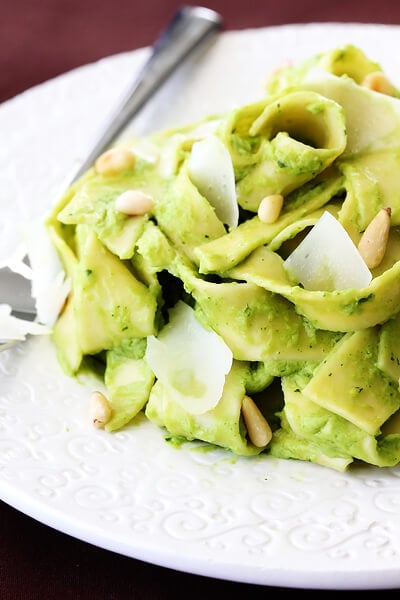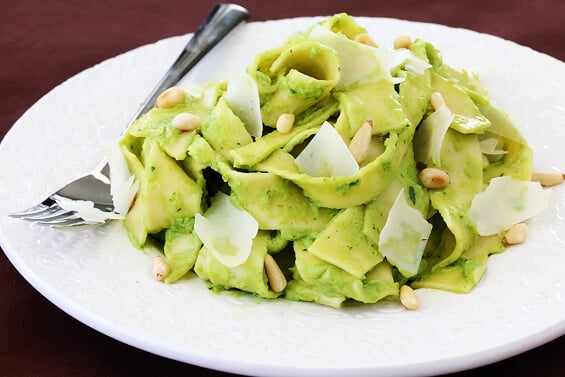 Avocado Pesto Pasta
Delicious, creamy avocado is the rockstar of this delicious pesto, tossed with the pasta of your choice.
Ingredients:
8 oz. pasta or noodles (I used tagliatelle)
1 cup packed fresh basil, reserve some leaves for garnish
1 avocado, pitted and peeled
2 tsp. lemon juice
3-4 cloves garlic
1/4 cup extra-virgin olive oil
1 tsp. kosher salt (or more or less to taste)
pinch of freshly ground black pepper
(optional garnish) extra toasted pine nuts and shaved Parmesan
Directions:
Bring a large pot of generously-salted water to a boil. Add pasta or noodles, and cook according to package directions. Drain and set aside.
Meanwhile, make the pesto by combining basil, avocado, lemon juice, garlic, and oil in a food processor. Process until smooth. Season generously with salt and pepper.
Immediately after the pasta or noodles are drained, top with the pesto and gently toss until well-coated. Divide pasta among serving bowls and top with toasted pine nuts and shaved Parmesan.
Ali's Tip:
You can also make this by substituting in fresh cilantro for the basil, and lime juice for the lemon juice.  I tried it and definitely liked the basil better, but many on the blogosphere seem to love the cilantro twist!
This is great served with grilled shrimp or chicken on top as well.
If you make this recipe, be sure to snap a photo and hashtag it #gimmesomeoven. I'd love to see what you cook!