Baby Bok Choy With Cashews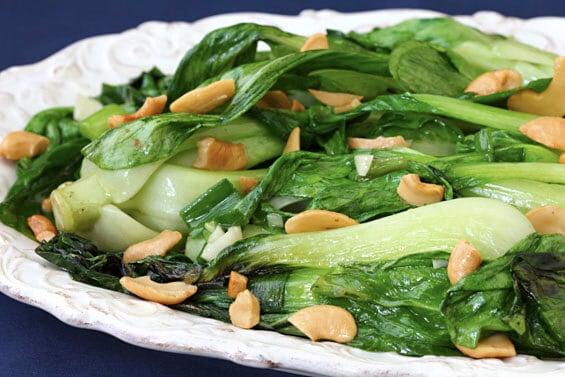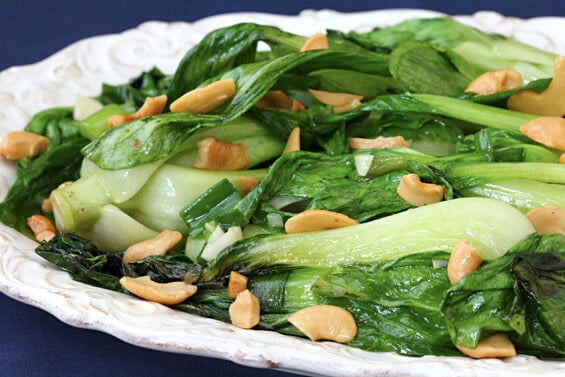 I've mentioned on here before about what an embarrassingly picky eater I was as a kid.  But even though I completely avoided salads until I was in high school (true story), I have always had a love for bok choy!  Was introduced to it as a kid in my local Chinese restaurant's unique bok choy egg drop soup.  But have since grown to especially love it salads, stir-frys, or even on the grill!
One of my all-time favorite ways to prepare it is in this simple recipe for "baby bok choy with cashews".  It really only takes a few minutes to prepare, but is packed with tons of delicious flavor from the greens, ginger, sesame and toasted cashews.  Perfect for a simple side dish to go with grilled meat or fish, or whatever you may be having…
So the next time you're at your famer's market (see a photo from mine below!) or your favorite grocery store, pick up some of these cute little greens and put them to use!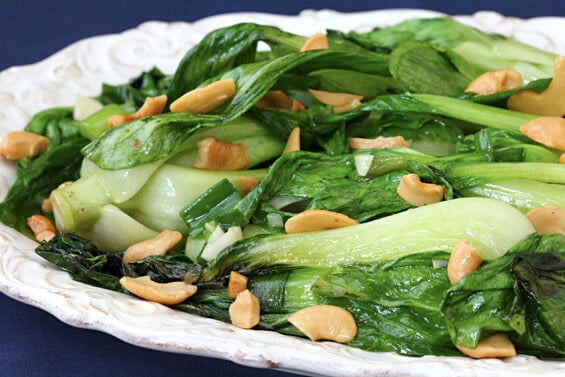 Baby Bok Choy with Cashews
This Baby Bok Choy w/ Cashews recipe is a little more exciting than your average salad, and includes sesame oil, ginger, garlic and toasted cashews.
Ingredients:
2 Tbsp. olive oil
1 cup chopped green onions, including green ends
3 cloves garlic, chopped
1/8 tsp. ground ginger
1 pound baby bok choy, rinsed, larger leaves separated from base, base trimmed but still present, holding the smaller leaves together
1/2 tsp. dark sesame oil
salt and freshly ground black pepper
1/2 cup chopped, roasted, salted cashews
Directions:
Heat olive oil in a large sauté pan on medium high heat. Add onions, garlic and ginger, stir together and cook for 1 minute. Then add bok choy. Sprinkle with sesame oil and a small pinch of salt. Cover, and let the baby bok choy cook down for approximately 3 minutes. (Like spinach, when cooked, the bok choy will wilt a bit.)

Remove cover. Lower heat to low. Stir and let cook for a minute or two longer, until the bok choy is just cooked.

Gently mix in cashews. Serve warm.

If you make this recipe, be sure to snap a photo and hashtag it #gimmesomeoven. I'd love to see what you cook!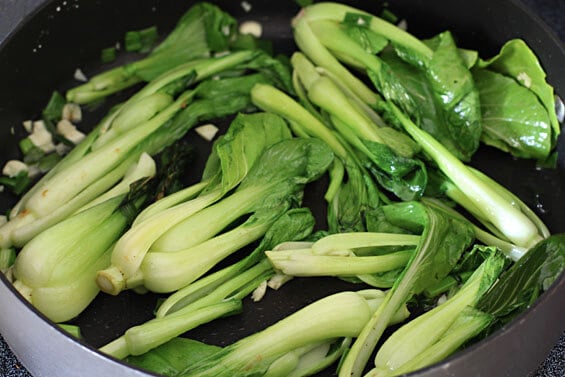 Ali's Tip:
Feel free to also use thinly-sliced regular onions for this if you don't have scallions on hand!  Just let them cook in the pan for an extra minute or two before adding the bok choy.