Baked Eggplant Parmesan
 This post is sponsored by DeLallo.
I have always wanted to love Eggplant Parmesan.  But there have always been two pesky problems getting in the way:
I don't love eggplant.
I really don't love frying stuff.
One might think that both are kind of, you know, deal breakers with a traditional fried eggplant dish.  But eh, deal breakers shmakers.  I had resolved at the beginning of the summer that 2015 was going to be my year for learning how to love eggplant, and I could think of no better gateway into the vegetable than disguising preparing it with a crispy breading beneath delicious layers of melted cheese and tomato sauce.  (Kind of impossible to go wrong there!)  And when it comes to frying, my response has always been to nix the unnecessary oil and pull out the Panko and gimme some oven, baby!  (Because this blog is not named Gimme Some Deep-Fat Fryers.)
So armed and vegetable-ready this week, I set out on a mission to see if I could figure out how to prepare a recipe for Eggplant Parm that I actually liked.  I went to the farmer's market and selected the most beautiful, smooth, vibrant eggplants I could find.  I gathered up an assortment of other good-quality simple ingredients, including my favorite tomato sauce, fresh basil, and part-skim Mozzarella and freshly-grated Parmesan.  I revisited the ol' salt-sweat-rinse-and-dry trick to suck the extra bitterness right outta the eggplant rounds, then oven-fried them with a crispy Italian breading.  Then I baked them up until the cheese was nice and melty, the tomato sauce was bubbling around the edges of the pan, and the eggplant was blissfully hidden.  And guess what?!
I loved it!!!
Eggplant mission: ACCOMPLISHED.
Ok, ok, I know that most people interested in cooking Eggplant Parmesan probably already love the vegetable and need no convincing that its flavor will be deliciously overshadowed complimented by all of these other ingredients.  But for anyone out there who's still learning how to love it — from one eggplant skeptic to another — trust me, I think you're genuinely going to love this one.
The key, though, is totally in how it's prepared.
The biggest trick for me is taking the extra time to literally suck the bitterness out of the eggplant before cooking with it.  A friend taught me this years ago — simply cut the eggplant into rounds, sprinkle them with lots of salt, place the eggplant in a colander (or on a few sheets of paper towels), and then let it sit there for anywhere from 30-90 minutes.  Little beads of sweat will start to form on the outside of the eggplant, which you can then rinse off thoroughly afterwards, along with that extra salt.  Pat the eggplant nice and dry with some paper towels, then proceed with the rest of the recipes.
In lieu of frying, I dipped each eggplant round in whisked eggs, and then in an Italian Panko breadcrumb mixture.  Then I misted the tops of the eggplant with some olive oil (or you could use cooking spray), and roasted them all up to crispy perfection in the oven.  No unnecessary oil needed!

Once the eggplant rounds were ready, I then layered them in a baking pan with a jar of my favorite Tomato Basil Pomodoro Fresco Tomato Sauce from DeLallo, some part-skim shredded Mozzarella, freshly-grated good-quality Parmesan cheese, and lots of extra fresh basil.  And then baked that entire dish until everything was fully cooked and bubbly and golden and…
…YUM.
I mean, really, does this look like eating your vegetables?
Works for me!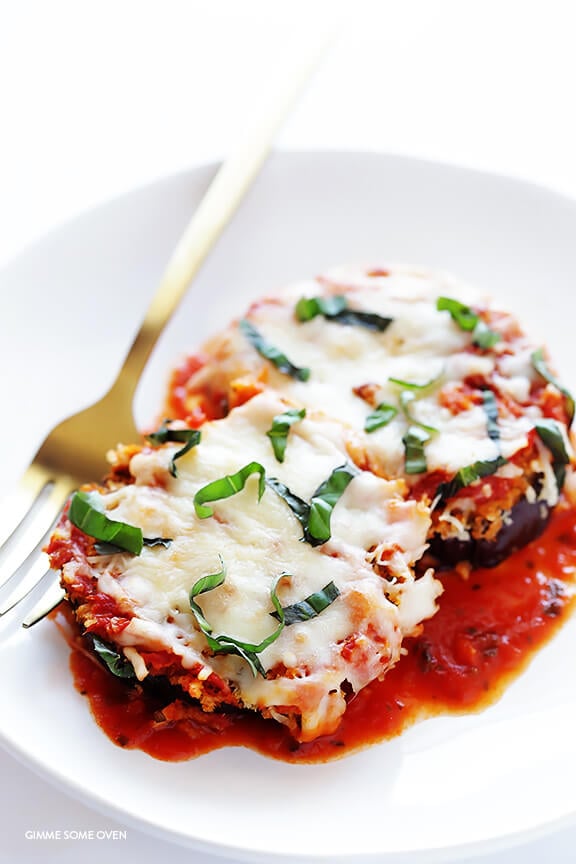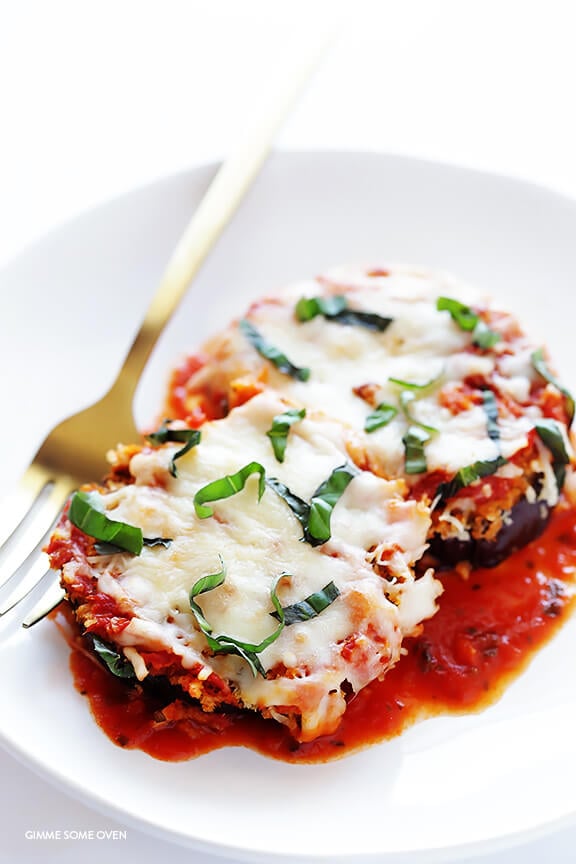 Feel free to serve up the dish along with some simple pasta or quinoa, paired with some other cooked veggies or protein if you'd like.  But the dish also stands well on its own, and it's an incredibly rich and filling vegetarian option if you're looking for a seasonal entree.
And again, two cheers for that miraculous Panko that makes the eggplant breading nice and crispy, without having to fry it in an inch of oil.
Oven-frying…and eggplant…FTW!
I feel like such a grown-up.  :)
Baked Eggplant Parmesan
This Baked Eggplant Parmesan recipe is made lighter by being baked with a crispy Panko breading, yet still has all of the delicious and comforting flavors of the classic dish!
Ingredients:
2 medium eggplants, sliced into 1/2-inch thick rounds
salt
1 1/2 cups Panko breadcrumbs
1 Tablespoon Italian seasoning, homemade or store-bought
2 eggs (or 1 egg + 2 egg whites)
cooking spray (or olive oil in a Misto)
1 (25 ounce) jar DeLallo Tomato Basil Pomodoro Fresco Tomato Sauce
2 cups grated Mozzarella cheese (I used part-skim)
2/3 cup finely-grated Parmesan cheese
1/2 cup loosely-packed chopped or julienned fresh basil
Directions:
Optional first step: If you have extra time and would like to remove some of the bitterness of the eggplant, sprinkle each round with a pinch of salt.  Then place the rounds in a colander in the sink to drain, or place them on a few paper towels for about 30 minutes.  Rinse the salt off with water, then proceed with the recipe.
Preheat oven to 425°F.  Prepare two baking sheets with parchment paper, and set aside.
In a shallow bowl, whisk together Panko breadcrumbs, Italian seasoning and 1 teaspoon salt until combined.  In a separate bowl, whisk the eggs until smooth.  Dip an eggplant round on both sides in the whisked egg mixture, then immediately dip it in the breadcrumb mixture until the eggplant is completely coated, then set on a parchment-covered baking sheet.  Repeat with the remaining eggplant rounds until they are all evenly spaced on the baking sheets.  Bake for 20 minutes, flipping once halfway through, until the breadcrumbs are toasted and slightly golden.  Remove from the oven and set aside.
Spread 1/2 cup tomato sauce evenly over the bottom of an 11 x 8-inch baking dish.  Place half of the eggplant in a (mostly) even layer along the bottom of the baking dish.  Spread an additional 1 cup of tomato sauce evenly over the eggplant.  Then sprinkle 1 cup Mozzarella cheese evenly over the sauce, followed by 1/3 cup Parmesan cheese, followed by 1/4 cup of the fresh basil.  Repeat with another layer of the remaining eggplant, then tomato sauce, then Mozzarella, then Parmesan cheese.
Bake for 15-20 minutes until the cheese is melted and starts to turn slightly golden around the edges, and the sauce is bubbly.  Remove and sprinkle with the remaining basil.  Serve immediately.
All images and text ©
If you make this recipe, be sure to snap a photo and hashtag it #gimmesomeoven. I'd love to see what you cook!
This is a sponsored post in partnership with DeLallo Foods.  I am partnering with DeLallo to create new Italian recipes for the blog this year, and all opinions are my own as always.  Thanks for continuing to support the brands who help make this site possible!