Marinara Sauce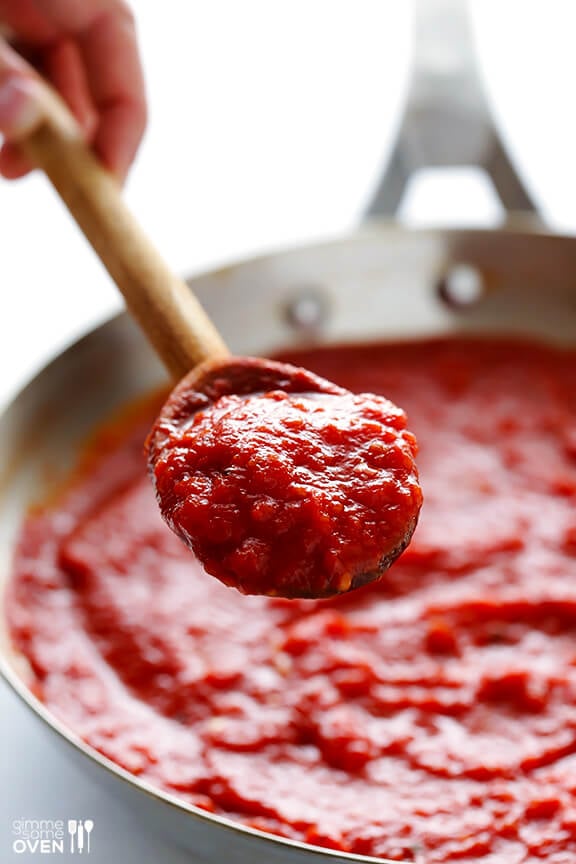 How do you "unwind" at the end of a long day?
In different seasons of life, I have had different answers.  I remember that in my old job — when I was around people and music all day long — I loved coming home to a quiet house and reading a book in glorious silence for awhile.  Nowadays when I close my computer and call it a day with blogging, I generally beeline for the door to soak up some sunshine and take my pup for a walk around the block.  Or meet up with friends for happy hour.  Or watch an episode of The Millionaire Matchmaker, my guilty-pleasure show that was just released (all seven seasons!) on Hulu.
But as crazy as it sounds after a day of cooking, I have found that one of my favorite things in life is to still stand over the stove and stir something.  It could be a soup.  It could be a stir-fry.  It could be scrambled eggs.  I've learned that there's just something about the physical act of stirring that settles my mind and is profoundly relaxing.  Plus, stirring usually means that some delicious warm meal is in my future, so that may be part of it too.
Without a doubt, one of my favorite comfort foods after a long day is pasta.  And I realized years ago that you can make a mean batch of homemade marinara sauce in the same time it makes to heat a pot of water and cook some pasta.  It's like they were meant to be together, or something.  ;)
And as far as marinara sauces go, I have to say that I think this one is pretty tough to beat.  It's made with classic, uncomplicated ingredients.  And it's good on just about everything imaginable.
The key to simple sauces with simple ingredients is being sure to use good ingredients.  For this recipe you will need crushed tomatoes, fresh garlic, (good-quality) olive oil, salt, crushed red pepper flakes, black pepper and oregano, and a sprig of fresh basil.
Since it's summertime, you can totally sub in fresh tomatoes for this recipe (I recommend romas), and then just crush them up with your hands in a bowl.  But if you're making this in the dead of winter, I definitely recommend going for canned tomatoes instead of the tasteless ones you may find in the produce section.  San Marzano's are definitely the gold standard when it comes to tomato sauce.  But any can of crushed tomatoes will also do.
I'm also a stickler for fresh basil in this recipe.  And fresh garlic.  Those two will really make all the difference.
To make the sauce, simply saute up your garlic.  You can either thinly slice or mince it.  (My garlic was a little green – oops!)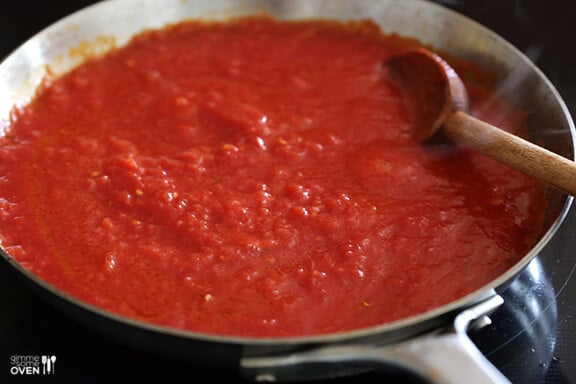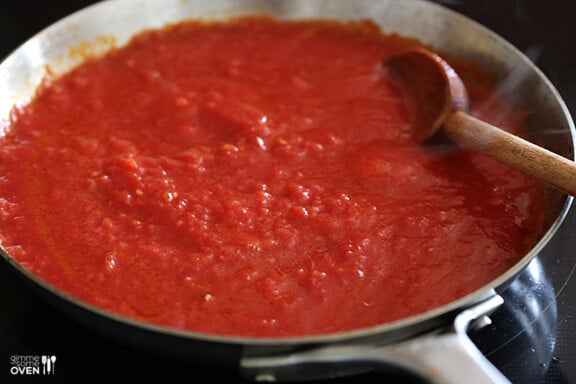 Then add in your crushed tomatoes…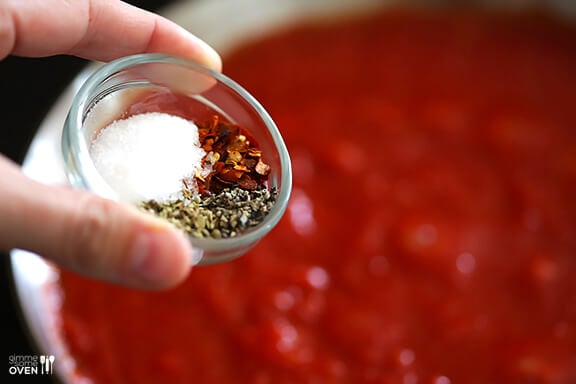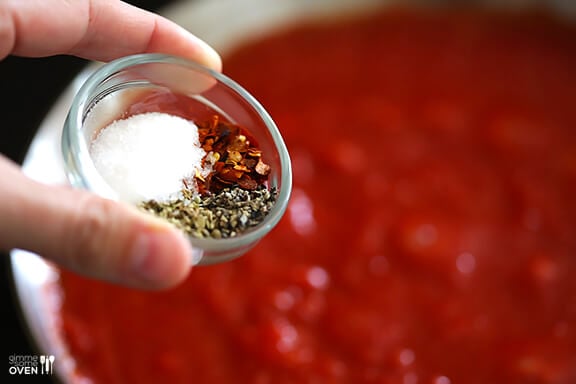 …and seasonings…
…and then gently stir in a sprig of fresh basil.  You're going to remove it before serving, so keeping the leaves attached to the sprig is easiest.
Then give it a good stir, and let it come to a simmer.
Then you can actually take a break from stirring and just let it simmer for about 15 minutes, or until it is reduced to your desired level of thickness.
Remove the basil sprig before serving…
And then dish it up.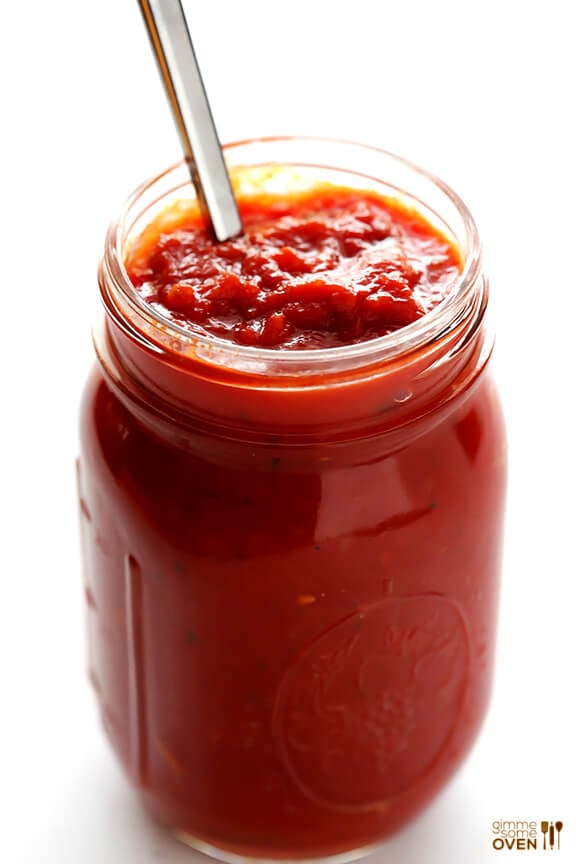 Or pop it in a jar and save it for next time, if you have the restraint.  :)
Bottom line, if you love marinara sauce, I can't recommend making a homemade batch enough.  It is comforting from the relaxing (stirring!) start to the delicious finish.  And you can rest easy as well knowing exactly what goes into this, versus some of the mystery ingredients on labels at the store.
And if you're looking for a way to use this sauce, stay tuned tomorrow because I have a pretty special 10-minute recipe coming up that has been requested on the blog for years.  I think you're going to love it.
Marinara Sauce
This delicious marinara sauce recipe is fresh, flavorful, and so simple to make at home with simple ingredients.
Ingredients:
2 Tablespoons olive oil
6 garlic cloves, peeled and slivered (or minced)
1 (28-ounce) can crushed tomatoes or 1.75 lbs. fresh roma tomatoes (**see below for instructions on using fresh roma tomatoes)
1/8 teaspoon crushed red pepper flakes (or a pinch of cayenne)
1 1/2 teaspoons coarse salt
1/4 teaspoon dried oregano
1/4 teaspoon black pepper
1 large sprig of fresh basil
Directions:
Heat oil in a large saute pan over medium-high heat. Add garlic and saute for 1 minute, stirring frequently, until fragrant. Add in the tomatoes, red pepper flakes, salt, oregano and black pepper, and stir to combine. Add the sprig of fresh basil on top of the sauce, and use a spoon to gently press it below the surface. Continue cooking until the sauce reaches a simmer. Then reduce heat to medium-low and continue to let the sauce simmer for about 15 minutes, or until the oil on the surface is a deep orange. It will be reduced and thickened. Discard the sprig of basil, and season the sauce with additional salt and pepper if needed.
Remove from heat and serve immediately, or store in a sealed container in the refrigerator for up to 5 days. Or freeze for up to 3 months.
*The tomatoes in homemade marinara sauce are VERY important. So if you can, buy a good quality brand that you trust. I love using canned San Marzano tomatoes, which are usually sold "whole". If using them, just pour them into a bowl and crush them with your hands. Then add them to the recipe as directed.
If you would like to use fresh roma tomatoes, I recommend also just crushing those in a bowl with your hands. (Although many people prefer to have fresh tomatoes peeled, in which case you can use a knife to cut a little x in the bottom, boil, blanch and then peel them.) Then add them to the recipe as instructed.
If you make this recipe, be sure to snap a photo and hashtag it #gimmesomeoven. I'd love to see what you cook!